printer friendly version
Infrared technology in the food and beverage industry
February 2019
Temperature Measurement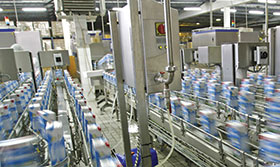 Keeping production strictly on schedule in any facet of the food and beverage industry, whether it be pumps, conveyors or electrical connections, means downtime is not an option. Comtest advocates including infrared inspections (IR) into the maintenance mix. Its range of high performance, thermal imagers makes year-round spot-testing possible, onsite, specifically troubleshooting and monitoring transformers, switches, disconnects and MCCs; pumps, motors and compressors; valve operation; tank and sludge levels; level control performance; pipe blockages and integrity; operating temperature; conveyors and roller bearings; boilers and chillers; HVAC, and roof moisture, air leaks and insulation issues.
By performing quick infrared spot checks, maintenance technicians can uncover potential failures, thus allowing for timeous, repairs when convenient. Thus the line can be kept moving through frequent scanning and troubleshooting of critical equipment. Traditional troubleshooting using trial and error can be effective, but time consuming and costly. What is critically important is to be able to pinpoint an issue within a mass of sprawling production lines, quickly, because downtime is expensive.
Equipment cost has historically forced plant managers to outsource annual infrared inspections, and in many cases, limit the scope of work. Annual scans certainly uncover problems, but users should not have to 'hope for the best' until next year's scan. Food and beverage production demands reliability, so yearly spot checks are no longer enough. Regular production line monitoring can narrow down and rule out possible problem causes faster by picturing the situation in infrared, allowing the varying temperatures of components to 'tell the inside story'.
Quick tips for performing successful IR inspections:
1. Ensure consistent frequency: infrared inspections of all major components and connections should be performed at least bi-annually.
2. Adjust for ­emissivity: components and materials emit energy differently. For accurate findings, ensure that the proper emissivity setting is being used for the material that is being inspected. Also, consider altering the surface by adding tape or paint to increase emissivity.
3. Perform qualitative measurements: compare findings with similar components and connections under similar conditions to reveal thermal anomalies.
4. Ensure safety during inspection: beyond electrical safety, be careful not to neglect the surroundings while performing infrared inspections. Focusing too heavily on the thermal imager can distract the personnel from rotating, cutting, or other dangerous equipment.
For more information contact Comtest, +27 10 595 1821, sales@comtest.co.za, www.comtest.co.za
Credit(s)
Further reading:
Implementing an infrared thermography maintenance programme
Technews Industry Guide: Maintenance, Reliability & Asset Optimisation 2019, Comtest , Maintenance, Test & Measurement, Calibration
This article discusses the benefits and outlines the steps that will help to grow thermographic imaging into a key component of any modern maintenance strategy.
Read more...
---
Hygrometer for environmental management and control
April 2019, Comtest , Analytical Instrumentation & Environmental Monitoring
Fluke and Hart Scientific have revolutionised environmental monitoring for calibration laboratories with their model 1620A DewK which offers Ethernet and wireless connections and upgraded LogWare III 
...
Read more...
---
Insertion resistance thermometers
April 2019, Instrotech , Temperature Measurement
Instrotech is offering Kobold's MMA range of industrial temperature probes, or insertion resistance thermometers, with or without transmitter. The MMA is engineered using 316 stainless steel and incorporates 
...
Read more...
---
Fixed thermal imaging for process heating
April 2019, R&C Instrumentation , Temperature Measurement
Noncontact temperature measurement is widely used for industrial process monitoring and control. Infrared (IR) thermal imaging can provide detailed information to help improve product quality and increase 
...
Read more...
---
Stakeless earth ground loop testing
April 2019, Comtest , Electrical Power & Protection
Testing the grounding components of equipment in hard to reach spaces, including areas that are indoors or fully paved and do not permit driving auxiliary test stakes, is always challenging. Comtest is 
...
Read more...
---
Web data logger
April 2019, GHM Messtechnik SA , Temperature Measurement
There is ongoing tightening up of regulations that impact upon industries where the monitoring of measurements of illuminance, temperature, atmospheric pressure, humidity and CO
2
is critical in the manufacture 
...
Read more...
---
PRO series cameras with leading-edge technology
Technews Industry Guide: Maintenance, Reliability & Asset Optimisation 2019, Comtest , Temperature Measurement
When diagnosing problems, capturing and displaying small temperature variances makes all the difference. Comtest now offers Fluke's Ti480 and Ti450 PRO series infrared cameras, recently fine-tuned to 
...
Read more...
---
Compact plastic temperature probe
March 2019, ASSTech Process Electronics + Instrumentation , Temperature Measurement
Jumo has introduced the new plastoSens T04 plastic temperature probe, which can measure the temperature in injection moulding processes by simply being placed on a pipe. To measure the temperature, different 
...
Read more...
---
Temperature probes for all applications
March 2019, ASSTech Process Electronics + Instrumentation , Temperature Measurement
Kimo offers an extensive range of thermocouple and RTD temperature probes that come as standard products or can be custom made to suit the measuring requirements. The thermocouple types are fitted with 
...
Read more...
---
AST's line-type heat sensing
February 2019, Alien Systems & Technologies , Temperature Measurement
Alien Systems & Technologies (AST) offers a wide range of automatic fire detection systems from advanced ultra-smart addressable point type detection systems to regular conventional systems.
Read more...
---