printer friendly version
Conveyor systems for grain applications
February 2019
Motion Control & Drives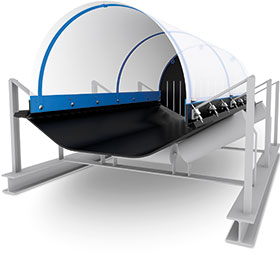 BLTWorld offers dependable solutions for specific problems at the transfer points of conveyor systems in bulk materials handling, for example, grain in the food and beverage industry.
"ScrapeTec Trading's German-engineered products have been specially developed for the prevention of dust formation and material spill, and for more efficient belt cleaning at critical sections along the conveyor route and transfer points," says Ken Mouritzen, managing director, BLTWorld, distributors for ScrapeTec Trading in Africa and the Indian Ocean Islands. "AirScrape, DustScrape and SpeedScrape systems, which are easy to assemble and operate, form an important part of our custom-designed solutions service, to meet exact bulk material conveyor project requirements.
"Correct installation of suitable equipment ensures cost efficiency, optimum performance and safety, reduced risk of breakdown and extended service life of the conveyor system. The DustScrape dust filter system, which is used in conjunction with the contact-free AirScrape conveyor belt skirting system, provides an effective, energy-free dust emission prevention solution. The compact and lightweight system complies with most new dust prevention guidelines and prevents health and safety issues on-site. It also minimises product loss, by effectively preventing material from being blown into the surrounding environment."
DustScrape consists of a durable filtering cloth that is installed above the conveyor belt, to retain dust particles, while remaining permeable to circulating air. This long-lasting filter cloth is available with different qualities for specific applications, e.g. grain transfer.
The DustScrape system comprises a filter cloth, support arches and skirts, arms to hold the system above the belt and a rubber curtain to eliminate further dust development – all sized to specific requirements. It is easy to install and can be retrofitted to existing conveyors for continuous or periodic operation.
Selection of the correct AirScrape size depends on the loading width of the conveyor belt and the required load-free zone of the belt edges. The AirScrape conveyor belt skirting system is installed above the load-free zone and generates the air-intake from outside, into the system. The generated airflow from above the conveyed material then gets filtered through the filter cloth, retaining any dust particles which are re-deposited back into the material flow.
For more information contact Ken Mouritzen, BLTWorld, +27 31 274 8270, ken@bltworld.com, www.bltworld.com
Further reading:
Smart devices for Ex areas: Unbelievably simple mistakes that prevent control.
September 2019, Michael Brown Control Engineering , Editor's Choice, Motion Control & Drives
I am often astounded by finding really basic problems with controls in plants, which have operated that way for years. These problems are so basic that one can only wonder at how these controls could 
...
Read more...
---
DLM V-Drives
September 2019, Dupleix Liquid Meters (DLM) , Motion Control & Drives
DLM V-Drives control the latest generation of permanent magnet and standard induction motors. DLM offers the AMC (advanced motor control) and EPC (efficient pump control) V-Drives, which are available 
...
Read more...
---
Complete drive solutions to boost efficiency and cut costs
September 2019, SEW-Eurodrive , Motion Control & Drives
The importance of the sugar industry in KwaZulu-Natal to SEW-Eurodrive as a key growth area for its complete drive solutions was underscored when it exhibited at the Congress of the South African Sugar 
...
Read more...
---
RS announces drive controller kit
September 2019, RS Components SA , Motion Control & Drives
RS Components has announced the launch of the K4 Drive System Development Kit (K4DSDK) from ebm-papst, one of the world's leading manufacturers of high-efficiency fan and motor drive products. Targeting 
...
Read more...
---
Feed mill project relies on SEW-Eurodrive
August 2019, SEW-Eurodrive , Motion Control & Drives
SEW-Eurodrive has supplied 120 geared motors to Dalein Agriplan for a customised 100 tph feed mill for a major beef producer in the Free State. This is not only one of the largest single projects undertaken 
...
Read more...
---
Dust solutions for conveyor systems in bulk handling
August 2019 , Motion Control & Drives
BLTWorld works closely with ScrapeTec, to offer advanced solutions for conveyor systems used in the handling of materials with excessive dust. "AirScrape, TailScrape and DustScrape have been developed 
...
Read more...
---
Case History 167: Test your analytical capabilities
July 2019, Michael Brown Control Engineering , Editor's Choice, Motion Control & Drives
Answer to the question at the end of Case History 166 (
www.instrumentation.co.za/8690r
) In the last Case History article, I suggested you try and see what was not so good about a level control, which 
...
Read more...
---
BMG drives sewage and effluent management
July 2019, Bearing Man Group t/a BMG , Motion Control & Drives
BMG supplies a range of drives designed specially for optimum efficiency in sewage treatment applications. "Nord drives, which consist of Unicase helical shaft mount geared motors, have special features 
...
Read more...
---
Bauer motors for water treatment plants
July 2019 , Motion Control & Drives
According to Bearings International (BI) electric motors product manager Lewis Hiepner, the arduous operating conditions at water-treatment plants mean that the motors specified not only have to be high-efficiency, 
...
Read more...
---
Motors, drives, alternators and ATEX induction motors
July 2019 , Motion Control & Drives
Vert Energy is the sole distributor for Leroy-Somer in southern Africa and supplies and supports the entire LS range, which includes standard and adapted AC and DC motors, geared and brake motors, variable 
...
Read more...
---