printer friendly version
Conveyor systems for grain applications
February 2019
Motion Control & Drives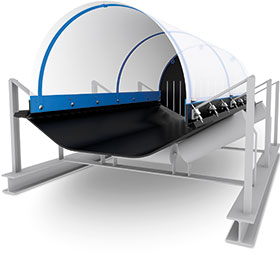 BLTWorld offers dependable solutions for specific problems at the transfer points of conveyor systems in bulk materials handling, for example, grain in the food and beverage industry.
"ScrapeTec Trading's German-engineered products have been specially developed for the prevention of dust formation and material spill, and for more efficient belt cleaning at critical sections along the conveyor route and transfer points," says Ken Mouritzen, managing director, BLTWorld, distributors for ScrapeTec Trading in Africa and the Indian Ocean Islands. "AirScrape, DustScrape and SpeedScrape systems, which are easy to assemble and operate, form an important part of our custom-designed solutions service, to meet exact bulk material conveyor project requirements.
"Correct installation of suitable equipment ensures cost efficiency, optimum performance and safety, reduced risk of breakdown and extended service life of the conveyor system. The DustScrape dust filter system, which is used in conjunction with the contact-free AirScrape conveyor belt skirting system, provides an effective, energy-free dust emission prevention solution. The compact and lightweight system complies with most new dust prevention guidelines and prevents health and safety issues on-site. It also minimises product loss, by effectively preventing material from being blown into the surrounding environment."
DustScrape consists of a durable filtering cloth that is installed above the conveyor belt, to retain dust particles, while remaining permeable to circulating air. This long-lasting filter cloth is available with different qualities for specific applications, e.g. grain transfer.
The DustScrape system comprises a filter cloth, support arches and skirts, arms to hold the system above the belt and a rubber curtain to eliminate further dust development – all sized to specific requirements. It is easy to install and can be retrofitted to existing conveyors for continuous or periodic operation.
Selection of the correct AirScrape size depends on the loading width of the conveyor belt and the required load-free zone of the belt edges. The AirScrape conveyor belt skirting system is installed above the load-free zone and generates the air-intake from outside, into the system. The generated airflow from above the conveyed material then gets filtered through the filter cloth, retaining any dust particles which are re-deposited back into the material flow.
For more information contact Ken Mouritzen, BLTWorld, +27 31 274 8270, ken@bltworld.com, www.bltworld.com
Further reading:
Case History 165: Interesting tests on loop problems show how much can be deduced from the results.
March 2019, Michael Brown Control Engineering , Motion Control & Drives
I have published many articles showing problems in control loops with figures showing the tests conducted to determine the problems. This time, by way of a change, I would like to suggest that readers 
...
Read more...
---
The automated chameleon tongue
March 2019, Festo , Motion Control & Drives
Festo's adaptive gripper can pick up anything.
Read more...
---
Energy-saving irrigation methods
March 2019, Zest WEG Group , Motion Control & Drives
Anyone within the agricultural sector will know that operating an irrigation system can be expensive, with one of the primary factors being the cost of energy. The good news is that there are ways to 
...
Read more...
---
Quality in aftermarket fuel filters
March 2019, Parker Hannifin Sales Company South , Motion Control & Drives
When it comes to replacing the fuel filter element on a light commercial vehicle, such as the Ford Transit, Parker Racor ensures the job is simple, fast and foolproof, thanks to a patented compound bayonet 
...
Read more...
---
Flexible drive control
March 2019, Festo , Motion Control & Drives
Servo drive and servo motor as a complete system.
Read more...
---
Bag-in-Box technology just got faster
February 2019, Beckhoff Automation , Motion Control & Drives
Beckhoff's control architecture provides best solutions for local machine builder.
Read more...
---
Bosch Rexroth introduces latest transfer system
February 2019, Tectra Automation , Motion Control & Drives
By optimising existing components and integrating new modules into its TS 5 conveyor system for heavy loads, Bosch Rexroth has enhanced its already impressive flexibility to meet the requirements of an 
...
Read more...
---
One machine control over EtherCAT
February 2019, Omron Electronics , Motion Control & Drives
Manufacturing is changing. Production lines need to be increasingly flexible to cope with shorter production runs, more varied products and tighter deadlines. Manufacturers are addressing these challenges 
...
Read more...
---
Case History 164: More on valves that do not control properly.
January 2019, Michael Brown Control Engineering , Motion Control & Drives
I often publish articles showing valve problems. One of the reasons is that I do not think many people understand that valves are generally responsible for 75-80% of all control loop problems. When it 
...
Read more...
---
Global partnerships for automotive support
January 2019, Parker Hannifin Sales Company South , Motion Control & Drives
Parker Hannifin is a global leader in motion control components and system solutions serving industrial, mobile and automotive markets. Specialising in hydraulics, pneumatics, electromechanics, fluid 
...
Read more...
---