printer friendly version
Versatile wireless telemetry solutions
January 2019
Industrial Wireless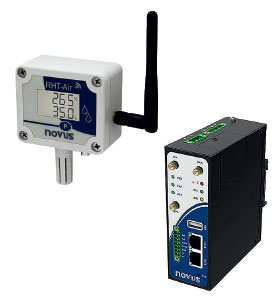 Novus' FieldLogger is a versatile, powerful and cost-effective data-logger handling analog, digital and other types of variable with high resolution and speed. It is a high-performance and high-connectivity piece of equipment, which is easy to configure and operate.
As it has multiple analog inputs, FieldLogger's scope of operation is greatly increased when used with other equipment, such as HMI Remote Mounting Kit; the multifunctional wireless gateway AirGate Modbus; the RHT-Air wireless transmitter, which, when coupled with AirGate Modbus, provides an excellent solution for wireless monitoring of temperature and relative humidity variables; and the AirGate 3G which, when applied in M2M communication, enables a Modbus RTU network to be monitored by more than one master.
Novus FieldLogger has eight configurable analog inputs that can read thermocouple, Pt100, Pt1000, voltage and current signals. It also has two relay outputs and eight digital ports individually configurable as inputs or outputs. The RS-485 interface can operate as a Modbus RTU master or slave. As a master, it can read and log up to 64 external channels. It also has a 10/100 Mbps Ethernet interface that allows access through a browser (HTTP), FTP (client and server), email sending (SMTP), SNMP and Modbus TCP.
FieldLogger is equipped with one USB interface to be connected to a computer for configuration monitoring and data download. The other USB port is for plugging a flash driver for data retrieval. The 512 Kbit logging memory is used to store data and this can be expanded via an SD card.
For more information contact Carric Shepherd, Mimic Group, +27 11 689 5710, carricmimic@gmail.com, www.mimic.co.za
Credit(s)
Further reading:
Adroit brings M2M, IoT and IIoT to the industrial world
June 2019, Adroit Technologies , Industrial Wireless
Combining the new IIoT capability with GIS interfaces, situational awareness and alarm management data, all can use the big data and analytical processing capability of Adroit's standard scada Intelligence software package to derive greater insights and value from their processes.
Read more...
---
Wireless networks for AGV systems
June 2019, RJ Connect , Industrial Wireless
In order for factories to perform their tasks efficiently and optimise production, automated material handling (AMH) systems, such as AS/RS and AGVs, need the flexibility to move around on their designated 
...
Read more...
---
Merging control and telemetry
June 2019, Omniflex Remote Monitoring Specialists , Industrial Wireless
Wireless telemetry and control in plants have become a necessity with the data acquisition requirement of modern plant control to lift performance and compliance. In-plant cabling costs often push the 
...
Read more...
---
Managing complexity in wireless environments
June 2019, Axiz , Industrial Wireless
In the decades since its infancy, wireless networking has undergone tremendous shifts, opening an avenue for enterprise wireless Internet consumption. The advances in speed, coupled with the sheer convenience 
...
Read more...
---
Mimic's SH300 text display for PLCs
June 2019, Mimic Components , Operator Interfaces, Switches & Relays
Mimic Components' SH-300 with text display is a long standing and reliable electronic device for programmable PLCs and other intelligent controllers equipped with a communication interface. It also functions 
...
Read more...
---
Fieldlogger for data acquisition
June 2019, Mimic Components , Data Acquisition & Telemetry
The Fieldlogger is a great asset to the Novus automation range of products. It is one of the most comprehensive instruments for the acquisition of data recording, and is capable of analog and digital 
...
Read more...
---
Mobility for Industry 4.0 ­challenges
Africa Automation Fair 2019 Preview, Pepperl+Fuchs , Industrial Wireless
The Tab-Ex 02 series of tablets from Pepperl+Fuchs has innovative features that make Industry 4.0/IIoT applications easy to implement.    The DZ1 version ecom has a range of applications that are unique 
...
Read more...
---
Hazardous area access point
Africa Automation Fair 2019 Preview , Industrial Wireless
Bartec's Wireless X is a small, light wireless access point, eliminating the need for bulky, heavy enclosures and external antennas. On show at Stand G13, it has both IECEx and ATEX Zone 1 certification. 
...
Read more...
---
IIoT gateway for access to remote industrial equipment
Africa Automation Fair 2019 Preview, Throughput Technologies , Industrial Wireless
SiteManager is a security certified IIoT Edge Gateway in the Secomea Industrial Communications Solution program that ensures unified, uninterrupted and secure access to remote industrial equipment. Visit 
...
Read more...
---
Specialised control components
May 2019, Mimic Components , Operator Interfaces, Switches & Relays
Mimic Components supplies specialised control components. As a leader in LED pilot lights and filament lamp replacements, the company is now able to accommodate clients with specific requirements in the 
...
Read more...
---