printer friendly version
A wavelength for all situations
January 2019
Level Measurement & Control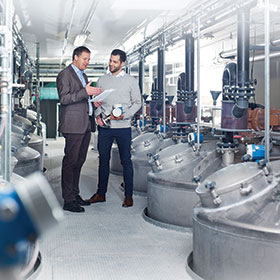 Endress+Hauser has completed its portfolio of radar instruments with Micropilot FMR60, FMR62 and FMR67. The new Micropilot series provides the company's first instruments with 80 GHz technology, which has been developed according to the safety-by-design concept of IEC 61508. Furthermore, they belong to the first generation of level instruments that, like many flow instruments from Endress+Hauser, support Heartbeat Technology.
Endress+Hauser presented its new level campaign during 2017, but adds tongue in cheek that nobody can actually do anything with 113 GHz. All they did was add the frequencies of the existing instruments to demonstrate the overall company competence in the radar range. The new level campaign is therefore called '113 GHz + Your Wavelength'. Endress+Hauser is not concerned with faster, higher, further. At present, everybody is talking about the highest radar frequencies in the industry. But the real issue is finding the best fitting frequency for each application. In order to accomplish that, staff must listen very carefully to the requirements of customers so that they can give good advice. The aim is to find the right wavelength based on a common understanding.
In the area of tank gauging, Endress+Hauser has launched Micropilot NMR81, the first highly accurate instrument with 80 GHz technology for the oil and gas industry. Now, the company is adding Micropilot FMR6x to serve other industries. Accuracy is at stake, but safety and the provision of simpler processes for customers are equally important. For the first time, an 80 GHz process radar is available which pursues the safety-to-design concept, thus making the life of customers much easier in terms of safety. In addition, the product offers a wide selection of Ex approvals. Improved focusing of the radar signal as well as dynamic algorithms provide reliable, stable measurements with a measuring range of up to 125 metres and an increased measuring accuracy. The measurement is unaffected by baffles or obstacles at the tank walls. Due to the innovative antenna design, build-up and condensate do not impair the measuring result. The interactive commissioning software makes this task fast and easy.
Heartbeat Technology
Instruments with their own pulse beat incorporating Heartbeat Technology have only been available at Endress+Hauser in flow instrumentation thus far. The preconditions for predictive maintenance and documented verification have already been created in the new Micropilot. This means that every measuring point can be verified and documented in assembled condition and without any interruptions. A simple, predefined procedure leads the maintenance staff through the verification and documents the results in an unambiguous manner. The guided SIL proof test according to the safety manual
and included documentation also saves time and costs. An automatically generated test protocol supports the evidence concerning regulations, laws and standards. The monitoring area of Heartbeat Technology provides instrument and process data, thus facilitating trend recognition for predictive maintenance. The aim is always the optimisation of processes in a targeted manner. Therefore, a combination of instrument and process parameters provides all important details for a respective analysis.
Credit(s)
Further reading:
Endress+Hauser Switzerland turns 60
June 2020, Endress+Hauser South Africa , News
The Swiss sales centre of Endress+Hauser is celebrating its 60th anniversary. Active in Switzerland since 1960, today the global leader in measurement instrumentation, services and solutions for industrial 
...
Read more...
---
How IIoT solutions can help your plant go digital
July 2020, Endress+Hauser South Africa , IT in Manufacturing
Everyone is talking about the new normal, a shift that is forcing companies to adopt a digital strategy, one way or another, in order to remain relevant and competitive in these unprecedented times. Many 
...
Read more...
---
Endress+Hauser sees itself as well positioned
May 2020, Endress+Hauser South Africa , News
Endress+Hauser performed well across all fields of activity, industries and regions in 2019. The Group created hundreds of new jobs, invested record amounts and improved in the area of sustainability. 
...
Read more...
---
The complexity of water management in mines
June 2020, Endress+Hauser South Africa , Flow Measurement & Control
Water is a critical resource for the mining industry, either in the mining processes, as a feed to the beneficiation of minerals process, or for potable use. With the growing demand and increased scarcity 
...
Read more...
---
Endress+Hauser partner programme is gaining importance through IIoT solutions
June 2020, Endress+Hauser South Africa , IT in Manufacturing
How can field instruments and components be easily integrated into automation systems? The answer is becoming increasingly important as industrial production digitalisation progresses. The Endress+Hauser 
...
Read more...
---
New additions to Optiflex level transmitter series
May 2020 , Level Measurement & Control
Krohne has introduced four new additions to the Optiflex series of guided radar (TDR) level transmitters. Each device is designed for specific areas of application in the chemical, oil and gas, power, 
...
Read more...
---
Capacitive level switch for fluid, pasty and powdery media
May 2020, GHM Messtechnik SA , Level Measurement & Control
Martens, part of the GHM group of companies, has introduced its MLC 437 capacitive level switches for use principally for the registration of limit levels, full/empty signals in pipes and tanks in fluid, 
...
Read more...
---
Top-mounted level indicator
May 2020, WIKA Instruments , Level Measurement & Control
WIKA's model UTN top-mounted level indicator consists of a measuring chamber, a float with guide rod and a magnetic system. Mounting onto the vessel is made via appropriate process connections (flanged 
...
Read more...
---
New 80 GHz compact radar transmitters
May 2020, Siemens Digital Industries , Level Measurement & Control
Siemens has introduced the Sitrans LR100 series 8 GHz radar level transmitters, a compact instrument with a narrow beam for flexible installations in existing vessel openings or even non-intrusively through 
...
Read more...
---
@Ease with Endress+Hauser
May 2020, Endress+Hauser South Africa , IT in Manufacturing
Focus on customer experience.
Read more...
---