printer friendly version
A wavelength for all situations
January 2019
Level Measurement & Control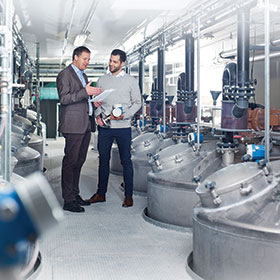 Endress+Hauser has completed its portfolio of radar instruments with Micropilot FMR60, FMR62 and FMR67. The new Micropilot series provides the company's first instruments with 80 GHz technology, which has been developed according to the safety-by-design concept of IEC 61508. Furthermore, they belong to the first generation of level instruments that, like many flow instruments from Endress+Hauser, support Heartbeat Technology.
Endress+Hauser presented its new level campaign during 2017, but adds tongue in cheek that nobody can actually do anything with 113 GHz. All they did was add the frequencies of the existing instruments to demonstrate the overall company competence in the radar range. The new level campaign is therefore called '113 GHz + Your Wavelength'. Endress+Hauser is not concerned with faster, higher, further. At present, everybody is talking about the highest radar frequencies in the industry. But the real issue is finding the best fitting frequency for each application. In order to accomplish that, staff must listen very carefully to the requirements of customers so that they can give good advice. The aim is to find the right wavelength based on a common understanding.
In the area of tank gauging, Endress+Hauser has launched Micropilot NMR81, the first highly accurate instrument with 80 GHz technology for the oil and gas industry. Now, the company is adding Micropilot FMR6x to serve other industries. Accuracy is at stake, but safety and the provision of simpler processes for customers are equally important. For the first time, an 80 GHz process radar is available which pursues the safety-to-design concept, thus making the life of customers much easier in terms of safety. In addition, the product offers a wide selection of Ex approvals. Improved focusing of the radar signal as well as dynamic algorithms provide reliable, stable measurements with a measuring range of up to 125 metres and an increased measuring accuracy. The measurement is unaffected by baffles or obstacles at the tank walls. Due to the innovative antenna design, build-up and condensate do not impair the measuring result. The interactive commissioning software makes this task fast and easy.
Heartbeat Technology
Instruments with their own pulse beat incorporating Heartbeat Technology have only been available at Endress+Hauser in flow instrumentation thus far. The preconditions for predictive maintenance and documented verification have already been created in the new Micropilot. This means that every measuring point can be verified and documented in assembled condition and without any interruptions. A simple, predefined procedure leads the maintenance staff through the verification and documents the results in an unambiguous manner. The guided SIL proof test according to the safety manual
and included documentation also saves time and costs. An automatically generated test protocol supports the evidence concerning regulations, laws and standards. The monitoring area of Heartbeat Technology provides instrument and process data, thus facilitating trend recognition for predictive maintenance. The aim is always the optimisation of processes in a targeted manner. Therefore, a combination of instrument and process parameters provides all important details for a respective analysis.
Credit(s)
Further reading:
Endress+Hauser's IIoT technology masters the mining challenge
June 2019, Endress+Hauser , IT in Manufacturing
Endress+Hauser aims to improve the processes of its customers with regards to efficiency, quality, safety and sustainability.
Read more...
---
Endress+Hauser expands patent portfolio
June 2019, Endress+Hauser , News
The number of patents submitted by the Endress+Hauser Group continues to rise. As reported during the annual Innovators' Meeting held this year in France, the Group submitted 287 initial patents in 2018, 
...
Read more...
---
An alliance for the IIoT
June 2019, Endress+Hauser , News
At Hannover Messe 2019, seven leading suppliers from mechanical engineering, industrial automation and software announced the founding of the Open Industry 4.0 Alliance. With this cooperation, the companies 
...
Read more...
---
Temperature transmitter family for all industries
June 2019, Endress+Hauser , Temperature Measurement
Endress+Hauser has introduced its first temperature transmitter with Bluetooth (BT) connectivity. This feature is unique because it does not require a BT modem to be able to communicate with the device 
...
Read more...
---
The Heartbeat of plant processes
May 2019, Endress+Hauser , Maintenance, Test & Measurement, Calibration
Self-diagnostics and predictive maintenance.
Read more...
---
Continuous level measurement
Africa Automation Fair 2019 Preview, Morton Controls , Level Measurement & Control
The Nivobob series from Morton Controls is used for continuous level measurement within bulk storage silos and for interface measurement of sludge beds. The system is immune to dust, dielectricity, conductivity, 
...
Read more...
---
Taking the air out of dairy
May 2019, Endress+Hauser , Mass Measurement
The dairy industry has been plagued for years with the challenge of accurate flow measurement in both processing and offloading applications. Often, the most common cause of inaccuracies in flow measurement 
...
Read more...
---
A range of level sensors
Africa Automation Fair 2019 Preview, GHM Messtechnik SA , Level Measurement & Control
GHM Messtechnik has available the Val.co range of affordable and effective level sensors that have application across all sectors of industry, especially tank building. The range includes small float 
...
Read more...
---
Water – the life-blood of industrial processes
April 2019, Endress+Hauser , Analytical Instrumentation & Environmental Monitoring
Utilities offer enormous potential for liquid analysis measuring technology.
Read more...
---
Endress+Hauser's power packed marketing conference
April 2019, Endress+Hauser , News
Endress+Hauser recently hosted its Annual Marketing Conference. This much anticipated event brought together a delegation of Endress+Hauser experts from across the globe, partners from all over the African 
...
Read more...
---