printer friendly version
A wavelength for all situations
January 2019
Level Measurement & Control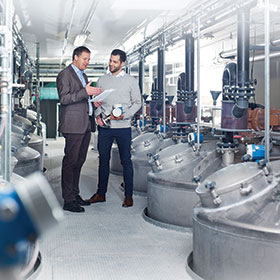 Endress+Hauser has completed its portfolio of radar instruments with Micropilot FMR60, FMR62 and FMR67. The new Micropilot series provides the company's first instruments with 80 GHz technology, which has been developed according to the safety-by-design concept of IEC 61508. Furthermore, they belong to the first generation of level instruments that, like many flow instruments from Endress+Hauser, support Heartbeat Technology.
Endress+Hauser presented its new level campaign during 2017, but adds tongue in cheek that nobody can actually do anything with 113 GHz. All they did was add the frequencies of the existing instruments to demonstrate the overall company competence in the radar range. The new level campaign is therefore called '113 GHz + Your Wavelength'. Endress+Hauser is not concerned with faster, higher, further. At present, everybody is talking about the highest radar frequencies in the industry. But the real issue is finding the best fitting frequency for each application. In order to accomplish that, staff must listen very carefully to the requirements of customers so that they can give good advice. The aim is to find the right wavelength based on a common understanding.
In the area of tank gauging, Endress+Hauser has launched Micropilot NMR81, the first highly accurate instrument with 80 GHz technology for the oil and gas industry. Now, the company is adding Micropilot FMR6x to serve other industries. Accuracy is at stake, but safety and the provision of simpler processes for customers are equally important. For the first time, an 80 GHz process radar is available which pursues the safety-to-design concept, thus making the life of customers much easier in terms of safety. In addition, the product offers a wide selection of Ex approvals. Improved focusing of the radar signal as well as dynamic algorithms provide reliable, stable measurements with a measuring range of up to 125 metres and an increased measuring accuracy. The measurement is unaffected by baffles or obstacles at the tank walls. Due to the innovative antenna design, build-up and condensate do not impair the measuring result. The interactive commissioning software makes this task fast and easy.
Heartbeat Technology
Instruments with their own pulse beat incorporating Heartbeat Technology have only been available at Endress+Hauser in flow instrumentation thus far. The preconditions for predictive maintenance and documented verification have already been created in the new Micropilot. This means that every measuring point can be verified and documented in assembled condition and without any interruptions. A simple, predefined procedure leads the maintenance staff through the verification and documents the results in an unambiguous manner. The guided SIL proof test according to the safety manual
and included documentation also saves time and costs. An automatically generated test protocol supports the evidence concerning regulations, laws and standards. The monitoring area of Heartbeat Technology provides instrument and process data, thus facilitating trend recognition for predictive maintenance. The aim is always the optimisation of processes in a targeted manner. Therefore, a combination of instrument and process parameters provides all important details for a respective analysis.
Credit(s)
Further reading:
Endress+Hauser strengthens ­expertise for advanced analysis
September 2019, Endress+Hauser , News
Endress+Hauser has expanded its centre of competence for advanced analysis in Lyon, France. The Group invested €2 million in a new production facility and office space to meet growing demand in the area 
...
Read more...
---
A real-time alternative to radiometric density measurement
September 2019, Endress+Hauser , Mass Measurement
Currently, in mining applications, radiometric measurement has been the only way to measure the density of slurry. Until recently, and due to the harsh and abrasive environment of slurry, no other measuring 
...
Read more...
---
Smart devices for Ex areas
September 2019, Endress+Hauser , IS & Ex
The Pepperl+Fuchs brand ecom has launched its next generation ATEX Zone 1/21 and Div. 1 certified, intrinsically safe 4G/LTE-Android smartphone – Smart-Ex. The Smart-Ex 02 is a complete new development 
...
Read more...
---
From product design to adoption in the processing plant
August 2019, Endress+Hauser , System Integration & Control Systems Design
Behind the scenes with the product developers at Endress+Hauser.
Read more...
---
Kobold's new float level switches
August 2019, Instrotech , Level Measurement & Control
Kobold's M-series level switch comprises a float that slides up and down with the liquid along a guide tube. Thus, up to 4 reed contacts moulded in the guide tube are switched in a non-contacting fashion 
...
Read more...
---
Foxboro buoyancy level transmitter
August 2019, EOH Process Automation Solutions , Level Measurement & Control
Principle of operation
When an element a (displacer rod) is immersed into a liquid, according to Archimedes' Principle, the displacer will 'lose' some of its weight proportional to the level of the liquid 
...
Read more...
---
Level measurement for sanitary applications
August 2019, WIKA Instruments , Level Measurement & Control
WIKA's model FLM-H magnetostrictive sensor has been specifically designed to meet the requirements of the food and beverage, pharmaceutical and biotechnology industries. The sensor is particularly suitable 
...
Read more...
---
Water level system controls cathodic protection
August 2019, Omniflex Remote Monitoring Specialists , Level Measurement & Control
Corrosion Control Services is a leading specialist in the design, installation, commissioning and monitoring of cathodic protection. CCSL carries out works on reinforced concrete structures, historic 
...
Read more...
---
A case for IIoT's future in supply chain management
Technews Industry Guide: Industrial Internet of Things & Industry 4.0, VEGA Controls SA , Level Measurement & Control
This paper will explore how one construction materials hauling company used level measurement sensors and IIoT networks to manage their operation while simultaneously securing its customers' supply chain, and keeping costs low.
Read more...
---
Increased plant availability through optimal management of field devices
Technews Industry Guide: Industrial Internet of Things & Industry 4.0, Endress+Hauser , Maintenance, Test & Measurement, Calibration
As a complete provider for process sensory mechanisms, the company has accumulated decades of expertise with a strong range of solutions and services. The new online services enable it to link this expertise 
...
Read more...
---