printer friendly version
Setting new gas monitoring ­standards in coal mining
January 2019
IS & Ex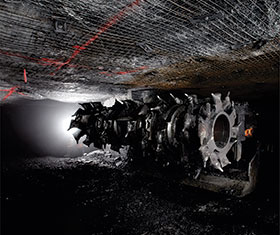 The presence of methane gas in coal mining processes is highly probable, and monitoring methane levels in operational mining sections has become obligatory. Legislation calls for the installation of methane monitoring technology on mining machines to monitor and inhibit production whenever the existence of methane beyond predetermined levels is detected. As a result, methane monitoring technologies have become the gold standard in coal mining applications. Use of modern-day technologies, such as Monitech's Hazardous Area Control System, has helped shape the coal mining industry. "It is legislated that purpose-made equipment is used. The technology must be approved under the relevant standards for equipment to be used in hazardous areas," explains Renier Rautenbach, general manager of Monitech.
Monitech's Hazardous Area Control System has continuously evolved over the years to become the mainstay of the coal mining industry. As Rautenbach explains, one of the key benefits of this is its versatility, which allows it to be adapted to any required platform. "The equipment is also very flexible in terms of its application capabilities," he continues. Rautenbach also emphasises Monitech's strong commitment to its R&D to maintain a competitive edge and market dominance in a competitive trading environment. He highlights the importance of R&D in the development of Monitech's products and solutions, as well as improving the performance of existing ones. "The key benefit of using this particular system is that it was designed around the requirements laid down through continuous engagement with our customers to ensure it is best suited to their needs," he says, adding that Monitech is continuously working on new development areas to further meet the ever-changing needs of its customers in the quest to maximise underground safety and productivity.
The methane detection field was the first business area in which Monitech started operating, and remains the cornerstone of the company's success. "Monitech provides in-depth system training to ensure maximum benefit for its customers," says Rautenbach. "All Monitech's underground support staff are fully qualified specialist underground artisans to ensure the best application-specific support for the company's customers.
For more information contact Nick Murray, Monitech, +27 11 395 4312, nick@monitech.co.za, www.monitechmining.com
Further reading:
Calibration in hazardous areas
April 2019, QTEK Instrumentation & Calibration Solutions , IS & Ex
This article is an edited version of a Beamex calibration white paper, the original unedited document can be downloaded at
https://instrumentation.co.za/papers/J4324.pdf
Read more...
---
Pump monitoring in hazardous areas
Technews Industry Guide: Maintenance, Reliability & Asset Optimisation 2019, Siemens Digital Industries , IS & Ex
Safety has top priority wherever flammable media are used in industry. This applies in particular to the chemical industry, where flammable liquids are produced, processed and transported by pumps in 
...
Read more...
---
Safety meets security
March 2019, Phoenix Contact , IS & Ex
A common strategy required for the future.
Read more...
---
Is your building safe from fire?
March 2019, Alien Systems & Technologies , IS & Ex
Correct selection of detectors is vital.
Read more...
---
Safety exhaust valve for emergency stop
March 2019, Parker Hannifin Sales Company South , IS & Ex
Parker Hannifin has introduced a new safety exhaust valve that rapidly exhausts compressed air in the event of a fault condition or when a machine has an emergency stop. The P33 is designed for two-channel 
...
Read more...
---
Ex-rated instruments for explosive atmospheres
March 2019, R&C Instrumentation , IS & Ex
In many industries, there are certain areas that are classified as hazardous or Ex areas. This is an area that contains, or may contain, combustible substances such as gas, vapour or dust. Typical hazardous 
...
Read more...
---
New generation safety controllers
March 2019, Beckhoff Automation , IS & Ex
TwinSAFE: consistently modular, scalable and distributed safety applications.
Read more...
---
LSIS obtains Ex rating for HMI range
March 2019, Ana-Digi Systems , IS & Ex
Starting with the iXP2 premium series of HMIs, in the latter half of 2018 LSIS began rolling out the Ex certification for the entire range of these exceptional products. The products carry the rating 
...
Read more...
---
Contact in to contact out over fibre optic cable
February 2019, Omniflex Remote Monitoring Specialists , IS & Ex
The Omniterm FCT and FCR modules provide the ability to send a digital contact signal up to 4 km over a single optical fibre. When the contact on the FCT transmitter module is closed, the relay output 
...
Read more...
---
Zoned approach reduces the complexity of machine safety
January 2019, ASCO , IS & Ex
This article examines a unique approach known as zoned safety, which reduces complexity in the design of redundant pneumatic safety circuits. It explains the advantages of the concept over the traditional 
...
Read more...
---