printer friendly version
Collision avoidance in reverse gear
January 2019
Sensors & Transducers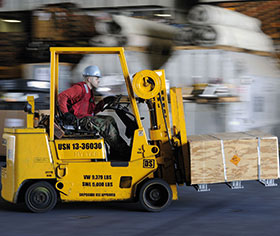 To avoid collisions during manoeuvring, ifm electronic offers an automatic collision avoidance system: a 3D camera mounted at the back of a vehicle monitors the rear area, detects objects in the travel path and warns the driver of possible collision.
Automatic collision avoidance
Active protection is provided by ifm's O3M camera: the integrated 3D sensor not only displays obstacles behind the vehicle on a screen in the cockpit, but also determines the obstacle's size, position and movement. Based on this detection of the environment and the mobile machine's own movement, the O3M system assesses the critical relevance of objects. It warns the driver of obstacles that are either in the path, or on a collision course. This prevents the driver being overwhelmed by warnings of objects in noncritical areas. Another advantage of the intelligent O3M system is that if a vehicle moves into the travel path from the side, the risk is detected faster than with a distance-based warning.
Camera image with overlaid 3D objects
The O3M system has two integrated cameras: a conventional 2D camera and a 3D version that determines the exact distance to each pixel. The advantage for the user is that critical obstacles can be highlighted, for example in red, with less critical objects in yellow or green. Furthermore, an additional warning symbol can be provided in this case. This overlay is completely generated in the O3M, so neither additional hardware nor complex programming is needed. Visualisation can easily be adapted to the application conditions with the ifm Vision Assistant software (colour, symbols, language, etc.)
Graded warnings
Parallel to the visual representation, a warning is transmitted to the CAN bus, which is used to produce an additional acoustic signal or even to intervene with braking. This reaction can be graded depending on the distance to the obstacle, i.e. at first an acoustic and visual warning is given. If the driver does not react and the situation becomes more serious, the vehicle can be slowed.
Image capture methodology
The integrated PMD 3D chip from ifm detects scenes and objects three-dimensionally with only one image capture. This avoids the motion blur that can occur with line scanners. This then forms the basis for a sensor system that can cope with the harsh operating conditions of mobile machines. Besides the robust and compact design, the O3M sensor system is specially constructed for outdoor applications with changing light conditions, or bright sunlight. The sensor has no moving components in contrast to other sensors, such as laser scanners, therefore, it is particularly robust and not subject to wear. The operating principle of the PMD technology is based on the time-of-flight principle.
The scene is illuminated by modulated, invisible infrared light and the reflected light hits the PMD sensor, which is also connected to the source of the modulation. Each pixel of the chip then determines the distances to the scene using the phase shift between the transmitted and received signals. The integrated, active suppression of background illumination almost completely prevents saturation of the sensor by extraneous light. That means that it can be operated in bright sunlight up to 120 klx. The integrated 2 x 32-bit processor architecture ensures rapid and reliable calculation of the 3D data directly in the system at up to 50 images per second.
Smart functions
The mobile 3D smart sensors feature some integrated evaluation functions, which besides the collision avoidance described here, enable a multitude of other applications to be solved, e.g. line guidance or area monitoring. A highly developed algorithm from the automotive industry is used, ensuring reliable automatic object recognition of up to 20 objects. In just a few steps the parameters of the system are set via the easy-to-use Vision Assistant for Windows. To do so, the user only needs to enter some parameters, e.g. regarding the vehicle's geometry, which only takes a few minutes before the system is ready for operation.
Communication interfaces
The pre-processed function data is output via the CAN bus using CANopen or SAE J 1939. If needed, the complete 3D information can be processed via Ethernet UDP and an external process unit to provide developers with an open system.
For more information contact ifm electronic SA, 086 143 6772, info.za@ifm.com, www.ifm.com
Credit(s)
Further reading:
Radar sensors: frequently asked questions
September 2019, Turck Banner , Sensors & Transducers
Radar sensors are commonly used for a wide variety of vehicle detection and collision avoidance applications, and they are a particularly good choice for outdoor deployments.
Read more...
---
All codes at a glance
September 2019, ifm - South Africa , Sensors & Transducers
The new O2I multi-code reader from ifm electronic convinces with its high resolution, short evaluation time and quick set-up, all of which fulfil the requirements placed on modern components for high-performing 
...
Read more...
---
Robotic platform relies on LiDAR
September 2019, SICK Automation Southern Africa , Sensors & Transducers
A SICK Automation LiDAR sensor was used to build a winning robotic platform in the prestigious Drexel University's annual College of Engineering senior project design competition. For the Swerve team, 
...
Read more...
---
Powerful multicode reader
September 2019, ifm - South Africa , Sensors & Transducers
The new multicode reader from ifm electronic reliably detects 1D and 2D codes. It ensures reliable identification even under difficult conditions, e.g. in case of changing extraneous light or shiny surfaces. 
...
Read more...
---
Compact conductivity monitoring solution
August 2019, GHM Messtechnik SA , Sensors & Transducers
Condix is a low maintenance, easy to install measuring transducer that saves time and money. This solution for monitoring of conductivity in liquids does not require a separate measuring transducer nor 
...
Read more...
---
Sensor technologies help wine growers to vintage success
August 2019, Instrotech , Sensors & Transducers
As English wine grows in popularity, more and more people recognise its award winning qualities and production is growing by the year. A generation ago, it was wise to steer clear of British wine, blends 
...
Read more...
---
Photoelectric sensors for washdown applications
August 2019, Turck Banner , Sensors & Transducers
Banners new T18-2 photoelectric sensors have an FDA-grade shatterproof plastic housing and are IP69K rated and Ecolab certified to protect against water ingress and chemical washdown. IP69K and epoxy 
...
Read more...
---
Ultrasonic sensors in agricultural automation
August 2019, Instrotech , Sensors & Transducers
German manufacturer Dallmeier has announced a development partnership with AnyVision, a pioneer in AI-based facial, body, and object recognition. The aim of the cooperation is to integrate AnyVision's 
...
Read more...
---
Limit switches for hygienic processes
August 2019, Morton Controls , Sensors & Transducers
Process and storage vessels incorporate limit switches to prevent overfilling of a tank or vessel (full indicator) or dry running of a pump (empty indicator). Anderson-Negele's NCS series are ideally 
...
Read more...
---
Precise position measurement in packaging
August 2019, Countapulse Controls , Sensors & Transducers
Precision monitoring and accurate measurement of distances is essential for smooth running in both production and intralogistics operations. Optical distance sensors are generally used for this purpose 
...
Read more...
---