printer friendly version
Global partnerships for automotive support
January 2019
Motion Control & Drives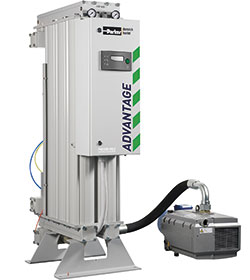 Parker Hannifin is a global leader in motion control components and system solutions serving industrial, mobile and automotive markets. Specialising in hydraulics, pneumatics, electromechanics, fluid connection and filtration, the company can act as a single source for all automotive market requirements. Customers rely on Parker's proven multi-technology systems, engineering excellence, world class manufacturing and customer service to provide comprehensive application solutions and reduce manufacturing time and total cost of ownership.
Parker is committed to helping customers become more productive and more profitable through its global offerings of motion and control products and systems. In an increasingly competitive global economy, the company seeks to develop customer relationships through technology partnerships. Working closely with customers, it can ensure the best selection of technologies to suit the needs of their applications.
Parker solutions
Among the challenges in automotive manufacturing is how to achieve globalisation in order to address growing markets. Another is to improve efficiencies in TAKT time – the rate at which a finished product needs to be completed in order to meet customer demand – in order to increase overall productivity.
Parker's global footprint ensures localised product and service, with more than 300 global factories and 13 000 distribution network locations. Its machine schematic review process ensures that the most efficient systems are provided to customers. Programme management services address a process in order to commonise the products used on a programme and make recommendations for the ongoing management of spare parts inventory. In addition Parker field sales and distribution representatives are present on the plant floor, addressing system diagnostics, product functionality and product lead time to ensure manufacturing productivity.
Here are some of the key products that Parker supplies to the automotive industry:
Leak free weld water solutions
Parker's actuators and accessories for welding robots prevent water expulsion. Their integrated design allows for dry weld tip changes and keeps water off equipment and out of the production cell. Paired with the Water Saver, the Water Retract Actuator (WRA) prevents weld water expulsion from the robot during tip changes, keeps water off equipment and electronics within the cell, and reduces water consumption costs and the need for expensive chemical additives.
Die cast hydraulic system with Parker Eco Drive system
There are many benefits to using a Parker Eco Drive system. Designed with closed loop pressure control, it will Increase die casting speed. Piston speed ranges from 0,05 to 10 ms, with a maximum acceleration of 500 m/s, and a pressure increase from 160 to 300 bar in 50 ms.
Trainsair solutions
Transair piping systems were designed to avoid the issues created by traditional systems. Benefits of using Transair include corrosion resistance, immediate pressurisation and provision of clean air, together with a leak-free guarantee.
Compressor room filtration
In the compressor room, Parker offers many products to filter and condition dry air before it is distributed throughout the plant. Parker can even carry the controlled air to a customer's specific requirement through an integrated supply system. The company can assist with most applications across a full range of sizes.
Filtration
Parker filters protect customer equipment, resulting in quality finished products, together with reduced downtime and lower costs. Portable filter carts are the ideal way to pre-filter and transfer fluids into reservoirs or to clean up existing systems. Using a Parker portable filter cart is the most economical way to protect a system from damage caused by contamination. In addition, point of use desiccant dryers are the simplest and most reliable method of ensuring that sensitive pneumatic equipment is not exposed to damaging moisture.
Fluid condition monitoring
With 15 years' experience in manufacturing the world's bestselling white light portable particle counter, the CM20, the progression to the LaserCM with its opto-mechanical, continuous wave SPSL single point source laser is both a natural and customer driven development.
For more information contact Lisa de Beer, Parker Hannifin SA, +27 11 961 0700, lisa.debeer@parker.com, www.parker.com/za
Credit(s)
Further reading:
Case History 166: Feel and understanding, or lack thereof
May 2019, Michael Brown Control Engineering , Motion Control & Drives
I was present at a very interesting discussion the other day with people who are leaders in the automation and control industry. The subject was how jobs would disappear over the next decade or two as 
...
Read more...
---
Parker Hannifin showcases its latest mobile solutions
May 2019, Parker Hannifin Sales Company South , News
Parker Hannifin presented its new, integrated electrified system solutions for sustainable mobile systems at bauma 2019. Visitors to Parker's stand were able to see and experience a range of efficient 
...
Read more...
---
Control costs with ABB drives
May 2019, ABB South Africa , Motion Control & Drives
ABB is showcasing the ACS580 and ACS480 drives, which offer ready-made solutions for a wide range of applications. Along with energy savings, these drives contain enough functionality to replace various 
...
Read more...
---
Extraordinary power control
May 2019, KVMTech , Motion Control & Drives
EPower controllers have measurement accuracy and functionality that deliver extraordinary power control, improving process performance and saving on energy costs. Covering all types of load and voltage, 
...
Read more...
---
SEW-Eurodrive's mechatronic drive system for the bakery industry
May 2019, SEW-Eurodrive , Motion Control & Drives
SEW-Eurodrive is assisting the bakery industry to improve efficiency and reduce energy consumption by means of its Movigear mechatronic drive system. The company has enjoyed a longstanding relationship 
...
Read more...
---
Siemens extends drive system functionality
May 2019, Siemens Digital Industries , Motion Control & Drives
Siemens now offers new features in the firmware and hardware for the Sinamics S120 drive system. Operation is made easier in firmware V5.2 through the integration of the web server, which has a new, responsive 
...
Read more...
---
SEW-Eurodrive helps French Spiderman
May 2019, SEW-Eurodrive , Motion Control & Drives
Specialist rigging company, Film Riggers, was recently called upon to ensure the safety of Alain Robert, aka the French Spiderman, while he scaled a skyscraper in central Johannesburg to create an advertisement 
...
Read more...
---
The role of maintenance-free couplings in the sugar industry
May 2019, Bearing Man Group t/a BMG , Motion Control & Drives
BMG works closely with engineers in the sugar industry, providing engineering solutions and technical services to enhance production efficiencies at every mill and refinery. "BMG's specialist services 
...
Read more...
---
Parker Hannifin introduces couplings for quick and easy installation
May 2019, Parker Hannifin Sales Company South , Pneumatics & Hydraulics
Parker Hannifin now offers quick connection couplings for its NSA series, notable for features including their low weight. NSA couplings are available in nickel-plated brass or stainless steel, while 
...
Read more...
---
Listening to the Voice of the Machine
April 2019, Parker Hannifin Sales Company South , IT in Manufacturing
The value of discrete IoT.
Read more...
---