printer friendly version
Kia Slovakia reduces safety ­downtime
January 2019
IS & Ex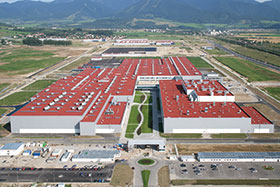 Kia Motors Corporation (KMC) was founded in 1944 and today, as part of the Hyundai-Kia Automotive Group, it aims to become one of the world's premier automotive brands. To increase market share not only in Europe, but also globally, KMC built its first-ever European facility in Zilina, Slovakia, which started production with a capacity of 300 000 units per year.
The challenge
As in most automotive companies, optimised manufacturing processes have become more important than ever before. To maximise efficiency and productivity, KMS required an integrated solution where information and devices are connected seamlessly to each other.
The Body Shop was operating with CompactLogix connected with ControlLogix and its Body Complete (BC) line was assembling all moving parts through manual handling by 20 workers. However, frequent breakdowns not only decreased productivity, but sometimes stopped the entire production line.
The BC line was configured with safety relays and was guarded with safety scanners and relays. The safety relays had complicated wiring and long conductor routing from the safety device to the relay in the main cabinet, without having a by-pass function from the scanners.
The safety circuits caused many line stops and it was often difficult to identify the reason or the location of the failure, while also taking a long time to repair. Future line stops were always anticipated due to the long and complicated safety wiring circuits.
Relay-based safety controls have a long history of helping prevent hazardous encounters between worker and machine. Safety devices such as scanners and emergency stop push-buttons connected by safety relays, have traditionally been the method of choice to protect machine operators.
But relays can offer limited fault diagnostics and are difficult to adapt as applications change because of the hardwiring they require. For these reasons, and considering the critical situation, an alternative integrated safety solution offering status visualisation and higher reliability and flexibility than the incumbent relay system was required by KMS.
The solution
Seeking a solution to meet its needs for an integrated safety solution with visualisation and increased reliability, KMS turned to Rockwell Automation – a trusted supplier for many of its production operations.
Rockwell Automation proposed a safety system that comprised safety-related programmable controllers and a network. Safety controllers, instead of traditional safety relays, help customers to create both lean and quick adaptable manufacturing processes that keep operators safe. The Allen-Bradley GuardLogix safety controller, which expands on standard Allen-Bradley ControlLogix processors with safety firmware and a safety processor was offered. Remote safety I/O modules were added and connected to the EtherNet I/P network and visualisation of safety conditions, alarms, emergency events and programming of control system and visualisation was developed for the existing Allen-Bradley PanelView Plus panel.
Allen-Bradley GuardLogix brings together the benefit of a Logix platform – common programming environment, common networks and common control engine – with integrated safety control in an easy-to-use platform, while providing SIL 3 control. By deploying Allen-Bradley ControlLogix processor, GuardLogix users can benefit from common programming software, controller and I/O to help reduce development time and application cost.
With the new design, the line was divided into five zones. Each zone had a cabinet with Safety Point I/O and only 2–3 m of wiring. Each Safety Point I/O was connected to Allen-Bradley GuardLogix with EtherNet I/P using RSLogix 5000. Each scanner had a bypass function with the possibility of light signalling and switching. Now, when the line is interrupted, only the relevant zone is stopped, signalling the location. The operator can also easily communicate with each zone through EtherNet I/P, allowing the failure to be easily identified and quickly recovered, while other zones remain operational.
Results
KMS considers the Rockwell Automation solution a complete success. By converting to a Safety PLC from a relay-based solution, it now has a flexible line with excellent reliability, which reduces maintenance and troubleshooting, while helping to secure safety as required. KMS now plans to expand and apply the integrated safety concept to other lines in the body and press shops.
For more information contact Michelle Junius, Rockwell Automation Sub-Saharan Africa, +27 11 654 9700, mjunius@ra.rockwell.com, www.rockwellautomation.co.za
Credit(s)
Further reading:
Calibration in hazardous areas
April 2019, QTEK Instrumentation & Calibration Solutions , IS & Ex
This article is an edited version of a Beamex calibration white paper, the original unedited document can be downloaded at
https://instrumentation.co.za/papers/J4324.pdf
Read more...
---
Rockwell Automation and Schlumberger announce joint venture
April 2019, Rockwell Automation , News
Rockwell Automation and Schlumberger have announced an agreement to create a new joint venture, Sensia, the first fully integrated digital oilfield automation solutions provider. The Sensia joint venture 
...
Read more...
---
Thin clients increase flexibility across the enterprise
April 2019, Rockwell Automation , System Integration & Control Systems Design
With many applications on multiple displays throughout a plant floor, manufacturers struggle to manage numerous sources of content. VersaView 5200 from Rockwell Automation uses ThinManager software to 
...
Read more...
---
Pump monitoring in hazardous areas
Technews Industry Guide: Maintenance, Reliability & Asset Optimisation 2019, Siemens Digital Industries , IS & Ex
Safety has top priority wherever flammable media are used in industry. This applies in particular to the chemical industry, where flammable liquids are produced, processed and transported by pumps in 
...
Read more...
---
Safety meets security
March 2019, Phoenix Contact , IS & Ex
A common strategy required for the future.
Read more...
---
Rockwell Automation acquires Emulate3D
March 2019, Rockwell Automation , News
Rockwell Automation has acquired Emulate3D, an innovative software development company whose products digitally simulate and emulate industrial automation systems. By using accurate simulation models 
...
Read more...
---
New managing director of Rockwell Automation for sub-Saharan Africa announced
March 2019, Rockwell Automation , News
Henry Craukamp has been appointed as managing director of Rockwell Automation for sub-Saharan Africa, effective 1 January 2019. Henry will now be responsible for leading the business in sub-Saharan Africa 
...
Read more...
---
Is your building safe from fire?
March 2019, Alien Systems & Technologies , IS & Ex
Correct selection of detectors is vital.
Read more...
---
Safety exhaust valve for emergency stop
March 2019, Parker Hannifin Sales Company South , IS & Ex
Parker Hannifin has introduced a new safety exhaust valve that rapidly exhausts compressed air in the event of a fault condition or when a machine has an emergency stop. The P33 is designed for two-channel 
...
Read more...
---
Ex-rated instruments for explosive atmospheres
March 2019, R&C Instrumentation , IS & Ex
In many industries, there are certain areas that are classified as hazardous or Ex areas. This is an area that contains, or may contain, combustible substances such as gas, vapour or dust. Typical hazardous 
...
Read more...
---