printer friendly version
Emerging technologies pose a pressing governance challenge
December 2018
Editor's Choice
As the year draws to a close, multiple factors compel the continuation of the Industry 4.0 theme and its challenges, particularly those related to governance. Many readers of this column, as well as social movements and public institutions have voiced the need to address governance issues related to artificial intelligence (AI) and other Industry 4.0 challenges. The South African journey for governance evolution in this respect will commence during December when the South Africa-European Union (SA-EU) Dialogue Facility, in partnership with the Department of Science and Technology and the Human Sciences Research Council, will host a conference that aims to advance the development of SA-EU strategic partnerships, as well as policy options in response to the Fourth Industrial Revolution. The theme of the conference is "Disruptive technologies and public policy in the age of the Fourth Industrial Revolution". It will take place at the CSIR International Convention Centre in Pretoria where it will be an honour to participate along with fellow industry experts. With optimism I look forward to the idea generation that will steer our economy forward.
Before delving into the risks and governance issues pertaining to automation technology, it is paramount to note that technology adoption is a strategic priority for South Africa. As former Nigerian president Goodluck Jonathan once remarked: "Nowhere in this world can you now grow your economy without science and technology." I share his sentiments and openly welcome any criticism or opposing views. To expand on this notion, ogling at the next moves of other countries in terms of technological advancement while we wait in order to learn from them could be suicidal. The perception is that no nation or enterprise will willingly and freely transfer its technological know-how because that knowledge is the basis of competitive advantage. So, in the era of Industry 4.0, science and technology will offer unprecedented opportunities to resurrect the South African economy and change the lives of many South Africans living below the poverty line. Viewing applications through the prism of success drivers, one dimension that requires attention, particularly in emerging markets, is quality not quantity of governance. The sections below crystalise the importance of governance as a success driver.
Global concerns
Industry 4.0 governance concerns are a global phenomenon. Renowned entrepreneurs such as Elon Musk continually remark that artificial intelligence poses potential threats to humanity, as well as social unrests risks. In 2017, the World Economic Forum (WEF) published the 12th edition of the Global Risks Report, wherein robotics and artificial intelligence received the highest risk scores, but interestingly, also received the highest benefit scores. As I have argued previously, the extent to which AI or Industry 4.0 technologies can be maximised while attenuating risk depends on the quality of governance.
How to govern Industry 4.0 technologies is a complex question. Imposing tight restrictions through policy has the potential to halt progress and adoption. On the other hand, lack of governance can also halt progress because investors will be reluctant to back the development of technologies that may later be banned should the absence of governance lead to irresponsible use. For example, autonomous vehicles will certainly be involved in road accidents and will encounter situations where they must intuitively weigh the risk of injury to passengers against the risk to pedestrians. Social institutions and social groups may be of the belief that the autonomous vehicle decided incorrectly i.e. should have injured pedestrians instead of passengers, or vice versa. As a result these institutions, social groups and activists may call for bans of such vehicles if they do not trust or believe in the governance structures behind their development and application. The real challenge with governance then lies in understanding the trade-offs between benefit, risk and the management of associated social tensions, which are expected to increase as technology accelerates.
A practical illustration
To illustrate the governance dilemma through example, a case in point that is relevant in South Africa is the escalating crime level as reported in August. By tapping into the existing data, AI can be used to predict where crimes are likely to take place, and even who is most likely to commit them. This could be termed predictive policing, which could foil a crime even before it happens. While this is a brilliant concept, it poses governance challenges that must be addressed before adoption. The challenges are twofold: firstly, offender-based predictions do not fit with South Africa's constitution, which promotes the principle of presumed innocence until proven guilty. Secondly, social-justice groups strongly oppose offender-based predictions because they believe that they exacerbate racial biases in the criminal justice system. The argument of inherent bias in AI systems is a complex one because the algorithms, at least for now, implicitly assume that the future will be similar to the past. The bias conundrum is currently gaining research momentum and part of the discovery is that machine learning algorithms, over time, develop their own self-imposed biases dependant on the data being analysed. For example, a 2017 global risk report by the WEF quoted an experimental twitter account, run by an AI application, which was deactivated for making socially unacceptable remarks.
In conclusion, no matter the challenges it is ethically imperative that leaders show the moral obligation to maximise the benefits of emerging technologies while minimizing the negative impacts.
Oratile Sematle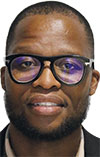 Oratile is the electrical and instrumentation manager at Sasol Group Technology. He holds a bachelor of science degree in electrical and electronic engineering as well an MBA from the University of Cape Town. As the former president of the Society of Automation, Instrumentation, Measurement and Control (SAIMC), he helps to drive the vision shared by council to address issues specific to the automation industry, and is partly accountable for the development of the automation engineering profession in South Africa. Oratile is a conference speaker and has spoken at engineering events such as Industry 4.0 and African Automation Fair. His ambition is to form cross-industry coalitions to tackle the social and educational problems experienced by disadvantaged communities.
Further reading:
Nick Denbow's European report: Trends in plant monitoring
March 2019 , Editor's Choice
Early last year, the interest from many large automation and sensor suppliers focused on condition monitoring, for example, using wireless communications to monitor the condition of the motors and bearings 
...
Read more...
---
Now might be the time to have a talk with your IT service provider
March 2019, Absolute Perspectives , Editor's Choice, IT in Manufacturing
The Gartner hype cycle provides a simple graphic representation of how emerging technologies are adopted in the market. The principle is quite simple: a new technology (such as augmented reality) will 
...
Read more...
---
Nick Denbow's European report: Will UK industry pull out of the Brexit torpor?
February 2019 , Editor's Choice
Whether the UK – whoever is in charge – decides in March to remain in the EU, drop out, or make a negotiated partial exit, the last year has been disastrous for UK industrial investment in instrumentation 
...
Read more...
---
New toolkits for innovation
January 2019, Absolute Perspectives , Editor's Choice
Why you might want to bypass the DCS and scada systems.
Read more...
---
Nick Denbow's European report: Condition monitoring resurrected yet again as sensors get smarter
December 2018 , Editor's Choice
Back in the mists of time, that is, in the sixties, the engineers in charge of the gas turbines used to generate electricity in power stations, and others monitoring helicopter gearboxes, used sensors 
...
Read more...
---
First rack-mounted switches that comply with the IEC 61850-3 Edition 2 Class 2 Standard
November 2018, RJ Connect , Editor's Choice
In today's industrial processing environment, industrial Ethernet has become a de-facto standard to connect to the company's PLCs in manufacturing, IEDs in substations and cameras for CCTV, in harsh environments. All of these demand ruggedised networking switches to ensure stable communications to the company's scada, ERP and MES software. Often, industrial networking products are installed in and around the production areas where they are subjected to high temperatures, vibrations and electrical noise from VSDs and motors.
Read more...
---
Nick Denbow's European report: Japan reopens nuclear power plants while progress is slow elsewhere
November 2018 , Editor's Choice
The Fukushima nuclear power plant accident occurred back in March 2011. Following that disaster, Japan ordered the close-down of all the nuclear generating plants in the country – there were 42 of them, 
...
Read more...
---
The Digitalisation Productivity Bonus
October 2018, Siemens Digital Industries , Editor's Choice
Siemens researches the value of digitalisation to manufacturers.
Read more...
---
How adding services to products could start your journey towards an Industry 4.0 solution
October 2018, Absolute Perspectives , Editor's Choice, IT in Manufacturing
For manufacturers, digital transformation involves understanding a range of new technologies and applying these to both create new business and to improve the current operation. Industry 4.0 provides 
...
Read more...
---
Nick Denbow's European report: Vision sensors, the brain and intelligent data processing
October 2018 , Editor's Choice
At a certain age, around 70, our bodies begin to show signs of wear. What becomes apparent is that our built in control loops and data processing software steps in to compensate, and covers the gaps in 
...
Read more...
---