printer friendly version
TwinCAT IoT communicator
November 2018
Industrial Wireless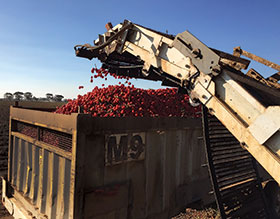 Radio frequency identification (RFID) technology is increasingly found in food tracing as technology improves. Implementing RFID is not uncommon in the case of large containers containing raw products and in the mixing of bulk materials. It offers companies a number of ways to streamline and manage their capacities, focusing particularly on the issues of traceability and process reliability. Using wireless technology for identification purposes opens up a new dimension in automatic data recording. The automotive industry has been using RFID for years – where a tag is attached to the car body and is encoded with data options for each vehicle.
As RFID tags are read/write devices and no visual contact of the tag is required, they offer more functionality than bar code technology. Moreover, they are very robust so that they can even survive harsh ambient conditions such as high temperatures, mud or wetness. This technology supplied by SICK Automation has allowed Kagome, a Japanese tomato processor, to ensure product traceability which increased efficiency in the production processes at its Australian factory.
Food and traceability
Traceability has always been important for the food and beverage industry. In recent years in Australia, however, the need for real-time recalls has increased due to plant processing errors or recalls from Food Standards Australia New Zealand (FSANZ). An effective tracking and tracing programme consists of a number of components, starting with accurate and fast identification.
For many years the identification workhorse has been the ubiquitous bar code. As foodstuffs move through the production process, they are identified by a unique code; on containers when in process, on packaging for the finished product, on cartons and pallets during transport and on shelves in retail stores. Kagome, however, was looking for a real-time identification solution that could handle mud and tomato juice as well as heat, wind, and rain.
The operation
The Kagome factory operates 12 harvesters loading tomatoes into more than 300 14-ton capacity bins which, once full, are unloaded at a bin pad where a truck picks it up and transports it to a nearby weighbridge. One trip from the tomato fields to the factory takes approximately 90 minutes and each truck can load three bins – that is an average of 42 tons of tomatoes per truck. Three years ago trucks would queue at the weighbridge, waiting for up to 12 minutes before the truck load could be weighed.
This was partially because of Kagome's quality control process where three samples from each bin had to be processed in the laboratory for quality control purposes and to validate the tomatoes origins. Additionally, paperwork to document the harvesting process and quantity and quality of the yield was required, for which the truck drivers were responsible. A paper-based quality control system of this kind increases the potential for human error, which can sometimes result in contaminated products reaching consumers. To ensure traceability, the company decided it needed a paperless automated identification solution to be implemented at the weighbridge.
The solution
Kagome installed six RFU63x units from SICK at the factory's weighbridge and discharge hill. Each unit is equipped with three antennas for double stacked bins. Resistant and stable RFID tags were attached to the tomato bins, accompanying them from the start of the harvesting process. As a result, the RFU63x meets all Kagome's requirements set out for paperless automated identification of tomatoes. In this way, RFID helps to prevent the typical errors made during inbound and outbound goods processes, such as incorrect quantity and quality data, or missing accounting entries, for example.
RFID allows real-time identification of where the tomatoes originate. Due to paperless identification, truck drivers no longer need to leave the truck at the weighbridge, contributing to enhanced driver safety. This efficiency gain means that the truck is spending less time at the weighbridge and that truck jams in front of the weighbridge and the tomato drop hill have largely been eliminated. Truck time at the weighbridge was reduced from 12 minutes to two minutes, enabling truck drivers to do one additional trip per 12-hour shift. This means a productivity gain of 504 tons in total, which has been achieved thanks to using the new RFID technology from SICK Automation.
For more information contact Mark Madeley, SICK Automation Southern Africa, +27 10 060 0550, mark.madeley@sickautomation.co.za, www.sick.com/za/en
Credit(s)
Further reading:
Adroit brings M2M, IoT and IIoT to the industrial world
June 2019, Adroit Technologies , Industrial Wireless
Combining the new IIoT capability with GIS interfaces, situational awareness and alarm management data, all can use the big data and analytical processing capability of Adroit's standard scada Intelligence software package to derive greater insights and value from their processes.
Read more...
---
Accurate bulk flow measurement in the cement industry
June 2019, SICK Automation Southern Africa , Flow Measurement & Control
The rapid development of sensor technology provides cement producers with a toolbox of solutions to optimise performance and strengthen market presence. Non-contact volume flow measurement of conveyed 
...
Read more...
---
Wireless networks for AGV systems
June 2019, RJ Connect , Industrial Wireless
In order for factories to perform their tasks efficiently and optimise production, automated material handling (AMH) systems, such as AS/RS and AGVs, need the flexibility to move around on their designated 
...
Read more...
---
Merging control and telemetry
June 2019, Omniflex Remote Monitoring Specialists , Industrial Wireless
Wireless telemetry and control in plants have become a necessity with the data acquisition requirement of modern plant control to lift performance and compliance. In-plant cabling costs often push the 
...
Read more...
---
Managing complexity in wireless environments
June 2019, Axiz , Industrial Wireless
In the decades since its infancy, wireless networking has undergone tremendous shifts, opening an avenue for enterprise wireless Internet consumption. The advances in speed, coupled with the sheer convenience 
...
Read more...
---
Part localiser from SICK Automation
June 2019, SICK Automation Southern Africa , System Integration & Control Systems Design
Testing and assembly specialist, Kubik Automation from Baienfurt, Germany, is putting SICK Automation's PLOC2D robot guidance system to use in its new sCube assembly cell. The team of experienced industry 
...
Read more...
---
Mobility for Industry 4.0 ­challenges
Africa Automation Fair 2019 Preview, Pepperl+Fuchs , Industrial Wireless
The Tab-Ex 02 series of tablets from Pepperl+Fuchs has innovative features that make Industry 4.0/IIoT applications easy to implement.    The DZ1 version ecom has a range of applications that are unique 
...
Read more...
---
Hazardous area access point
Africa Automation Fair 2019 Preview , Industrial Wireless
Bartec's Wireless X is a small, light wireless access point, eliminating the need for bulky, heavy enclosures and external antennas. On show at Stand G13, it has both IECEx and ATEX Zone 1 certification. 
...
Read more...
---
IIoT gateway for access to remote industrial equipment
Africa Automation Fair 2019 Preview, Throughput Technologies , Industrial Wireless
SiteManager is a security certified IIoT Edge Gateway in the Secomea Industrial Communications Solution program that ensures unified, uninterrupted and secure access to remote industrial equipment. Visit 
...
Read more...
---
Responsive wireless I/O from ­Omniflex
May 2019, Omniflex Remote Monitoring Specialists , Industrial Wireless
Radio networks traditionally follow the Master (main station node) and Slave (out station node) methodology for data acquisition. A single master polls for data from one or more slaves, depending on the 
...
Read more...
---