printer friendly version
Edge applications for machine tools
November 2018
Motion Control & Drives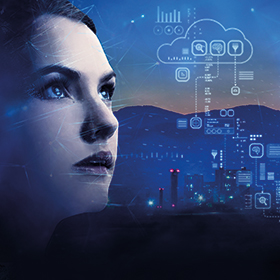 As part of Siemens Industrial Edge, the company is launching applications for Sinumerik Edge, the machine-level platform specially designed for the machine tool industry, at AMB 2018 in Stuttgart. This is the first opportunity to see the Edge application Optimise MyMachining/Trochoidal for use in trochoidal milling applications.
Optimise MyMachining/Trochoidal provides users with updates for the existing NC program, optimised machining processes, and sustainability for retrofit applications using dynamic machine data and corresponding data inputs. This leads to reduced tool wear, improved machine lifetimes, and thus to lower overall inventory costs, which in turn increases machine availability, leading to significant productivity gains.
High-performance Sinumerik Edge technology makes all this possible. Computation is based on individual, optimal machine and axes-based dynamic data. A control-based interface allows the machine to be programmed directly using Sinumerik Edge-based computational power. This prevents any adverse effects on the machine's machining performance which optimises the process. Optimise MyMachining/Trochoidal is particularly suitable for use with older machines as it reduces the mechanical wear in the machine considerably.
With Siemens Industrial Edge, Siemens offers users the chance to close the gap between local and cloud-based data processing to suit individual requirements. Edge computing allows large volumes of data to be processed locally almost in real-time and without any feedback. There is also an additional reduction in memory and transfer costs as large volumes of data are pre-processed and only the relevant data is finally transferred to a cloud or factory-level IT infrastructure. Siemens Industrial Edge supports cloud transfer protocols for MindSphere, its own open, cloud-based IoT operating system. In the future, it will also support Message Queuing Telemetry Transport (MQTT), making data transfer safe and effective. With Sinumerik Edge, Siemens offers a local platform for software applications developed specially for machine tools, which captures, pre-processes and analyses high-frequency data during machine tool operation, and which is integrated into the relevant automation solution.
For more information contact Jennifer Naidoo, Siemens Digital Factory and Process Industries and Drives, +27 11 652 2795, jennifer.naidoo@siemens.com, www.siemens.co.za
Credit(s)
Further reading:
Danfoss efficiencies help South African farmers to free up energy and achieve production goals
October 2020, Danfoss , Motion Control & Drives
Danfoss, together with engineering components provider BMG, supplied a commercial maize farmer with the technology to combat challenges around irrigation sufficiency.
Read more...
---
Energy efficient drive technology for the mining industry
October 2020, Danfoss , Motion Control & Drives
The mining industry must forgo its traditional energy consumption patterns in a bid to ensure that the sector de-carbonises towards a greener and more sustainable method of extraction.
Read more...
---
Bringing intelligence to the shop floor with Siemens Industrial Edge
October 2020, Siemens Digital Industries , IT in Manufacturing
Siemens Industrial Edge closes the gap between local and cloud computing and enables high-frequency data exchange at field level.
Read more...
---
Modular towel production lines
September 2020, Beckhoff Automation , Motion Control & Drives
Rapid development and configuration of manufacturing systems for terrycloth towels with PC-based control.
Read more...
---
Validation goes digital
September 2020, Siemens Digital Industries , IT in Manufacturing
CVal allows customers in the pharmaceutical industry to produce digital, auditable plant documentation through efficient data handling across all disciplines using a central database and object orientation.
Read more...
---
Automation and digitalisation offer competitive edge in volatile markets
August 2020, Siemens Digital Industries , News
The current situation creates major challenges for industrial companies worldwide and shows that digitalised and highly automated production is more important than ever when it comes to gaining a competitive 
...
Read more...
---
BMG solutions for efficient agriculture
August 2020, Bearing Man Group t/a BMG , Motion Control & Drives
BMG's Boer Slim/Smart-Farming agricultural team works closely with farmers throughout southern Africa, assisting them with the selection, installation and operation of new electromechanical systems. These 
...
Read more...
---
PC and EtherCAT-based control technology in next-generation telescope
August 2020, Beckhoff Automation , Motion Control & Drives
Key factors were the advantages of EtherCAT for site-wide real-time communication connecting all telescope functions. Various embedded PCs and AM8000 servomotors were also tested and specified, among 
...
Read more...
---
Commander series drives
August 2020, Nidec Industrial Automation Southern Africa , Motion Control & Drives
The Commander series are simple and compact AC motor speed controllers that meet advanced requirements in a wide range of applications. Their small footprint makes them ideal for machine builders and 
...
Read more...
---
Belting products for furnace belts
August 2020, Bearing Man Group t/a BMG , Motion Control & Drives
BMG's Light Materials Handling division supplies and supports a comprehensive range of belting products suitable for use in diverse sectors, including high-temperature applications, like glass bottle 
...
Read more...
---