printer friendly version
Don't forget to test your fire protection systems before the holiday shutdown
November 2018
IS & Ex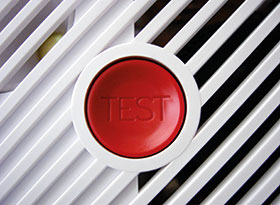 As the year draws to a close, it is natural that people start looking forward to the holidays. It is therefore quite easy to neglect to consider the damaging effect a fire could have on businesses during the annual shutdown. In light of the recent and tragic deaths of fire fighters in Johannesburg, AST's advice is to ensure that while attention turns to the festive season, business owners should ensure that their premises have the necessary fire protection measures in place.
Routine checks before the annual shutdown
Routine service checks must be completed prior to the holidays, which should include servicing of fire extinguishers, fire detection systems, sprinkler systems, automatic fire extinguishing systems, fire sealing and room integrity testing, and so forth.
Those businesses that currently do not have any form of fire protection may want to consider the losses they could potentially incur. AST can assist with most fire risk requirements through its knowledgeable and friendly sales team who are always ready to assist.
In addition to the above, it is also advisable to check all electrical systems and make sure they are properly isolated if necessary. Any process that can lead to an ignition must be disabled if not being used during the festive season, and all materials and equipment must be stored away.
In case anything goes wrong, make sure your insurance policies are in order and that your building is fully compliant with the requirements of the National Building Regulations and the relevant fire engineering standards. Should you have Pyroshield Gaseous Fire Extinguishing cylinders, be sure that they are up-to-date on all OHSA:PER (2009) requirements, such as mandatory 10-year hydrostatic pressure testing. By not doing so, you could fall foul of the law, and indeed may void insurance policies.
AST has a full team of fire system inspectors and fire systems designers who are able to perform inspections and ensure compliance. For hydrostatic pressure testing, they can assist with rapid transport and quick fill solutions at no cost.
If the company will be running a skeleton staff during the holidays, ensure that they have been trained to respond to a fire alarm and understand and are capable of following the necessary procedures. They must know where the nearest fire brigade is and how to reach them. These small details can prevent a business going up in smoke.
If the business is being shut down completely, make sure there is an automatic means of sensing a fire and remote signalling an alarm to someone. If not, AST can assist with this.
An early alert, followed with a fire-fighting response, can mean the difference between a minor incident and the loss of property, or even worse, lives. Performing these routine checks before you shut down for the holidays will help to ensure that you are not greeted by an unpleasant surprise when you return. https://www.facebook.com/astafrica/?ref=settings
For more information contact Grant Wilkinson, Alien Systems & Technologies, +27 11 949 1157, sales@astafrica.com, www.astafrica.com
Credit(s)
Further reading:
Tube connector for Ex areas
May 2020, Parker Hannifin - Sales Company South Africa , IS & Ex
Parker Hannifin has extended its Phastite permanent instrumentation connection range, which is now available in a number of corrosion-resistant alloys (CRAs), including Alloy 825, 625 and Super Duplex, 
...
Read more...
---
How to calculate an intrinsically safe loop approval - updated and revised
March 2021, Extech Safety Systems , IS & Ex
We all know what can happen when the correct techniques are not used when interfacing into a hazardous area.
Read more...
---
Robust safety light curtains
April 2021, Turck Banner , IS & Ex
Ez-Screen LS light curtains are intuitive, easy-to-use safety devices designed by Turck Banner for machine safeguarding.
Read more...
---
Delivering modern SIS for wellhead applications
April 2021, Emerson Automation Solutions , IS & Ex
Keeping the safety and non-safety functions separate while achieving seamless integration.
Read more...
---
Enterprise mobility for hazardous areas
March 2021, Pepperl+Fuchs , IS & Ex
Enterprises can easily select and manage Android devices and services with the new Android Enterprise Recommended devices – verified by Google.
Read more...
---
Intrinsically safe robot for tank inspection
March 2021, RS Components SA , IS & Ex
Electrocomponents collaborates with industry specialists to develop revolutionary new method of inspecting petrochemical storage tanks.
Read more...
---
Illuminated E-stops with diagnostics
March 2021, Turck Banner , IS & Ex
In-Series Diagnostics runs through up to 32 devices on a single 4-pin cable to the control panel, with only two wires running to the controller and two others for power.
Read more...
---
New Rockwell Automation safety devices
March 2021, Rockwell Automation , IS & Ex
Manufacturers can harness the power of data to improve their safety compliance and performance using two new smart safety devices.
Read more...
---
Protecting hazardous areas from corrosion
April 2021, Omniflex Remote Monitoring Specialists , IS & Ex
Omniflex has gained IECEx certification to manufacture intrinsically safe electrical equipment for the global market, supplementing its existing hazardous area equipment approvals.
Read more...
---
New smart devices improve safety
May 2021, Rockwell Automation , IS & Ex
Manufacturers can harness the power of data to improve their safety compliance and performance using two new smart safety devices.
Read more...
---