Yokogawa's fibre optic heat detector
November 2018
Sensors & Transducers

printer friendly version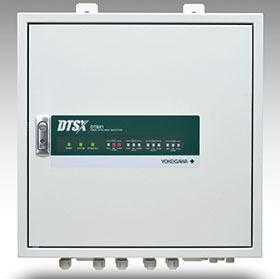 Yokogawa has announced the DTSX1 fibre optic heat detector, an OpreXTM Field Instruments heat sensing and fire detection solution. Housed in an enclosure and suitable for use with specified fibre optic cables, the detector is a cost-effective all-in-one facility monitoring and fire detection solution. It is expected that this solution will aid in the timely identification of maintenance issues and thereby improve plant uptime and reduce maintenance costs.
Due to ageing facilities, labour related safety management issues, and various other problems, the risk of fire is always a concern at industrial facilities and there is thus a rising need for heat detection solutions. With their ability to measure the temperature distribution and pinpoint anomalies along the entire length of a cable, fibre optic heat detectors are a promising solution to such concerns, and devices of this type are increasingly used for monitoring temperature at a broad range of facilities.
In 2011 and 2014, respectively, Yokogawa released the DTSX200 and DTSX3000 fibre optic temperature sensors for use in applications such as the detection of abnormal heat build-up in coal and wood chip conveyors, the measurement of temperature changes in unconventional oil and gas wells, and the detection of the leakage of high and low-temperature liquids and gasses from pipelines and tanks. In response to the growing demand for facility maintenance solutions that can prevent incidents caused by heat-related failures at industrial facilities, as well as the need to comply with fire detection standards, Yokogawa has developed the DTSX1. This easy-to-deploy detector is specifically designed for use in heat sensing and fire detection.
Product features
Cost-effective solution
All components including an easy-to-read display, relay output circuits, alarm circuits, and other hardware required for heat detection are housed in a single enclosure. Suitable for use with Yokogawa-specified fibre optic cables and designed specifically for use in facility monitoring and fire detection applications.
Measure data from four cables up to 16 km in length
The system can accommodate up to four channels receiving temperature data via fibre optic cables that can each be up to 16 km in length. In terms of number of channels and total measurement distance: the number of channels can be set to 1, 2, or 4 and the measurement distance can be set to 2, 4, 6, 8, 10 or 16 km.
Ready-to-use GA10 templates for monitoring facility status
Templates have been created for Yokogawa's GA10 PC-based data logging software that facilitate the display of DTSX1 data. Monitoring windows for each type of application enable the quick detection and location of failures.
For more information contact Christie Cronje, Yokogawa South Africa, +27 11 831 6300, christie.cronje@za.yokogawa.com, www.yokogawa.com/za
Credit(s)
Further reading:
Large German fertiliser manufacturer reduces costs thanks to SICK Automation
February 2019, SICK Automation Southern Africa , Sensors & Transducers
Available agricultural land in Europe is limited. As a result, large quantities of fertiliser are used in order to increase yields. Producing fertiliser, however, is an energy-intensive process which 
...
Read more...
---
Traceability for tobacco manufacturer
February 2019, SICK Automation Southern Africa , Sensors & Transducers
SICK Automation South Africa recently installed 120 image-based 2D barcode readers across multiple scanning stations in a South African tobacco manufacturing plant. The cigarette manufacturer was looking 
...
Read more...
---
Hygienic limit switches for processes
February 2019, Morton Controls , Sensors & Transducers
Process and storage vessels incorporate limit switches to prevent overfilling of a tank or vessel (full indicator) or dry running of a pump (empty indicator). Anderson-Negele's NCS series are ideally 
...
Read more...
---
A new standard for digital ­inclination measurement
February 2019 , Sensors & Transducers
A new standard for digital inclination measurement has been set with the latest digital protractors from Stabila. Both the Tech 500 DP and Tech 1000 DP are manufactured exclusively in Germany, the main 
...
Read more...
---
Bromide sensor for water disinfection
February 2019, ASSTech Process Electronics + Instrumentation , Sensors & Transducers
With the expansion of its product range of membrane-covered amperometric digital sensors for liquid analysis, ASSTech now has available the Jumo tec-Line Br bromide sensor for general water disinfection 
...
Read more...
---
Yokogawa releases two new liquid analysis products for monitoring
February 2019, Yokogawa South Africa , Analytical Instrumentation & Environmental Monitoring
Sencom 4.0 additions enable flexible design and improve maintenance efficiency.
Read more...
---
Wenglor expands optical sensor range
February 2019, ASSTech Process Electronics + Instrumentation , Sensors & Transducers
Wenglor's PNG/smart generation of photoelectronic sensors is distinguished by a combination of performance and communication. An aligned optical axis and a balanced switching point, as well as large switching 
...
Read more...
---
Yokogawa adds OpreX redundancy
February 2019, Yokogawa South Africa , IT in Manufacturing
Yokogawa has announced a platform that enables software packages to run on general-purpose computers in a redundant configuration, which has been added to its OpreX Control and Safety System family. This 
...
Read more...
---
Four questions to ask when ­choosing a vision solution
February 2019, Turck Banner , Sensors & Transducers
Many users find vision systems challenging and it can be difficult to know where to start, but there are some simple steps that can help to match the right vision solution to an application. This article 
...
Read more...
---
Intelligent valve sensor
February 2019, ifm Electronic RSA , Sensors & Transducers
The intelligent valve sensor for pneumatic quarter-turn actuators from ifm electronic features 360° position monitoring to allow precise and continuous scrutiny of the valve condition. Problems such as 
...
Read more...
---