printer friendly version
SpotScan gives pyrometers ­scanning ability
November 2018
Temperature Measurement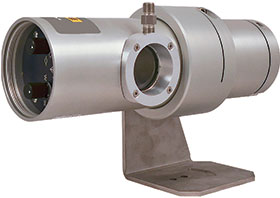 Fluke Process Instruments recently introduced the SpotScan line scanning accessory for the Endurance, Marathon, and Modline ranges of IR non-contact temperature measurement sensors. The accessory features a scanning mechanism that enables users to gather temperature data over a larger area on the target.
SpotScan helps optimise the performance of IR thermometers in applications ranging from metals processing and induction heating, to carbon graphite production.
It is especially well-suited for web and conveyor hot spot or cold spot monitoring. With the accessory, industrial facilities can continue to utilise the advanced optics of their Fluke IR temperature sensors to achieve small spot sizes on the measurement target, but also 'spot sweep' over the target to monitor a larger area, thus obtaining additional information on critical production processes. Users can see a hot spot over a larger area and continuously monitor the analog output for temperature variations that exceed defined limits.
This allows plant operators to employ signal conditioning sensor capabilities to obtain temperature information in a variety of different ways. For example, use of the 'peak picker' function helps identify hot spots over a larger area. The averaging/response time functions provide average temperature over an extended range. In either case, operators benefit from an expanded view and increased awareness of process conditions.
Units are also available with options for sighting the IR instrument and periodically checking sighting accuracy. On-board controls make it easy to manipulate the end or centre positions of the scan, as well as its frequency. For sensors equipped with a laser, the user can simply turn the unit on to see exactly where the sensor is aimed. For units equipped with through-the-lens sighting, scanning at the end points can be stopped to make necessary aiming adjustments.
The SpotScan line scanning accessory utilises the existing sensor DC power supply. Its durable IP65 enclosure is designed to withstand ambient temperatures up to 60°C and an air purge option is available for use in dusty environments.
For more information contact R&C Instrumentation, +27 11 608 1551, info@randci.co.za, www.randci.co.za
Credit(s)
Further reading:
Insertion resistance thermometers
April 2019, Instrotech , Temperature Measurement
Instrotech is offering Kobold's MMA range of industrial temperature probes, or insertion resistance thermometers, with or without transmitter. The MMA is engineered using 316 stainless steel and incorporates 
...
Read more...
---
Fixed thermal imaging for process heating
April 2019, R&C Instrumentation , Temperature Measurement
Noncontact temperature measurement is widely used for industrial process monitoring and control. Infrared (IR) thermal imaging can provide detailed information to help improve product quality and increase 
...
Read more...
---
Web data logger
April 2019, GHM Messtechnik SA , Temperature Measurement
There is ongoing tightening up of regulations that impact upon industries where the monitoring of measurements of illuminance, temperature, atmospheric pressure, humidity and CO
2
is critical in the manufacture 
...
Read more...
---
PRO series cameras with leading-edge technology
Technews Industry Guide: Maintenance, Reliability & Asset Optimisation 2019, Comtest , Temperature Measurement
When diagnosing problems, capturing and displaying small temperature variances makes all the difference. Comtest now offers Fluke's Ti480 and Ti450 PRO series infrared cameras, recently fine-tuned to 
...
Read more...
---
Compact plastic temperature probe
March 2019, ASSTech Process Electronics + Instrumentation , Temperature Measurement
Jumo has introduced the new plastoSens T04 plastic temperature probe, which can measure the temperature in injection moulding processes by simply being placed on a pipe. To measure the temperature, different 
...
Read more...
---
Temperature probes for all applications
March 2019, ASSTech Process Electronics + Instrumentation , Temperature Measurement
Kimo offers an extensive range of thermocouple and RTD temperature probes that come as standard products or can be custom made to suit the measuring requirements. The thermocouple types are fitted with 
...
Read more...
---
Ex-rated instruments for explosive atmospheres
March 2019, R&C Instrumentation , IS & Ex
In many industries, there are certain areas that are classified as hazardous or Ex areas. This is an area that contains, or may contain, combustible substances such as gas, vapour or dust. Typical hazardous 
...
Read more...
---
AST's line-type heat sensing
February 2019, Alien Systems & Technologies , Temperature Measurement
Alien Systems & Technologies (AST) offers a wide range of automatic fire detection systems from advanced ultra-smart addressable point type detection systems to regular conventional systems.
Read more...
---
Infrared technology in the food and beverage industry
February 2019, Comtest , Temperature Measurement
Keeping production strictly on schedule in any facet of the food and beverage industry, whether it be pumps, conveyors or electrical connections, means downtime is not an option. Comtest advocates including 
...
Read more...
---
Safe infrared inspections under load
February 2019, R&C Instrumentation , Maintenance, Test & Measurement, Calibration
Iriss and Eaton joined forces to manufacture the Pow-R-Way III Busway System, which enables safe and accurate energised infrared inspections under full load. The UL listed joint cover design, with the 
...
Read more...
---