printer friendly version
SpotScan gives pyrometers ­scanning ability
November 2018
Temperature Measurement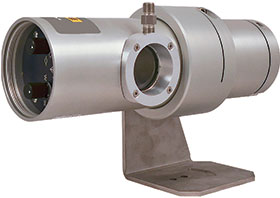 Fluke Process Instruments recently introduced the SpotScan line scanning accessory for the Endurance, Marathon, and Modline ranges of IR non-contact temperature measurement sensors. The accessory features a scanning mechanism that enables users to gather temperature data over a larger area on the target.
SpotScan helps optimise the performance of IR thermometers in applications ranging from metals processing and induction heating, to carbon graphite production.
It is especially well-suited for web and conveyor hot spot or cold spot monitoring. With the accessory, industrial facilities can continue to utilise the advanced optics of their Fluke IR temperature sensors to achieve small spot sizes on the measurement target, but also 'spot sweep' over the target to monitor a larger area, thus obtaining additional information on critical production processes. Users can see a hot spot over a larger area and continuously monitor the analog output for temperature variations that exceed defined limits.
This allows plant operators to employ signal conditioning sensor capabilities to obtain temperature information in a variety of different ways. For example, use of the 'peak picker' function helps identify hot spots over a larger area. The averaging/response time functions provide average temperature over an extended range. In either case, operators benefit from an expanded view and increased awareness of process conditions.
Units are also available with options for sighting the IR instrument and periodically checking sighting accuracy. On-board controls make it easy to manipulate the end or centre positions of the scan, as well as its frequency. For sensors equipped with a laser, the user can simply turn the unit on to see exactly where the sensor is aimed. For units equipped with through-the-lens sighting, scanning at the end points can be stopped to make necessary aiming adjustments.
The SpotScan line scanning accessory utilises the existing sensor DC power supply. Its durable IP65 enclosure is designed to withstand ambient temperatures up to 60°C and an air purge option is available for use in dusty environments.
For more information contact R&C Instrumentation, +27 11 608 1551, info@randci.co.za, www.randci.co.za
Credit(s)
Further reading:
Preventive maintenance in pulp and paper mills
October 2020, R&C Instrumentation , Maintenance, Test & Measurement, Calibration
The thinking around machine condition monitoring has changed over the years and it is now stated that vibration is the better measurement over temperature, since it gives earlier warning.
Read more...
---
New RTD transmitter
September 2020, Mecosa , Temperature Measurement
What characterises the APAQ 130 is simplicity. Users can easily configure the transmitters wirelessly with a smartphone or tablet.
Read more...
---
Temperature profiling in automobile manufacture
September 2020, R&C Instrumentation , Temperature Measurement
The automotive industry uses many materials to build cars. These have evolved over time, becoming more sophisticated and often requiring heat treatment at some stage of component manufacture.
Read more...
---
New iTEMP transmitter with Bluetooth
September 2020, Endress+Hauser South Africa , Temperature Measurement
Endress+Hauser's new iTEMP TMT142B temperature transmitters deliver highly accurate and reliable measurements, wireless communication via Bluetooth and user-friendly operation packaged in a robust single-chamber field housing.
Read more...
---
Temperature control in the glass industry
August 2020, R&C Instrumentation , Temperature Measurement
New products like the Endurance and Thermalert series ensure that whatever the temperature measurement and monitoring requirements, a solution can be found.
Read more...
---
Closed panel electrical inspection
July 2020, R&C Instrumentation , Maintenance, Test & Measurement, Calibration
When electrical distribution equipment fails, the results can be catastrophic to a company as workplace injuries and fatalities could occur. A company's profit margin can be negatively impacted by unscheduled 
...
Read more...
---
Ratio pyrometer: theory and applications
June 2020, R&C Instrumentation , Temperature Measurement
There are many applications where a standard one-colour thermometer reads the temperature incorrectly. These include:   
• Small objects (too small to fill the cone-of-vision). • Dust, smoke or steam, 
...
Read more...
---
Thermal camera for automotive diagnosis
May 2020, RS Components SA , Temperature Measurement
RS Components has announced the availability of a new thermal camera from FLIR, a specialist in intelligent sensing products for industrial markets. The TG275 thermal camera is ideal for automotive maintenance 
...
Read more...
---
Emerson's new thermowell design tool
June 2020, Emerson Automation Solutions , Temperature Measurement
Emerson has introduced the Rosemount Thermowell Design Accelerator, a free online thermowell design tool that eliminates manual thermowell iterations facing process design engineers when sizing thermowells. 
...
Read more...
---
Dry-well calibrator
June 2020, WIKA Instruments , Temperature Measurement
WIKA's innovative CTD4000 series calibrators have been designed for on-site applications as well as for the severe conditions of the naval and marine sectors. Their ease of use and compact and practical 
...
Read more...
---