printer friendly version
SpotScan gives pyrometers ­scanning ability
November 2018
Temperature Measurement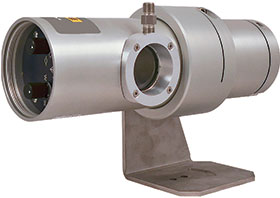 Fluke Process Instruments recently introduced the SpotScan line scanning accessory for the Endurance, Marathon, and Modline ranges of IR non-contact temperature measurement sensors. The accessory features a scanning mechanism that enables users to gather temperature data over a larger area on the target.
SpotScan helps optimise the performance of IR thermometers in applications ranging from metals processing and induction heating, to carbon graphite production.
It is especially well-suited for web and conveyor hot spot or cold spot monitoring. With the accessory, industrial facilities can continue to utilise the advanced optics of their Fluke IR temperature sensors to achieve small spot sizes on the measurement target, but also 'spot sweep' over the target to monitor a larger area, thus obtaining additional information on critical production processes. Users can see a hot spot over a larger area and continuously monitor the analog output for temperature variations that exceed defined limits.
This allows plant operators to employ signal conditioning sensor capabilities to obtain temperature information in a variety of different ways. For example, use of the 'peak picker' function helps identify hot spots over a larger area. The averaging/response time functions provide average temperature over an extended range. In either case, operators benefit from an expanded view and increased awareness of process conditions.
Units are also available with options for sighting the IR instrument and periodically checking sighting accuracy. On-board controls make it easy to manipulate the end or centre positions of the scan, as well as its frequency. For sensors equipped with a laser, the user can simply turn the unit on to see exactly where the sensor is aimed. For units equipped with through-the-lens sighting, scanning at the end points can be stopped to make necessary aiming adjustments.
The SpotScan line scanning accessory utilises the existing sensor DC power supply. Its durable IP65 enclosure is designed to withstand ambient temperatures up to 60°C and an air purge option is available for use in dusty environments.
For more information contact R&C Instrumentation, +27 11 608 1551, info@randci.co.za, www.randci.co.za
Credit(s)
Further reading:
Bimetal thermometer with switch contacts
December 2019, WIKA Instruments , Temperature Measurement
WIKA's model TGS55 is a stainless steel bimetal thermometer which offers high reliability and long service life. Wherever the process temperature has to be indicated on-site and, at the same time, circuits 
...
Read more...
---
Infrared monitoring of kiln shells extends refractory life
December 2019 , Temperature Measurement
Extending the life of a kiln refractory as well as preventing disastrous failures requires a good understanding of the condition of the refractory material.
Read more...
---
Thermocouples in gasification reactors
November 2019, WIKA Instruments , Temperature Measurement
Gasification reactors, due to their harsh process conditions, place high demands on the instruments used there. Many manufacturers have reacted to this and adapted their products accordingly, but what 
...
Read more...
---
Thermal profiling can prevent business disasters
November 2019, R&C Instrumentation , Temperature Measurement
Thermal profiling is the term used to describe the process of recording and interpreting the temperatures of products and air as they move through a heat treatment process. In the food, beverage 
...
Read more...
---
Hotspot detection in pressboard manufacturing applications
October 2019, R&C Instrumentation , Temperature Measurement
In the building industry, there is a product used that is commonly referred to as pressboard, also known as chipboard. Sheets of pressboard are typically 1,2 m x 2,4 m in size and are used in the construction 
...
Read more...
---
Pair temperature probes with different cable lengths
October 2019, ASSTech Process Electronics + Instrumentation , Temperature Measurement
In heat meters for heating systems, two paired temperature probes are usually used for symmetrical installation. These must have identical cable lengths to comply with the legal regulations. Now, Jumo 
...
Read more...
---
Vibration measurement in machine maintenance
October 2019, R&C Instrumentation , Maintenance, Test & Measurement, Calibration
Vibration and temperature are the most common parameters measured on process plants for machine maintenance. Temperature measurement has been around for longer, probably because it was available first 
...
Read more...
---
IR thermometers in the steel industry
September 2019, R&C Instrumentation , Temperature Measurement
In many foundry applications, temperature readings show whether processes are operating within their proper ranges, whether a reheater is too cold or too hot, whether a stand needs adjusting, or how much 
...
Read more...
---
Ten facts about infrared windows
September 2019, R&C Instrumentation , Maintenance, Test & Measurement, Calibration
Infrared (IR) inspection is widely used and quickly becoming indispensable in electrical maintenance programmes. With the advent of IR windows, this procedure is now both safe and cost-effective. However, 
...
Read more...
---
Compact IR camera with industrial accessories
September 2019, Comtest , Temperature Measurement
Comtest has announced an addition to the Optris Compact line of IR cameras – Xi 80 and Xi 400 – with new industrial accessories for use in harsh conditions. The range has a modular design and as a result, 
...
Read more...
---