printer friendly version
Clearly visible flow measurement
November 2018
Flow Measurement & Control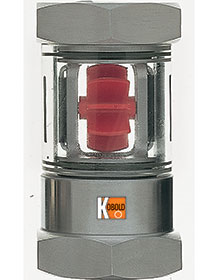 To check the flow processes in pipeline systems and for insight into the interior of process pipes, many flow indicators are used in which the flowing medium sets a rotor turning and thus, to a large extent, visibly signals a flow. The special feature of Kobold's special version, Type DAA, is that the rotor is housed in a glass cylinder.
This version ensures a functional flow check from two points of view. On one hand, its construction as a visible cylinder gives a relatively large and thus easily observed field of observation. In addition, the rotary movement of the Teflon rotor permits reliable monitoring of cloudy or dark media due to its noticeably bright colour. This type of device is already widely used and has proved itself in industrial use thanks to its functional reliability.
The design and construction of the DAA flow indicator deserves special mention.
Due to integration of two wiper elements, Kobold has, for the first time, been successful in combining a flow indicator with a device which allows the equipment to be cleaned during operation. The sight tube can be rotated so that the wiper elements concentrate the dirt into two narrow strips on the interior of the glass. From there it is taken away effortlessly by the flow.
For this purpose, the Borosilicate glass tube is fitted with O-rings which slide easily, so that the cleaning of the unit can be carried out by hand even under full operating pressure. The flow indicator with integral cleaning device can be used in any position for checking the flow of gases and liquids. A choice of sizes is offered with connection dimensions G¼ to G1½, with which flow rates of 0,4 l/min up to 100 l/min can be reliably checked.
Along with the standard housing version in brass, the units are also offered in a resistant stainless-steel version for aggressive media. If the rotor is unwanted for particular applications, e.g. for increases in flow rate, the unit is also available with just a sight glass with cleaning device. The type DAA flow indicators are usable for operating pressures up to PN 16 at temperatures up to 100°C.
For more information contact Instrotech, +27 10 595 1831, sales@instrotech.co.za, www.instrotech.co.za
Credit(s)
Further reading:
Keller's water level monitoring systems
April 2019, Instrotech , Level Measurement & Control
The Grib Mine, located in Russia's Mezensky District in the Arkhangelsk Oblast, is one of the largest diamond deposits in the world. During winter, temperatures can drop to -25° and sometimes -37°. The 
...
Read more...
---
Insertion resistance thermometers
April 2019, Instrotech , Temperature Measurement
Instrotech is offering Kobold's MMA range of industrial temperature probes, or insertion resistance thermometers, with or without transmitter. The MMA is engineered using 316 stainless steel and incorporates 
...
Read more...
---
Plug-and-play solution for flow monitoring
April 2019, Countapulse Controls , Flow Measurement & Control
Ease of flow monitoring with low maintenance benefits is a given with the compact plug and play EGE SNS 450 thermodynamic flow sensor from Countapulse Controls – the sole southern African agent for EGE's 
...
Read more...
---
Low volume rotating vane flowmeter
April 2019, Instrotech , Flow Measurement & Control
Instrotech is offering Kobold's DTK rotating vane flowmeter for small quantities, a versatile, efficient and very economic piece of equipment. This flowmeter was specially developed for use in low viscosity 
...
Read more...
---
Electromagnetic flowmeter for conductive fluids
April 2019, Instrotech , Flow Measurement & Control
Instrotech is offering the Kobold electromagnetic inductive flowmeter for conductive fluids – the model DMH – with a standard accuracy of ± 0,3% of reading stability of zero. It is used specifically for 
...
Read more...
---
Foxboro's vortex flowmeters designed for harsh process environments
April 2019, EOH Process Automation Solutions , Flow Measurement & Control
The 84 series measures volumetric and mass flow of saturated and super-heated steam.
Read more...
---
Relative humidity probe hands control to the user
March 2019, Instrotech , Sensors & Transducers
The Michell HygroSmart HS3 advanced interchangeable relative humidity and temperature probe is 100% configurable to give users maximum flexibility. It also allows for alterations to RH measurements, to 
...
Read more...
---
Visual flow indicators from Valco
March 2019, GHM Messtechnik SA , Flow Measurement & Control
The visual inspection of the passage of liquids, gas and other matter in plant processes is a critical element and can be achieved quickly and efficiently with Val.co's visual flow indicators, which can 
...
Read more...
---
Hygienic flow measurement
February 2019, SICK Automation Southern Africa , Flow Measurement & Control
Compact stainless steel sensor for conductive and non-conductive liquids.
Read more...
---
Battery powered digital temperature gauges
February 2019, Instrotech , Temperature Measurement
Kobold's DTE series of digital temperature gauges offers a wide range of industrial and analytical possibilities in applications where high accuracy and clear indication is required, and where alarm control 
...
Read more...
---