Steam turbine control
November 2018
Sensors & Transducers

printer friendly version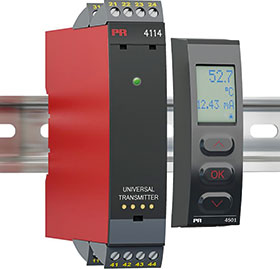 In coal-fired power plants, steam is produced by pumping highly purified water through boiler tubes. The water is heated to a high temperature and pressure, and then flows through several orifices into the steam turbine. Once past the orifice, the water pressure drops and it immediately flashes into superheated steam, which is directed toward the turbine blades at high velocity. Due to the high velocity of the superheated steam, the turbine blades start to rotate and turn the turbine shaft, which is connected to the generator through reduction gears, and thereby ultimately generates electricity.
Valve position, pressure and temperature measurements are all necessary to ensure stability in this process. A solution for this application is a setup with a potentiometer for valve position measurement, a 2-wire style pressure transmitter and a 4-wire RTD for precise temperature measurements. All three signals are connected to individual PR Electronics PR 4114 universal transmitters, which output 0-10 VDC signals to the PLC.
The 4501 display/programming front allows local readout of both input and output signal and the process calibration function in the advanced menu provides easy and precise calibration of the open and closed valve positions.
Credit(s)
Further reading:
Large German fertiliser manufacturer reduces costs thanks to SICK Automation
February 2019, SICK Automation Southern Africa , Sensors & Transducers
Available agricultural land in Europe is limited. As a result, large quantities of fertiliser are used in order to increase yields. Producing fertiliser, however, is an energy-intensive process which 
...
Read more...
---
Traceability for tobacco manufacturer
February 2019, SICK Automation Southern Africa , Sensors & Transducers
SICK Automation South Africa recently installed 120 image-based 2D barcode readers across multiple scanning stations in a South African tobacco manufacturing plant. The cigarette manufacturer was looking 
...
Read more...
---
Hygienic limit switches for processes
February 2019, Morton Controls , Sensors & Transducers
Process and storage vessels incorporate limit switches to prevent overfilling of a tank or vessel (full indicator) or dry running of a pump (empty indicator). Anderson-Negele's NCS series are ideally 
...
Read more...
---
A new standard for digital ­inclination measurement
February 2019 , Sensors & Transducers
A new standard for digital inclination measurement has been set with the latest digital protractors from Stabila. Both the Tech 500 DP and Tech 1000 DP are manufactured exclusively in Germany, the main 
...
Read more...
---
Digital float switch
February 2019, WIKA Instruments , Level Measurement & Control
As its first instrument of this kind, WIKA has launched a float switch with a PNP/NPN output signal. The model GLS-1000 detects the level of liquids with an accuracy of 1 mm or less. The digitised float 
...
Read more...
---
Bromide sensor for water disinfection
February 2019, ASSTech Process Electronics + Instrumentation , Sensors & Transducers
With the expansion of its product range of membrane-covered amperometric digital sensors for liquid analysis, ASSTech now has available the Jumo tec-Line Br bromide sensor for general water disinfection 
...
Read more...
---
Wenglor expands optical sensor range
February 2019, ASSTech Process Electronics + Instrumentation , Sensors & Transducers
Wenglor's PNG/smart generation of photoelectronic sensors is distinguished by a combination of performance and communication. An aligned optical axis and a balanced switching point, as well as large switching 
...
Read more...
---
Four questions to ask when ­choosing a vision solution
February 2019, Turck Banner , Sensors & Transducers
Many users find vision systems challenging and it can be difficult to know where to start, but there are some simple steps that can help to match the right vision solution to an application. This article 
...
Read more...
---
Intelligent valve sensor
February 2019, ifm Electronic RSA , Sensors & Transducers
The intelligent valve sensor for pneumatic quarter-turn actuators from ifm electronic features 360° position monitoring to allow precise and continuous scrutiny of the valve condition. Problems such as 
...
Read more...
---
Fast optical data transmission
February 2019, Countapulse Controls , Sensors & Transducers
The Leuze DDLS 500 optical data transceiver has a high optical transmission rate of 100 Mbit/s. This photoelectric sensor allows data transmission without cabling and without interference. Gerry Bryant, 
...
Read more...
---