printer friendly version
Improved fuel management for mine fleets
November 2018
Flow Measurement & Control
In the current economic climate, most companies are looking to make their Rands go further. This is especially the case when it comes to fuel, as modern industries cannot operate without it and diesel costs continue to rise.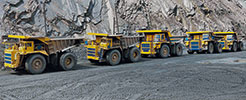 Fuel and lubricants are the lifeblood of the mining industry, which rely on them to ensure continuous operations. They are also one of the biggest expenses on a mine, so the way in which a mine purchases, stores, manages and uses these products can make an enormous difference to the bottom line. Effective fuel and lubricant management can help mines reduce their operating costs, increase their productivity and reduce environmental risks.
Large mining vehicles can easily consume a lot of fuel. A good example is a mining haul truck's average consumption rate. On the normal gradients of 10% found on a mine haul road, and with a typical payload of 182 t, the vehicle goes through approximately 350 litres of diesel an hour. This goes up dramatically if the driver speeds or puts the vehicle under additional stress. Thus a Cat 793F mining truck with a fuel tank capacity of 2839 litres will operate for approximately 8 hours before it needs to be refuelled.
Depending on the remoteness of the operation, mining companies can lose several days of production through waiting for fuel to be delivered to site. Therefore, many mine sites require fuel and lubricant bulk storage in order not to halt operations. Monitoring of these inventories, purchases and usage then becomes crucial to assist management make well-informed decisions that increase mobile asset performance, reduce fuel consumption and improve the overall profitability of the mine.
Endress+Hauser's fuel handling solutions
Endress+Hauser offers various solutions for mine sites. When it comes to fuel handling, there are sometimes disagreements between the supplier of fuels and the mine, which can vary from discrepancies between the amount of fuel transferred to the quality of (e.g. watered down fuel). At a diesel price of around R16 per litre, a typical mechanical flowmeter with an accuracy of 0,5% could yield an inaccuracy of 2500 litres on a 50 000 litre purchase, which equates to a possible loss of R40 000. To decrease measuring inaccuracies, Endress+Hauser's loading metering skids use a Coriolis flowmeter with an accuracy of 0,1%. The meter has a special density calibration to compensate for varying fluids, which assists in identifying if a fuel is potentially watered down. The complete loading metering system has an overall accuracy of 0,25%, which is twice the accuracy of traditional mechanical meters.
Once the fuel is onsite it needs to be stored, which requires accurate inventory management. Since a mine site can have several fuel storage tanks onsite with varying capacities, it is an ever-changing environment where a wealth of data is required to make informed decisions; many mines still do not have access to the right information.
For effective decision making, the availability of high-quality online and real-time data is essential. Endress+Hauser offers an inventory management solution with accurate, safe and reliable measurement through high-quality products precisely designed to meet customer requirements. The solution includes a level measurement that can use a servo gauge (Endress+Hauser Proservo NMS80) with an accuracy of 0,4 mm. It also includes temperature measurement (Endress+Hauser Prothermo NMT 530), a unique device used for compensation for temperature, having multiple temperature measurement points across the entire height of a tank. An additional benefit of Prothermo is that it can also detect water in a fuel storage tank.
Safety
Safety is an important issue at mining sites. Handling of fuels incorrectly on sites can cause harm to the environment (or worse), especially if tanks are overfilled resulting in a spillage. Endress+Hauser offers a complete overfill prevention solution certified according to IEC 61511 by independent safety experts. An automated proof test guarantees that the safety system functions properly: proof-testing of 16 tanks takes less than 5 minutes.
The solution described forms an integral tool for decision making with regards to effective fuel management:
• The load metering solution assists with accurate metering and quality to identify water in the fuel.
• The inventory management solution assists with effective storage management.
• The overfill prevention system assists with safety in fuel handling.
For more information contact Dhiren Naidoo, Endress+Hauser, +27 11 262 8000, dhiren.naidoo@za.endress.com, www.za.endress.com
Credit(s)
Further reading:
Flowmeter for utility applications
November 2020, KROHNE , Flow Measurement & Control
As an addition to the Optiswirl family, KROHNE has introduced the Optiswirl 2100, a new vortex flowmeter aimed at basic utility applications.
Read more...
---
The challenges of online trace measurement
November 2020, Endress+Hauser South Africa , Analytical Instrumentation & Environmental Monitoring
The power industry has extremely high expectations in terms of measuring sensitivity, particularly with regard to the key parameter silica.
Read more...
---
Safe and efficient water and wastewater treatment
October 2020, Endress+Hauser South Africa , System Integration & Control Systems Design
Depending on the application and the industry, water needs to have different properties to ensure the quality of finished products and the overall safety of production.
Read more...
---
Safe operation of CNG stations
October 2020, SICK Automation Southern Africa , Flow Measurement & Control
The Flowsic500 compact ultrasonic gas meter enables extremely accurate natural gas distribution measurement.
Read more...
---
Endress+Hauser strengthens presence in the Middle East
October 2020, Endress+Hauser South Africa , News
Endress+Hauser is strengthening the Group's presence on the Arabian Peninsula with the establishment of Endress+Hauser Middle East.
Read more...
---
Ultrasonic flowmeter for wide ranges
September 2020, Instrotech , Flow Measurement & Control
Bi-directionally transmitted ultrasonic waves provide precise results of volume flow as the result of their transit time difference. Installed in any position, the units can measure ranges of 1:250.
Read more...
---
Turck standardises its fluid portfolio
September 2020, Turck Banner , Flow Measurement & Control
Turck's new portfolio of fluid sensors offers a wide range of variants and combinations, while having common key features at the same time. The compact FS+ flow sensor with IO-Link now follows the launch of the PS+ pressure sensor.
Read more...
---
Safe operation of LNG tanks
September 2020, Endress+Hauser South Africa , IS & Ex
Endress+Hauser's innovative instrumentation and advanced inventory management solutions for LNG storage tanks ensure safe operation of plant and high levels of inventory transparency.
Read more...
---
New iTEMP transmitter with Bluetooth
September 2020, Endress+Hauser South Africa , Temperature Measurement
Endress+Hauser's new iTEMP TMT142B temperature transmitters deliver highly accurate and reliable measurements, wireless communication via Bluetooth and user-friendly operation packaged in a robust single-chamber field housing.
Read more...
---
Endress+Hauser strengthens the protection of intellectual property
August 2020, Endress+Hauser South Africa , News
For 20 years now, a separate department at Endress+Hauser has been dealing exclusively with the protection of intellectual property. In 1999, the company merged and realigned all activities in this field. 
...
Read more...
---