printer friendly version
Environmental challenges in the mining industry
November 2018
Flow Measurement & Control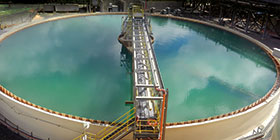 South Africa' economy is greatly dependent on the mining sector for its growth. The country is the largest producer of chrome, manganese, platinum and vanadium, as well as the largest exporter of coal globally.
Mining opportunities are mainly located inland and not necessarily close to rivers or other water sources. However, the mining process is water intensive and it is no secret that South Africa is a water scarce country – rated as the 29th driest country out of 193.This is difficult to manage due to variable rainfall, and the uneven distribution of water throughout the country with water is often not available where it is required.
To alleviate these shortages in catchment areas, large inter-catchment transfer schemes were implemented, but these have negatively impacted the water quality in some basins: for example: the rise of salinity in the Vaal and Orange systems.
The management of ground water has also been lacking, which has resulted in over abstraction as well as widespread pollution. One source of this pollution has been identified as mining activities. Water-pollution problems caused by mining include acid mine drainage, metal contamination and increased sediment levels in streams. Sources can include active or abandoned surface and underground mines, processing plants, waste disposal areas, haulage roads or tailings ponds.
A matter of concern is the serious water quality problem in the Olifants River catchment area. These localised problems need to be addressed by compliance monitoring and enforcement, as well as reducing pollution at source. This can only reliably be achieved by monitoring the water management plans of the mines, along with continuous measurement of water quality parameters in surrounding surface and ground water reserves. Mines can prevent untreated or insufficiently treated water being released by continuous monitoring of their effluent quality.
The Endress+Hauser solution
With Endress+Hauser's wide range of water quality measurement instruments combined with communication gateways for remote access, complete compact monitoring solutions can be supplied to the industry. Two innovative embedded technologies improve the reliability of these solutions: Memosens and Heartbeat Technology.
Memosens
Memosens technology provides digital communication between sensor and transmitter and transfers data to and from the sensor via contactless induction technology. This eliminates problems previously experienced with corrosion or moisture ingress in connectors. Process safety is therefore improved and downtime reduced. All information is stored in the sensor and communicated to the transmitter when connected. The data available from the sensor also allows for more accurate predictive maintenance. For mines, serious about reliable water quality measurements, a streamlined and predictive maintenance regime using Memosens will ensure accurate and reliable measurements are always protecting the environment.
Heartbeat Technology
Heartbeat Technology in measurement devices organises clear, standardised diagnostic messages to maintain the plant based on necessities. It enables predictive maintenance and delivers evidence for operational reliability and process safety.
As the devices run their own diagnostics, proof tests are only necessary in maximum extended cycles. Users can verify and document each measuring point without interruption of the process. This process and device data identifies trends and the parameters available facilitate analysis for predictive maintenance. Using Heartbeat and monitoring it remotely increases uptime as indication of deterioration or failure of an instrument will be immediately highlighted to the maintenance team. This ensures more accurate data to prove compliance of the mine to its water use licence and other environmental laws. Heartbeat Technology is also available on new Proline flowmeters and Micropilot radar instruments.
By always ensuring the quality of the treated effluent complies to regulations and parameters set out in the water use licence, the strain on this scarce resource can be minimised and water sources preserved for future generations.
For more information contact Hennie Pretorius, Endress+Hauser, +27 11 262 8000, hennie.pretorius@za.endress.com, www.za.endress.com
Credit(s)
Further reading:
Flowmeter for utility applications
November 2020, KROHNE , Flow Measurement & Control
As an addition to the Optiswirl family, KROHNE has introduced the Optiswirl 2100, a new vortex flowmeter aimed at basic utility applications.
Read more...
---
The challenges of online trace measurement
November 2020, Endress+Hauser South Africa , Analytical Instrumentation & Environmental Monitoring
The power industry has extremely high expectations in terms of measuring sensitivity, particularly with regard to the key parameter silica.
Read more...
---
Safe and efficient water and wastewater treatment
October 2020, Endress+Hauser South Africa , System Integration & Control Systems Design
Depending on the application and the industry, water needs to have different properties to ensure the quality of finished products and the overall safety of production.
Read more...
---
Safe operation of CNG stations
October 2020, SICK Automation Southern Africa , Flow Measurement & Control
The Flowsic500 compact ultrasonic gas meter enables extremely accurate natural gas distribution measurement.
Read more...
---
Endress+Hauser strengthens presence in the Middle East
October 2020, Endress+Hauser South Africa , News
Endress+Hauser is strengthening the Group's presence on the Arabian Peninsula with the establishment of Endress+Hauser Middle East.
Read more...
---
Ultrasonic flowmeter for wide ranges
September 2020, Instrotech , Flow Measurement & Control
Bi-directionally transmitted ultrasonic waves provide precise results of volume flow as the result of their transit time difference. Installed in any position, the units can measure ranges of 1:250.
Read more...
---
Turck standardises its fluid portfolio
September 2020, Turck Banner , Flow Measurement & Control
Turck's new portfolio of fluid sensors offers a wide range of variants and combinations, while having common key features at the same time. The compact FS+ flow sensor with IO-Link now follows the launch of the PS+ pressure sensor.
Read more...
---
Safe operation of LNG tanks
September 2020, Endress+Hauser South Africa , IS & Ex
Endress+Hauser's innovative instrumentation and advanced inventory management solutions for LNG storage tanks ensure safe operation of plant and high levels of inventory transparency.
Read more...
---
New iTEMP transmitter with Bluetooth
September 2020, Endress+Hauser South Africa , Temperature Measurement
Endress+Hauser's new iTEMP TMT142B temperature transmitters deliver highly accurate and reliable measurements, wireless communication via Bluetooth and user-friendly operation packaged in a robust single-chamber field housing.
Read more...
---
Endress+Hauser strengthens the protection of intellectual property
August 2020, Endress+Hauser South Africa , News
For 20 years now, a separate department at Endress+Hauser has been dealing exclusively with the protection of intellectual property. In 1999, the company merged and realigned all activities in this field. 
...
Read more...
---