printer friendly version
Run five essential lighting tests in 30 seconds
October 2018
Electrical Power & Protection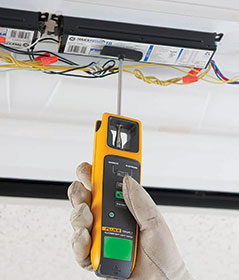 Building maintenance technicians for commercial, retail or institutional facilities with fluorescent lighting have hundreds, if not thousands of fluorescent tubes that have to be routinely checked and maintained. Even though those tubes last for tens of thousands of hours, they do ultimately fail, some prematurely, and some stop working because of other problems with the installation ballast.
In the past, this type of maintenance has usually meant lots of trial and error. If a light was found to be out, the technician would have had to climb a ladder, open up the cover, remove the bad tube and replace it. If the new tube did not light, the technician either tried again or had to call an electrician or bring out a voltage tester.
Fluke has now developed a tool that takes the trial and error – and a significant amount of time – out of maintaining fluorescent lighting. The Fluke 1000FLT Fluorescent Light Tester, specifically designed for building maintenance professionals, is an all-in-one fluorescent lamp tester, ballast tester, non-contact voltage tester, pin continuity tester and ballast-type discriminator.
Some fluorescent lighting testers on the market may have one or two testing features. Fluke developed a device that takes care of all the essential lighting tests, saving time, tool bag space and trips up and down ladders. Instead of having to carry two or three testing tools, the 1000FLT is able to make all of the following measurements:
• Lamp test: Allows testing without removing the tube from the ballast. The tester sends a pulse of energy that lights up the tube if there is gas in it. The 1000FLT is compatible with T5, T8 and T12 fluorescent tubes.
• Ballast test: Determines whether the ballast is working.
• Non-contact voltage test: Checks for the presence of voltage without touching the source.
• Pin continuity test: Tests whether filaments in the tube have continuity.
• Ballast-type discriminator: The 1000FLT is the first multi-function tester to include this feature, allowing technicians to easily identify whether the ballast is electronic or magnetic without taking the fixture apart or even climbing a ladder. The tester is aimed at the ballast from the ground and it immediately identifies if the tube is the old-style, power hungry magnetic ballast, for maintenance or replacement.
The 1000FLT's user interface was designed to be as simple as possible, with all tests delivering instant results. The ballast, voltage and pin continuity tests indicate results with either a Go or No Go indicator light. The ballast-type discriminator lights up either the magnetic or electronic LED on the face of the tester, while the lamp test result is determined by the user if the tube lights up or not.
Users can run all five tests on the 1000FLT in about 30 seconds, so if one has hundreds of fluorescent lights to maintain, it can save hours of testing time every week. One customer has reported a saving 40 to 60 minutes by testing roughly 50 light fixtures per day using the 1000FLT.
For more information contact Comtest, +27 10 595 1821, sales@comtest.co.za, www.comtest.co.za
Credit(s)
Further reading:
Rugged wireless gateway for Ex areas
April 2020, Comtest , Industrial Wireless
Comtest – local representative of Industrial Scientific, a global leader in gas detection – has introduced the RGX Gateway, which enables designated safety contacts to receive real-time alerts for gas 
...
Read more...
---
Five tips to manage energy use while staying at home
May 2020 , Electrical Power & Protection
Covid-19 continues to impact many aspects of our lives. Many are now required to stay at home in an effort to curb the spread of the pandemic. One of the many implications of staying at home will be the 
...
Read more...
---
Tektronix instruments for UCT electrical training laboratory
April 2020, Comtest , News
Comtest recently assisted the University of Cape Town (UCT) physics department in refurbishing its electrical training laboratory. All of the existing analogue oscilloscopes were replaced with 132 new 
...
Read more...
---
Holistic approach to energy security
April 2020 , Electrical Power & Protection
As South Africans settle into the routine and inconvenience of load shedding and planning their activities around shifting electricity supply, it is businesses that are taking the biggest hit through 
...
Read more...
---
Save energy costs with highly-efficient Delta VFDs
April 2020, ElectroMechanica , Electrical Power & Protection
Customers can realise significant savings on their total energy costs by replacing older motor starters with energy-efficient Delta variable frequency drives (VFDs), distributed locally by ElectroMechanica 
...
Read more...
---
Utility made easy
April 2020, Schneider Electric South Africa , Electrical Power & Protection
In recognition of the growing demand for reliable power provision, Schneider Electric strives to assist network operators to deliver electricity safely and efficiently. The company's Advanced Distribution 
...
Read more...
---
Specialised transformers for renewable energy projects
April 2020, Zest WEG Group , Electrical Power & Protection
Zest WEG's local transformer manufacturing facility has supplied 36 specialised photovoltaic (PV) transformers to a solar energy generation plant in the Northern Cape. According to sales team leader, 
...
Read more...
---
Meeting the needs of the mining industry
April 2020, Varispeed (Div of Hudaco Trading) , Electrical Power & Protection
Both above and below ground, Varispeed keeps the interests of its customers top of mind, all the time. The company was recently approached by a platinum mine in South Africa to assist with a robust application. 
...
Read more...
---
Game-changing electrical accessories
April 2020, Schneider Electric South Africa , Electrical Power & Protection
In a world where products are moving from standardised to customised, today's consumers want high quality products that meet their specific requirements. Electrical accessories are no exception and Schneider 
...
Read more...
---
Handheld spectrum analysers
April 2020, Comtest , Industrial Wireless
The latest offering from Bird expands its highly sought-after SignalHawk family of rugged, handheld spectrum analyser products by adding the SH-60S-AOA Angle of Arrival spectrum analyser and the SH-60S-TC. 
...
Read more...
---