printer friendly version
New network function for digital ­indicator
October 2018
Data Acquisition & Telemetry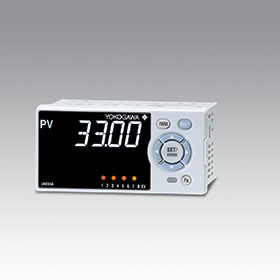 Yokogawa has added a network function to the UM33A digital indicator with alarms. With this network function, a single UM33A digital indicator can receive, process and sequentially display data from up to eight sensors. The enhanced UM33A is an easy-to-install and cost-effective solution that enables the monitoring of data from multiple field sensors. By improving the functions of its UTAdvanced product line, Yokogawa aims to satisfy the latest customer needs and expand its controller business.
In recent years, there has been a growing need to improve the monitoring of data from field ­sensors. For safety and other reasons, operators need the ability to monitor data remotely from sensors that are installed high up, in confined spaces, and in other locations where it is difficult to visually check the readings on the sensor displays. The UM33A digital indicator that Yokogawa has been offering until now accepts analog data from sensors that measure parameters such as temperature, pressure and flow rate, converts this data into digital signals, and displays the readings. It can also issue an alarm if an input signal falls outside a preset range. However, it is only able to accept data from a single sensor. To check data from multiple sensors, it is necessary to install and configure other equipment, such as a touch-panel with an embedded controller or some other type of user interface used in combination with a programmable controller (PLC). This equipment is both expensive and requires a lot of engineering.
Yokogawa has improved the functions of the UM33A to satisfy the needs of customers who want to check measurement data from multiple sensors in the field. The enhanced UM33A can be installed easily and at a lower cost. The new features are:
• Easy to introduce/improved monitoring of data: The enhanced UM33A supports the master function and the data monitoring function of the Modbus/RTU communication protocol, and is able to connect with up to eight sensors and sequentially display data from those devices. The UM33A is thus able to monitor data from multiple field sensors without requiring the installation and engineering of a separate device with user interface and controller functionality. It can also function alongside already installed systems that employ such specially configured hardware. With its ability to remotely connect with multiple sensors throughout a site, the enhanced UM33A makes it easier for plant personnel to check measurement data from these devices.
• An enhanced field digital solution: In plants, progress is being made in the introduction of field digital solutions that rely on digital communications between intelligent field devices and control systems. Field digital solutions allow the transmission of significantly greater amounts of data, including not only data on process parameters, but also instrument status information. The ability to monitor this information online improves maintenance efficiency. Thanks to its functional enhancements, the enhanced UM33A can handle both digital and analog communications with sensors, and is thus well positioned to facilitate the introduction of field digital solutions at plants.
For more information contact Christie Cronje, Yokogawa South Africa, +27 11 831 6300, christie.cronje@za.yokogawa.com,  www.yokogawa.com/za
Credit(s)
Further reading:
Water resource sustainability management
Yokogawa South Africa System Integration & Control Systems Design
One way Yokogawa is successfully pursuing its sustainability goals is through its service to the global water industry.
Read more...
---
Digital twin for refinery production
Yokogawa South Africa IT in Manufacturing
Within Repsol's Industrial Business, the development of a refinery digital twin leads the digitalisation program. The digital twin maximises production while optimising energy consumption.
Read more...
---
Expert advice for a stress-free digital transformation journey
Yokogawa South Africa IT in Manufacturing
The journey begins with a digital roadmap, which is a strategic plan to bring change to the company. It is all-encompassing in the organisation and goes beyond technology, IT and OT."
Read more...
---
Best practices in measurement
Yokogawa South Africa Maintenance, Test & Measurement, Calibration
Operating envelopes are changing and the impact of these changes on instrumentation must not be underestimated. Instrumentation with a design rating of a particular capacity is heavily stressed when the load is increased.
Read more...
---
Clip-on indicator with Bluetooth and logging
WIKA Instruments Data Acquisition & Telemetry
Monitor live process values and diagnostic information on any iOS/Android device running the free PPS application, or monitor directly on the display.
Read more...
---
The digital twin explained
Yokogawa South Africa IT in Manufacturing
The digital twin defined
A digital twin is a virtual, digital copy of a device, system, or process that accurately mimics actual performance in real time, is executable, can be manipulated, and allows 
...
Read more...
---
How investing in a niche market placed Yokogawa aboard the International Space Station
Yokogawa South Africa News
While the world was abuzz with excitement over the revival of U.S. manned spaceflight, another equally promising space endeavour flew under the radar. On 20 May, the H-II Transfer Vehicle (HTV-9), affectionately 
...
Read more...
---
RS Components introduces RX23E-A
RS Components SA Data Acquisition & Telemetry
RS Components has introduced a new series of single-chip devices from Renesas, the RX23E-A microcontrollers (MCUs) which combine an analog front end (AFE) and an MCU core for use in equipment that delivers 
...
Read more...
---
Advanced controller for data acquisition
RJ Connect Data Acquisition & Telemetry
The ioThinx 4530 series is an advanced modular controller product with a unique hardware design, making it an ideal solution for a variety of industrial data acquisition applications. The controller has 
...
Read more...
---
Yokogawa announces acquisition of RAP International
Yokogawa South Africa News
Yokogawa Electric Corporation has announced the signing of an agreement with UK-based RAP International for Yokogawa to acquire all shares of the company and make RAP a wholly-owned subsidiary. RAP specialises 
...
Read more...
---