printer friendly version
Drive system for light load conveyors
October 2018
Motion Control & Drives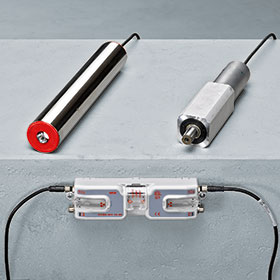 SEW-Eurodrive is once again expanding its range with the launch of its ECDriveS brushless DC gearmotor. This drive system is a simple, efficient and cost-effective solution for the lower power range of light-load roller conveyors. It will be on show in March at bauma CONEXPO AFRICA 2018, together with SEW-Eurodrive's full portfolio of gearmotors, motor starters and decentralised drives. Motion Control's editor paid a visit to national sales manager Norman Maleka to find out more.
"We call it the Easy Drive because it is so easy to work with," explains Maleka. "It's a simple plug-and-play system that is easy to set up, install and maintain without any parameterisation or programming using a PLC." The drive comprises a 24 V DC brushless motor in roller form, together with a gear unit. A communication interface controls the speed of the motor and when it should stop. It can be set up using dual inline package (DIP) switches, or programmed with SEW-Eurodrive software. A big advantage is that the ECDriveS is easily integrated into existing applications and platforms such as Ethernet and Profinet, so there is no need for users to change their network.
Tailored for small conveyors, the ECDriveS drive is very compact, and the rollers come in sizes ranging from 300 to 1200 mm. The maximum velocity of the driven roller ranges from 0,04 to 5 m/s, and 8,5 up to 645 rpm for the gearmotor. It meets IP54 protection rating, with IP66 being available on request. This means it can be used for food and beverage applications as well. The temperature range is from -10 to 40°C with a -3°C option included. It has a 250% overload capacity at 40 W S1 power rating and optimised gear construction for a long service life, even at a high capacity utilisation.
These conveyors are typically found in packhouses in farming and agricultural applications that transport empty boxes. Here most of the items are packed manually, and then placed on a conveyor to be sent outside and loaded onto a truck. However, SEW-Eurodrive has had considerable interest in other applications, and Maleka says that a major automotive manufacturer is considering the ECDriveS for the transportation of boxes containing small parts to the production line. "It is not only small customers that can use the system, but big customers with small applications," he continues. "These small conveyors provide in-feeds of all sorts of components such as tyres, and the ECDriveS can help to reduce total costs along the supply chain."
Maleka notes that, while the product is easy to use, behind the scenes it is backed by the full force of SEW-Eurodrive's high end technology. The gearmotor is directly integrated into the roller. The external commutation electronics have Ethernet-based zone controls or binary control. Ethernet controls featuring integrated conveyor logistics provide both conveying with zero pressure and decentralised solutions for a wide range of conveying tasks.
Another advantage is that the integrated encoder allows for precise positioning of ramp-up and ramp-down on the conveyor, as well as varying the speed. This enables items to be positioned accurately where they need to stop. There are also inputs and outputs fed back to the system, which can send an alarm to alert the user in the event of any problem.
Maleka explains that SEW-Eurodrive's overall strategy is to cover all gaps in its product offering. He continues: "Applications evolve along with changing customer requirements, and we identified a new opportunity. We realised customers are now wanting something smaller, more cost-effective, quicker to build and easier to handle. These applications do not need much power."
SEW-Eurodrive keeps over R130 million worth of stock, with servicing back-up in all the company's branches countrywide. Maleka notes that stock of the ECDriveS is coming in soon ahead of the launch, together with test units to enable customers to try out the system, and samples for an awareness campaign. "This is a huge market and very competitive. We are giving ourselves a year to focus, get out and create awareness, and develop the market," he adds.
"We used to be known solely as a component supplier and a gearbox manufacturer, but now with our wide range of products, we partner with system designers and integrators, as well as OEMs, to develop total solutions. This is in line with our strategy of system integration for the provision of total solutions," he concludes.
For more information contact Jana Klut, SEW-Eurodrive, +27 11 248 7000,  jklut@sew.co.za, www.sew-eurodrive.co.za
Credit(s)
Further reading:
Cost-efficient production with 18 synchronous NC axes
June 2019, Beckhoff Automation , Motion Control & Drives
TwinCAT 3 controls highly efficient machine for processing of die-cast automotive parts.
Read more...
---
Rockwell Automation executes AC drive migration at Mozal ­Aluminium
June 2019, Rockwell Automation , Motion Control & Drives
For over 20 years, Rockwell Automation 1336 drives have delivered the drive control required across Mozal, an aluminium smelter near Maputo, Mozambique. Now the industrial automation leader is in the 
...
Read more...
---
Drive solutions for energy efficient power transmission
June 2019 , Motion Control & Drives
Vert Energy is committed to providing energy-saving solutions for its diverse customer base. "Critical challenges facing industry include finding the most efficient ways to minimise energy consumption 
...
Read more...
---
SEW-Eurodrive gives a foretaste of the future of automation
June 2019, SEW-Eurodrive , Motion Control & Drives
SEW-Eurodrive gave visitors to Africa Automation Fair 2019 a foretaste of its Movi-C modular automation system, ready-made for the requirements of Industry 4.0. This represents the next-generation of 
...
Read more...
---
Servo motor equipped with SIL3 encoder
June 2019, Tectra Automation , Motion Control & Drives
The new MS2N synchronous servo motor is Tectra Automations' latest product offering to the electric drives and controls industry. The range combines high dynamics, compact dimensions and excellent energy 
...
Read more...
---
Case History 166: Feel and understanding, or lack thereof
May 2019, Michael Brown Control Engineering , Motion Control & Drives
I was present at a very interesting discussion the other day with people who are leaders in the automation and control industry. The subject was how jobs would disappear over the next decade or two as 
...
Read more...
---
Smart solution for incorporating machine-integrated robots
Africa Automation Fair 2019 Preview, SEW-Eurodrive , Motion Control & Drives
SEW-Eurodrive is showcasing the D5 delta robot, a smart solution for incorporating machine-integrated robots. The high-speed pick-and-place system includes tracking and Movikit robotics software. It 
...
Read more...
---
Optimising energy requirements
Africa Automation Fair 2019 Preview, SEW-Eurodrive , Motion Control & Drives
A new development from SEW-Eurodrive is the Movigear mechatronic drive system, which combines an energy-efficient gear unit, motor and frequency inverter, and has received the TÜV SÜD Energy-Efficient 
...
Read more...
---
Compact, cost-effective servo solution
Africa Automation Fair 2019 Preview, Elonics , Motion Control & Drives
elonics is introducing the latest addition from the LSIS servo family, the Xmotion L7C servo drives and motors. The L7C Series offers a cost-effective, high precision solution that is both compact in 
...
Read more...
---
SEW-Eurodrive's mechatronic drive system for the bakery industry
May 2019, SEW-Eurodrive , Motion Control & Drives
SEW-Eurodrive is assisting the bakery industry to improve efficiency and reduce energy consumption by means of its Movigear mechatronic drive system. The company has enjoyed a longstanding relationship 
...
Read more...
---