printer friendly version
Digital transformation starts with people
October 2018
IT in Manufacturing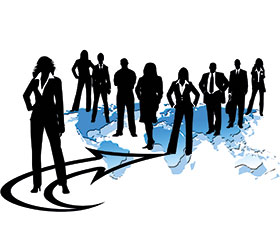 Digital has become business-critical and is deemed the biggest shift for humanisation since the Industrial Revolution. Unfortunately, businesses and employees do not understand what digital transformation entails and therefore, we find only 47% of global companies are currently embarked on their digital transformation journey.
Digital transformation is defined as 'the investment in, and development of, new technologies, mind-sets and business and operational models to improve work and competitiveness and deliver new and relevant value for customers and employees in an ever-evolving digital economy.'
Digital transformation is not just about the technology, but about new ways of working.
Before embarking on a digital transformation journey, a company must acknowledge that multiple dimensions should be considered. The five dimensions of digital transformation for RCL Foods are identified as: company culture, empowered teams, customer experience, innovation and data as a strategic asset. The way in which each aspect is perceived and managed would likely determine the outcome and strategic direction of the organisation, ultimately to assist a sustainable solution for digital transformation.
At RCL Foods we embrace digital transformation and are making progress towards managing each dimension.
1. Our culture
Our company culture is all about more impact: being braver, more curious, more open, faster, and ultimately, being more 'Us'. Our culture embraces seeing and doing things differently, we acknowledge that digital cannot be owned by one person, but should be embedded as part of the culture. We strive to involve everyone through intrapreneurship (internal entrepreneurship).
2. A team of teams
RCL Foods recently opened a studio to encourage collaboration and creative thinking to drive solutions. The studio is open to anyone in the organisation and holds weekly meetings to 'lunch and learn', hosted by the dedicated studio team under the lead of digital marketing manager, David Pugh. The idea is to encourage the creation of a team of teams within the organisation, aiming to embed digital thinking into individuals within the teams. As Stanley McChrystal writes in his book 'Team of Teams', "Leaders should be gardeners. You are not playing a game of chess where you dictate every move. You create an environment where every piece can simultaneously grow, like a gardener."
3. Customer experience
Instead of looking for ideas and getting stuck on tools or technology, we aim to solve problems and ultimately improve the overall customer experience. An idea can be great, but without a need addressed, customers would not be queuing for the solution.
4. Innovation
We see and do things differently. We are on a journey to change the way we innovate – to test quickly and fail smart. We aim to test ideas, as opposed to implementing a full solution. First test the existence and viability of a customer need, then work on the full solution. We look to go from a maximum validated product to a minimum viable product. If an idea does not work, we find this out quicker – we fail smart.
5. Data
Finally, we bring everything together through data. One of the biggest challenges companies face today, is to turn data into a strategic asset. Be sure to ask the correct questions – watch and listen to your customers. Once you understand their needs, you will know which questions to ask and what data you need to answer each.
Digital transformation is changing the way in which companies operate, and sometimes, even how companies are structured. To embrace the change, we need to be fully prepared for change, and embrace each individual's ideas within a company. The digital transformation journey should start with a change in the mind-set of top leadership; we require buy-in from all business and operational levels. Digital transformation can only be successful if everyone is involved. So make sure you go all in – there has never been a better time.
For more information contact Hilde Volschenk, RCL Foods, +27 31 242 8595, hilde.volschenk@rclfoods.com, www.rclfoods.com
Further reading:
Data, light and the smart factory
May 2019 , IT in Manufacturing
The role of lasers in the Fourth Industrial Revolution.
Read more...
---
Planning for digital transformation
May 2019 , IT in Manufacturing
As we've learned, digital transformation can be a challenging, if necessary, journey. At each year's Forum, we learn more about how pioneering companies are overcoming these challenges and the associated 
...
Read more...
---
Paving the way for IIoT
Africa Automation Fair 2019 Preview, Phambili Interface , IT in Manufacturing
Phambili Interface is the sole southern African distributor for Weidmuller connectivity and interface products. A highlight is the perfectly coordinated Weidmuller u-Mation portfolio, which paves the 
...
Read more...
---
Barrier-free communication from Zone 0 to the cloud
Africa Automation Fair 2019 Preview, Beckhoff Automation , IT in Manufacturing
Founded on PC-based control, Beckhoff's automation systems are ideal for implementing connectivity in production environments in line with current IIoT concepts. Because of their interoperability, openness 
...
Read more...
---
Industrial cybersecurity for industrial control systems
Africa Automation Fair 2019 Preview, Profitek , IT in Manufacturing
The Hirschmann Tofino provides an advanced industrial solution that solves many of the most challenging energy-specific cyber and physical security challenges. The easy-to-deploy appliance protects against 
...
Read more...
---
Augmented and virtual ­reality for automation
Africa Automation Fair 2019 Preview , IT in Manufacturing
bizAR Reality develops custom augmented and virtual reality solutions for businesses. The company has successfully designed, developed and deployed award-winning technologies across multiple industries. 
...
Read more...
---
Powerful design tools
Africa Automation Fair 2019 Preview, EPLAN Software & Services , IT in Manufacturing
Eplan develops CAx, configuration and mechatronic solutions and advises companies on the optimisation of their engineering processes. Products on show at Stand D13 are Electric P8, which supports electrical 
...
Read more...
---
Platform for transforming operations
Africa Automation Fair 2019 Preview , IT in Manufacturing
Dassault Systèmes offers collaborative solutions that transform the way products are designed, produced and supported. The DELMIA portfolio helps global businesses re-imagine their engineering operations 
...
Read more...
---
New generation HMI/PLC series of controllers
Africa Automation Fair 2019 Preview, Turck Banner , IT in Manufacturing
The new generation of the TX700 series of HMI/PLC controllers can control and visualise even more complex processes and applications than before. With several interfaces and an integrated OPC UA server, 
...
Read more...
---
TwinCAT Vision
Africa Automation Fair 2019 Preview, Beckhoff Automation , IT in Manufacturing
With TwinCAT Vision, Beckhoff has incorporated comprehensive image processing capabilities into its PC-based control system. On show at Stands D11-D12, TwinCAT software unites a comprehensive range of 
...
Read more...
---