printer friendly version
Raytek pyrometer sensor now in 4-20 mA
October 2018
Temperature Measurement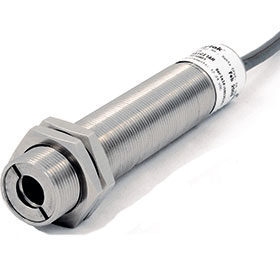 About a decade ago, Raytek introduced the CM, a compact, integrated IR non-contact thermometer intended for quick and seamless replacement of J and K-type thermocouples. The CM, still an industry favourite, is used for temperature monitoring in a wide range of industrial manufacturing processes and OEM applications. This rugged, IP65 sealed, single-piece integrated sensor offers powerful features to handle nearly any temperature measurement requirement.
Designed for easy integration, the sensor can easily replace traditional J or K-type contact probes. For applications susceptible to noise, a user-scalable 0-5 V version is also available. In addition, a 4-20 mA converter for the 0-5 V version was recently developed by R&C Instrumentation. The converters are locally assembled at the company workshop in Modderfontein, allowing customers, who order the 0-5 V version with the converter, to get pyrometer range scaling if required.
The sensor includes high-resolution silicon optics, which provide excellent optical resolution an attractive price. An RS-232 digital interface allows the user to configure all programmable sensor variables via the powerful Raytek DataTemp Multidrop software. These include a 24 V DC alarm output, triggered by target temperature or head ambient temperature; peak hold, valley hold or variable averaging signal processing; adjustable target emissivity settings, and adjustable window transmissivity setting. A built-in sensor health LED provides a convenient on-line indicator of the sensor's operating status and aids in troubleshooting initial sensor setup.
The instrument's remote configuration capability allows it to be configured for virtually any application, reducing installation and troubleshooting time, and streamlining data acquisition. This feature also eases troubleshooting when the sensor is located in hostile or remote locations.
The Raytek CM sensor is designed to measure target temperatures ranging from -20 to 500°C. The on-board electronics are protected by a rugged IP65 stainless steel housing, allowing the sensor to function in ambient temperatures to 70°C without cooling.
For more information contact R&C Instrumentation, 086 111 4217, info@randci.co.za, www.randci.co.za
Credit(s)
Further reading:
Insertion resistance thermometers
April 2019, Instrotech , Temperature Measurement
Instrotech is offering Kobold's MMA range of industrial temperature probes, or insertion resistance thermometers, with or without transmitter. The MMA is engineered using 316 stainless steel and incorporates 
...
Read more...
---
Fixed thermal imaging for process heating
April 2019, R&C Instrumentation , Temperature Measurement
Noncontact temperature measurement is widely used for industrial process monitoring and control. Infrared (IR) thermal imaging can provide detailed information to help improve product quality and increase 
...
Read more...
---
Web data logger
April 2019, GHM Messtechnik SA , Temperature Measurement
There is ongoing tightening up of regulations that impact upon industries where the monitoring of measurements of illuminance, temperature, atmospheric pressure, humidity and CO
2
is critical in the manufacture 
...
Read more...
---
PRO series cameras with leading-edge technology
Technews Industry Guide: Maintenance, Reliability & Asset Optimisation 2019, Comtest , Temperature Measurement
When diagnosing problems, capturing and displaying small temperature variances makes all the difference. Comtest now offers Fluke's Ti480 and Ti450 PRO series infrared cameras, recently fine-tuned to 
...
Read more...
---
Compact plastic temperature probe
March 2019, ASSTech Process Electronics + Instrumentation , Temperature Measurement
Jumo has introduced the new plastoSens T04 plastic temperature probe, which can measure the temperature in injection moulding processes by simply being placed on a pipe. To measure the temperature, different 
...
Read more...
---
Temperature probes for all applications
March 2019, ASSTech Process Electronics + Instrumentation , Temperature Measurement
Kimo offers an extensive range of thermocouple and RTD temperature probes that come as standard products or can be custom made to suit the measuring requirements. The thermocouple types are fitted with 
...
Read more...
---
Ex-rated instruments for explosive atmospheres
March 2019, R&C Instrumentation , IS & Ex
In many industries, there are certain areas that are classified as hazardous or Ex areas. This is an area that contains, or may contain, combustible substances such as gas, vapour or dust. Typical hazardous 
...
Read more...
---
AST's line-type heat sensing
February 2019, Alien Systems & Technologies , Temperature Measurement
Alien Systems & Technologies (AST) offers a wide range of automatic fire detection systems from advanced ultra-smart addressable point type detection systems to regular conventional systems.
Read more...
---
Infrared technology in the food and beverage industry
February 2019, Comtest , Temperature Measurement
Keeping production strictly on schedule in any facet of the food and beverage industry, whether it be pumps, conveyors or electrical connections, means downtime is not an option. Comtest advocates including 
...
Read more...
---
Safe infrared inspections under load
February 2019, R&C Instrumentation , Maintenance, Test & Measurement, Calibration
Iriss and Eaton joined forces to manufacture the Pow-R-Way III Busway System, which enables safe and accurate energised infrared inspections under full load. The UL listed joint cover design, with the 
...
Read more...
---