printer friendly version
Level measurement is becoming more sophisticated
October 2018
Level Measurement & Control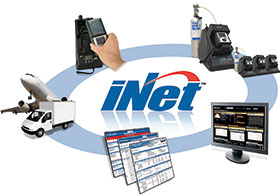 Since radar was developed and deployed during WW II, its use has expanded enormously. As technology advances, these uses are also advancing. For example, radar technology is used in the motor industry to assist in detecting objects near a car or truck, for warning systems. Radar can also detect if a person has fallen overboard from a cruise ship, while the construction industry uses radar to test concrete viability and strength consistency.
When it comes to level measurement, radar offers accuracy and efficiency, which is essential for safety, stock inventory and processing. Radar is exceptionally robust and can be used in any weather or environmental conditions, as well as for nearly every temperature range and viscosity of the measured medium. Deon Rampathi, sales manager for Krohne, says, "Accurate, consistent measurement is essential and radar technology delivers just that."
Applications are becoming smarter
The world is becoming 'smarter' and solutions need to fit into applications that have become increasingly tech-savvy, as well as more automated. Smarter measurement enhances the safety, sustainability and efficiency of operations. This extends into more reliable and enhanced up-time as well as the extension of equipment service life.
"We've introduced the Optiwave 7500, a powerful radar measurement tool that is geared towards those hard-to-reach situations," adds Rampathi. "It's a new generation of liquid measurement with better performance, enhanced software and a more powerful signal processor."
The Optiwave 7500 has an 80 GHz FMCW radar level transmitter to handle liquids in narrow tanks with internal obstructions. The flush-mounted Peek Lens antenna means there is no tank intrusion. It is also insensitive to deposits and has a small dead zone and beam angle (4°) with flange plate protection for corrosive media and a 112 mm antenna extension for long nozzles. Accuracy is 2 mm and there is an extensive choice of process connections with measuring distances up to 100 m at temperatures up to 1500°C.
"For our customers who want to keep their existing antennae and upgrade the electronics without losing the hermetic seal on the tank, there is an Optiwave 7500 retrofit option," concludes Rampathi.
To download the Krohne whitepaper on level measurement visit www.instrumentation.co.za./papers/j3762.pdf
For more information contact Deon Rampathi, Krohne SA, +27 11 314 1391, d.rampathi@krohne.com, www.za.krohne.com
Credit(s)
Further reading:
Continuous level measurement
Africa Automation Fair 2019 Preview, Morton Controls , Level Measurement & Control
The Nivobob series from Morton Controls is used for continuous level measurement within bulk storage silos and for interface measurement of sludge beds. The system is immune to dust, dielectricity, conductivity, 
...
Read more...
---
New flowmeter for biogas
May 2019, KROHNE , Flow Measurement & Control
The new Optisonic 7300 Biogas ultrasonic flowmeter from Krohne has been specially designed to measure dry and wet biogas with variable composition. The meter provides additional functions, like calculation 
...
Read more...
---
A range of level sensors
Africa Automation Fair 2019 Preview, GHM Messtechnik SA , Level Measurement & Control
GHM Messtechnik has available the Val.co range of affordable and effective level sensors that have application across all sectors of industry, especially tank building. The range includes small float 
...
Read more...
---
Keller's water level monitoring systems
April 2019, Instrotech , Level Measurement & Control
The Grib Mine, located in Russia's Mezensky District in the Arkhangelsk Oblast, is one of the largest diamond deposits in the world. During winter, temperatures can drop to -25° and sometimes -37°. The 
...
Read more...
---
80 GHz for liquids
April 2019, VEGA Controls SA , Level Measurement & Control
Vegapuls 64 radar level measurement improves efficiency for bitumen supplier.
Read more...
---
Level monitoring and visualisation
March 2019, Morton Controls , Level Measurement & Control
UWT's Nivotec series is designed to make data movement and communication between monitoring and control systems easy and flexible. The Nivotec 2000 and 3500 series are specifically adaptable to customer 
...
Read more...
---
Monitoring the level of molten polyethylene
March 2019, VEGA Controls SA , Level Measurement & Control
More than ever before, the number of car parts made from plastics and plastic composites is on the increase. According to the American Chemistry Council, plastics account for approximately 50% of the 
...
Read more...
---
Optical turbidity measuring system
March 2019, KROHNE , Analytical Instrumentation & Environmental Monitoring
Krohne has introduced the new Optisys TUR 1060 optical turbidity measuring system. The main application areas are quality or filter monitoring in drinking or cooling water circuits, or demineralisation 
...
Read more...
---
The next level in dairy applications
February 2019, Endress+Hauser , Level Measurement & Control
Reliable and repeatable tank level measurement proven with 80 GHz technology.
Read more...
---
Digital float switch
February 2019, WIKA Instruments , Level Measurement & Control
As its first instrument of this kind, WIKA has launched a float switch with a PNP/NPN output signal. The model GLS-1000 detects the level of liquids with an accuracy of 1 mm or less. The digitised float 
...
Read more...
---