printer friendly version
Level measurement is becoming more sophisticated
October 2018
Level Measurement & Control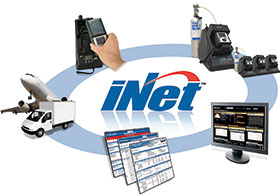 Since radar was developed and deployed during WW II, its use has expanded enormously. As technology advances, these uses are also advancing. For example, radar technology is used in the motor industry to assist in detecting objects near a car or truck, for warning systems. Radar can also detect if a person has fallen overboard from a cruise ship, while the construction industry uses radar to test concrete viability and strength consistency.
When it comes to level measurement, radar offers accuracy and efficiency, which is essential for safety, stock inventory and processing. Radar is exceptionally robust and can be used in any weather or environmental conditions, as well as for nearly every temperature range and viscosity of the measured medium. Deon Rampathi, sales manager for Krohne, says, "Accurate, consistent measurement is essential and radar technology delivers just that."
Applications are becoming smarter
The world is becoming 'smarter' and solutions need to fit into applications that have become increasingly tech-savvy, as well as more automated. Smarter measurement enhances the safety, sustainability and efficiency of operations. This extends into more reliable and enhanced up-time as well as the extension of equipment service life.
"We've introduced the Optiwave 7500, a powerful radar measurement tool that is geared towards those hard-to-reach situations," adds Rampathi. "It's a new generation of liquid measurement with better performance, enhanced software and a more powerful signal processor."
The Optiwave 7500 has an 80 GHz FMCW radar level transmitter to handle liquids in narrow tanks with internal obstructions. The flush-mounted Peek Lens antenna means there is no tank intrusion. It is also insensitive to deposits and has a small dead zone and beam angle (4°) with flange plate protection for corrosive media and a 112 mm antenna extension for long nozzles. Accuracy is 2 mm and there is an extensive choice of process connections with measuring distances up to 100 m at temperatures up to 1500°C.
"For our customers who want to keep their existing antennae and upgrade the electronics without losing the hermetic seal on the tank, there is an Optiwave 7500 retrofit option," concludes Rampathi.
To download the Krohne whitepaper on level measurement visit www.instrumentation.co.za./papers/j3762.pdf
For more information contact Deon Rampathi, Krohne SA, +27 11 314 1391, d.rampathi@krohne.com, www.za.krohne.com
Credit(s)
Further reading:
New additions to Optiflex level transmitter series
May 2020 , Level Measurement & Control
Krohne has introduced four new additions to the Optiflex series of guided radar (TDR) level transmitters. Each device is designed for specific areas of application in the chemical, oil and gas, power, 
...
Read more...
---
Capacitive level switch for fluid, pasty and powdery media
May 2020, GHM Messtechnik SA , Level Measurement & Control
Martens, part of the GHM group of companies, has introduced its MLC 437 capacitive level switches for use principally for the registration of limit levels, full/empty signals in pipes and tanks in fluid, 
...
Read more...
---
Top-mounted level indicator
May 2020, WIKA Instruments , Level Measurement & Control
WIKA's model UTN top-mounted level indicator consists of a measuring chamber, a float with guide rod and a magnetic system. Mounting onto the vessel is made via appropriate process connections (flanged 
...
Read more...
---
New 80 GHz compact radar transmitters
May 2020, Siemens Digital Industries , Level Measurement & Control
Siemens has introduced the Sitrans LR100 series 8 GHz radar level transmitters, a compact instrument with a narrow beam for flexible installations in existing vessel openings or even non-intrusively through 
...
Read more...
---
New compact radar sensor
April 2020, VEGA Controls SA , Level Measurement & Control
A new era in radar level measurement began a few years ago when Vegapuls sensors based on 80 GHz technology were introduced. Thanks to the more precise focusing of the radar beam, the sensor virtually 
...
Read more...
---
Digital innovations using the vibronics measuring principle
February 2020, Endress+Hauser South Africa , Level Measurement & Control
Continuous optimisation and increasingly automated processes are shaping the history of process automation, as well as that of industrialisation.
Read more...
---
High-speed level measurement
February 2020, Morton Controls , Level Measurement & Control
Morton Controls in partnership with Anderson-Negele has introduced the innovative NSL-F level sensor based on a modular device platform. The new platform strategy used with this sensor is based on a building-block 
...
Read more...
---
Capacitive level limit switch
February 2020, Morton Controls , Level Measurement & Control
The Capanivo level limit switch can be used in most solids and liquids as a full or empty detector. The robust, glass reinforced PPS (polyphenylene sulphide) sensor is suitable for food applications while 
...
Read more...
---
Rotary paddle switch with rope extension for point level measurement in silos
February 2020, Morton Controls , Level Measurement & Control
Limit detection is required in most silos and containers to avoid overfilling or unnecessary downtime. The sensor needs to deal with an assortment of process conditions within a wide range of industries. 
...
Read more...
---
Digital float switch
January 2020, WIKA Instruments , Level Measurement & Control
As its first instrument of this kind, WIKA has launched a float switch with a PNP/NPN output signal. The model GLS-1000 detects the level of liquids with an accuracy of 1 mm or less. The digitised float 
...
Read more...
---