printer friendly version
SIL2 for UWT's rotating paddle ­series
October 2018
Level Measurement & Control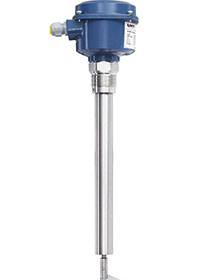 The terms 'functional safety' and 'safety integrity level' (SIL) have occurred more frequently since the publication of the international standard IEC 61508/IEC61511. Particularly in systems with hazard-causing processes, such as in chemical plants, the consideration of functional safety has become indispensable. On this basis, safety-related practices, design principles and error considerations must be met in order to minimise the risk of dangerous failures.
Rotary paddle level switch for overfill and dry run protection
The UWT engineers focused on this topic and redesigned the rotating paddle switch of the Rotonivo RN 6000 series according to the normative requirements of functional safety, to ensure safety functions in risk mitigation in accordance with SIL2. Typical functions include overfill and dry-run protection.
Depending on the requirements, the paddle switch is used as a full, demand or empty detector in storage silos or process vessels, and is suitable for use in almost all solids. With its simple electromechanical measuring principle it can also be adapted for extreme process conditions. A motor driven shaft causes the vane to rotate. Once the material level reaches the vane, thereby inhibiting further rotation, this creates a torque, which is converted to an electric signal. Once the vane is again free of the material, the output signal is reset and the motor driven shaft rotates freely once more.
As part of the functional safety issue, the electronics of the rotating paddle series have been redesigned. It has been reconfigured so that any failure of electrical components leads to a safe switching state of the output signal and thus a hazard by the system is avoided.
The innovative SIL2 compliant Rotonivo RN 6000 series now gives operators of safety-related systems a sensor in accordance with their specified safety integrity level along with an efficient level measurement transmitter.
Credit(s)
Further reading:
New additions to Optiflex level transmitter series
May 2020 , Level Measurement & Control
Krohne has introduced four new additions to the Optiflex series of guided radar (TDR) level transmitters. Each device is designed for specific areas of application in the chemical, oil and gas, power, 
...
Read more...
---
Capacitive level switch for fluid, pasty and powdery media
May 2020, GHM Messtechnik SA , Level Measurement & Control
Martens, part of the GHM group of companies, has introduced its MLC 437 capacitive level switches for use principally for the registration of limit levels, full/empty signals in pipes and tanks in fluid, 
...
Read more...
---
Top-mounted level indicator
May 2020, WIKA Instruments , Level Measurement & Control
WIKA's model UTN top-mounted level indicator consists of a measuring chamber, a float with guide rod and a magnetic system. Mounting onto the vessel is made via appropriate process connections (flanged 
...
Read more...
---
New 80 GHz compact radar transmitters
May 2020, Siemens Digital Industries , Level Measurement & Control
Siemens has introduced the Sitrans LR100 series 8 GHz radar level transmitters, a compact instrument with a narrow beam for flexible installations in existing vessel openings or even non-intrusively through 
...
Read more...
---
Suspended solids sensor
April 2020, Morton Controls , Sensors & Transducers
Morton Controls, in partnership with Quadbeam, has introduced the Stormwater and Wastewater sensor, the SWW, the newest suspended solids sensor/turbidity meter available. Quadbeam has created an incredibly 
...
Read more...
---
New compact radar sensor
April 2020, VEGA Controls SA , Level Measurement & Control
A new era in radar level measurement began a few years ago when Vegapuls sensors based on 80 GHz technology were introduced. Thanks to the more precise focusing of the radar beam, the sensor virtually 
...
Read more...
---
Turbidity sensor with IO-Link
March 2020, Morton Controls , Sensors & Transducers
Digitisation has branched into industry under the keyword Industry 4.0. IO-Link offers significant advantages when it comes to reliably controlling the entire system technology in process control with 
...
Read more...
---
CIP design, planning and installation
February 2020, Morton Controls , System Integration & Control Systems Design
A complete system for a company specialising in the transport of liquid food.
Read more...
---
Hygienic limit switches for processes
February 2020, Morton Controls , Maintenance, Test & Measurement, Calibration
Process and storage vessels incorporate limit switches to prevent overfilling of a tank or vessel (full indicator) or dry running of a pump (empty indicator). Anderson-Negele's NCS series are ideally 
...
Read more...
---
Digital innovations using the vibronics measuring principle
February 2020, Endress+Hauser South Africa , Level Measurement & Control
Continuous optimisation and increasingly automated processes are shaping the history of process automation, as well as that of industrialisation.
Read more...
---