printer friendly version
How drives help in papermaking
October 2018
Motion Control & Drives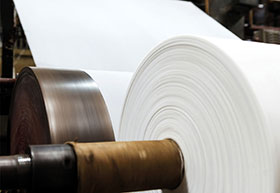 Papermaking machinery, from tissue winders through to suction rolls, embossers, print units and conveyors, must utilise the latest drive technologies to meet modern paper mill production schedules and avoid costly downtime and maintenance issues. The performance levels required of drives in papermaking machines is now way in advance of straightforward functionality. Today's paper mills are a far cry from the traditional image of yesteryear, where animals or water provided the power. Instead, 21st century mills feature a complex yet efficient series of processes controlled by the latest motors, drives and software. Modern papermaking machines measure up to 150 metres in length and operate at speeds in excess of 100 km/h.
Ethernet for integration
Ethernet is another notable trend, whereby paper mills enjoy the benefits of employing a single network technology from the boardroom to the shop floor. Vertically integrating everything from sensors to accounting software presents possibilities for greater operational control. Simultaneously, the latest Ethernet-based networks permit more flexibility when installing and expanding control systems within the manufacturing process chain in comparison with conventional field buses.
A typical turnkey solution for papermaking machinery would comprise integrated drives, automation, safety and networking. Take a two-ply tissue winder, for example. Forming part of an Active Front End (AFE), advanced drives are able to facilitate class leading motor performance with real-time Ethernet, while offering a fully integrated safety system in accordance with EN ISO 13849-1.
The drives work and communicate with controller technology, with Ethernet capability offering real-time drive-to-drive synchronisation. Here, the latest drive innovations differentiate themselves with extremely fast current-control algorithms and high switching frequencies. Co-processor modules can also be deployed to perform cascade speed control. More and more manufacturers of tissue and paper-based products are upgrading the drives systems in their production machines to leverage benefits such as on-board advanced motion control, multi-protocol encoder connectivity and savings in cabling.
When looking to upgrade, engineers should take care to not only specify the optimum drive in terms of capability, but one that is completely compatible with the drive being replaced. For instance, the new drive should offer full mechanical compatibility in terms of dimensions and weight. Also, check to see that existing mounting holes can be reused. Engineers will also benefit from ensuring the drive offers the same power and control wiring philosophy, and the same menu and parameter structure with easy transfer of parameters. Typical upgrade projects might include deploying the latest drives for the control of motors in conveyors. Embossers are a further common application, where paper veils are matched together to make final tissue products thicker and softer. Modern drives can also control print units, as well as winders and unwinders, which deliver materials to further stages of the process.
The effective and efficient driving of induction and permanent magnet servo motors in combination with real-time Ethernet delivery are clearly facilitators of maximising machine throughput. This is supported by high speed I/O for position capture and greater control with single and multi-axis network synchronisation. It has never been easier for machine builders to create more sophisticated and flexible papermaking machinery. All stages of the process can benefit, from suction rolls and paper guide rolls, through to integral dryers.
In support of drives are a multitude of additional module/software configurations that can provide a programming environment befitting of the high-performance motion and functionality necessary in papermaking machinery operations.
Among the many additional benefits of such modules is real-time access to all of the drive's parameters, plus access to data from I/O and other drives. Tasks are synchronised to the drive's own control loops to give the best possible performance for drive control and motion.
Papermaking in the Industry 4.0 era
Looking to the near future, in particular the ramp-up to Industry 4.0, the papermaking industry is preparing for the transition using intelligent drive and motor solutions that are able to play a key role in collecting information and providing the first line of processing. This data can then be converted into useful information for a diverse range of applications, such as predictive diagnostics, process optimisation and machine-to-machine integration.
So, what capability currently exists in this respect? A number of modern drives and motors enable smarter energy use by measuring and optimising consumption. Furthermore, drives are frequently connected to process-critical external sensors such as flow, temperature and position. Drives can also generate critical process information such as speed, torque and current, while digital encoders can provide data to enable automatic drive configuration and measure factors that include vibration. The boundaries to what paper mills can achieve using the latest drive technology are almost without limit.
For more information contact Erisha Munnhar, Nidec Industrial Automation Southern Africa, +27 11 462 1740, erisha.munnhar@mail.nidec.com, www.nidecautomation.com
Credit(s)
Further reading:
BMG's new generation of IE5+ motors
July 2020, Bearing Man Group t/a BMG , Motion Control & Drives
In 1916, BMG and German precision engineers, Getriebebau Nord, entered into a partnership agreement to assemble, distribute and support Nord Drivesystems throughout southern Africa. BMG has made 
...
Read more...
---
Rockwell Automation upgrade for Ghana Water
June 2020, Rockwell Automation , Motion Control & Drives
Over the last five years, Rockwell Automation has been working with Intermerc Ghana in supplying medium-voltage motor control and automation technologies to some of its recent pump upgrade and rehabilitation 
...
Read more...
---
Danfoss addresses the challenges in water and wastewater applications
July 2020, Danfoss , Motion Control & Drives
As the world population rises and people pursue higher standards of living, more water is needed in homes and for the production of food and other products. By 2050, the United Nations projects global 
...
Read more...
---
Incledon launches latest Tekflo couplings
June 2020 , Motion Control & Drives
Incledon, a leading provider of quality fluid conveyance products and solutions, recently launched a new range of universal couplings, adding to its current range of Tekflo-branded products based on quality, 
...
Read more...
---
BMG's specialist solutions for industrial water infrastructure
July 2020, Bearing Man Group t/a BMG , Motion Control & Drives
BMG's solutions for the water, wastewater and sewage sectors encompass the supply of quality branded drive systems, enhanced by the BMG team's technical expertise and installation, condition monitoring, 
...
Read more...
---
BI champions Berntel pneumatic and hydraulic solutions
June 2020 , Motion Control & Drives
Hudaco Group company Berntel is expanding its footprint by offering its extensive range of pneumatic products through the Bearings International (BI) branch network. This, in turn, expands BI's value 
...
Read more...
---
Remote commissioning helps African sugar mills
June 2020 , Motion Control & Drives
Three 1,2 MW ACS880 mill drives and one 355 kW regenerative batch centrifugal drive have been remotely hot commissioned at Illovo Sugar Africa's biggest southern African mills at Nakambala in Zambia and 
...
Read more...
---
Transmission solutions for sugar mills
June 2020, SEW-Eurodrive , Motion Control & Drives
SEW-Eurodrive offers a range of transmission solutions to assist sugar mills cut their costs. The main opportunity in this market segment is not only upgrading old and outdated systems, but the value 
...
Read more...
---
AGVs for automated production
June 2020, SICK Automation Southern Africa , Motion Control & Drives
Automated and flexible production processes are the answer to increasing quantities, smaller batch sizes, and high production speeds. Automated guided vehicle (AGVs) systems and their smaller relatives, 
...
Read more...
---
Simplifying machine setup
June 2020, Siemens Digital Industries , Motion Control & Drives
Strausak Mikroverzahnungen specialises in the manufacture of high-precision machinery used in the watchmaking and apparatus manufacturing industries. To enable the continued precise machining of parts 
...
Read more...
---