printer friendly version
Economic thought and lessons from China
October 2018
Editor's Choice
Through my past experience occupying various roles across multiple industries and institutions in South Africa, in both the private and public sectors, one thought that inextricably captures my imagination is the impact of macro-economic dimension; rapid e-commerce expansion, on the South African economy. This is against a backdrop of slow technological development, particularly in sectors such as local manufacturing.
In search of cheaper products, South Africans in all spheres (individuals, firms and industries) make use of rapidly expanding e-commerce to purchase cheaper products from technologically advanced economies such as China. This negatively affects gross domestic product by diminishing local demand and drives economic growth downwards. The delay and sluggish progress in adopting Industry 4.0 technologies in local industries, if it persists, will worsen the situation as costs of production will continue to rise, while technologically advanced economies are scaling up due to their lower cost of production advantages. The assertions by United Nations Industrial Development Organization (UNIDO) fortifies this view in reporting that South Africa's manufacturing share of GDP has been in hasty decline since the early 1990s to approximately 12% today, while the service sector has expanded over the same period. In simple terms, the above economic movement indicates that the demand for local products is plunging due to high costs of production, which drives local product pricing upwards.
Lessons from China (intra-BRICS investment partner)
A journal of the China Policy Institute from the University of Nottingham and South China Morning Post (SCMP) Institute, corroborated by insights from the BRICS 2018 summit held in Sandton, reported China's State Council's ambitious artificial intelligence (AI) strategic plan to create a domestic US$150 billion AI industry, and make China a global innovation centre by 2030. CB insight study indicates that of the US$15.2 billion invested in AI start-ups globally in 2017, 48% went to China, for the first time surpassing 38% investment portion attributed to the US.
In support of the ambitious 2030 Chinese government plans, its ministry of education launched the AI training programme in April 2018, under which at least 500 teachers and 5000 students will be trained at top universities in an effort to cultivate the talent required to support these initiatives. The government of China recognises AI, and technology in general, as a cornerstone to their economic development, and announced in January that US$2.1 billion will be spent to build a giant AI industrial park in Beijing with the intent to host over 400 enterprises focused on developing products and services in cloud computing.
It is against this backdrop that China will continue to dominate globally as a world manufacturing hub. It is for these and other reasons that, for example, all Apple devices are designed in California, but assembled in China.
The above culminates in three lessons that we South Africans can learn from our Chinese counterparts. The first is government support; the second is a vibrant start-up culture; and third, a population that is enthusiastic about technology. The Chinese population and related cultural orientations are worth a deeper level of examination because, unlike populations and cultural orientations in some other economies, technology is adopted at a rapid rate rather than waiting for privacy related policies, intellectual property (IP) regulations and many other seemingly progress-halting laws and regulations. For instance, Vodacom South Africa in the year 2018 implemented and commissioned 5G technology in Lesotho and could not do so in South Africa due to home country related restrictions.
The 2018 readiness for the future of production report by the World Economic Forum (WEF), in collaboration with global consulting firm A.T. Kearney, indicates skill shortages (e.g. digital skills) in South Africa as one of the stumbling blocks with respect to the future drivers of production. These observations compel us as South Africans to learn from others while at the same time championing change from within. This may very well be an important part of the solution to saving our slowing economic growth.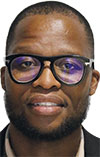 Oratile is the electrical and instrumentation manager at Sasol Group Technology. He holds a bachelor of science degree in electrical and electronic engineering as well an MBA from the University of Cape Town. As the former president of the Society of Automation, Instrumentation, Measurement and Control (SAIMC), he helps to drive the vision shared by council to address issues specific to the automation industry, and is partly accountable for the development of the automation engineering profession in South Africa. Oratile is a conference speaker and has spoken at engineering events such as Industry 4.0 and African Automation Fair. His ambition is to form cross-industry coalitions to tackle the social and educational problems experienced by disadvantaged communities.
Further reading:
Loop Signatures 1: Introduction to the Loop Problem Signatures series
May 2020, Michael Brown Control Engineering , Editor's Choice
Over the years I have had many requests to write a book giving more detailed explanations of some of the problems I have encountered in my work on practical loop optimisation. I am by nature and inclination 
...
Read more...
---
The emergence of a new future in the energy sector
April 2020 , Editor's Choice
Adaptively complex and persistent challenges in Africa are driving the need for a new future in the energy sector. Lack of access to energy, (more than 600 million people in Africa with no access to energy) 
...
Read more...
---
Case History 171: Instability in a metallurgical plant
March 2020, Michael Brown Control Engineering , Editor's Choice
I have written several articles about the unique problems I have encountered, specifically in the mining processing industry. This article is about some experiences in a mining operation where recently 
...
Read more...
---
Case History 170
January 2020 , Editor's Choice
As mentioned in earlier articles, the integral (or I term) in the controller is a brilliant thing. It is an extremely elegant and simple solution for eliminating offset in control. However, like everything 
...
Read more...
---
Case History 169: Tuning a very difficult temperature control loop
November 2019 , Editor's Choice
As I have mentioned in previous articles, Greg McMillan, one of the world's top control experts, has said that he finds temperature control loops generally the worst optimised processes as most people 
...
Read more...
---
Beyond Capex and Opex
November 2019 , Editor's Choice
How do we finance IT? We identify a need, we test the waters with a PoC (proof of concept), then we get the green light after we prove the value. We know roughly how much it will cost by looking at the 
...
Read more...
---
The technology landscape: insights from 2019 conferences
November 2019, SAIMC , Editor's Choice
Industry leaders and governmental agencies across the globe recognise technology as the cornerstone for economic development. President Cyril Ramaphosa famously posited: "The clear implication for South 
...
Read more...
---
Smart devices for Ex areas: Unbelievably simple mistakes that prevent control.
September 2019, Michael Brown Control Engineering , Editor's Choice, Motion Control & Drives
I am often astounded by finding really basic problems with controls in plants, which have operated that way for years. These problems are so basic that one can only wonder at how these controls could 
...
Read more...
---
Top tips to help you implement 4IR projects that deliver value
September 2019 , Editor's Choice, IT in Manufacturing
In the just over 10 years I have spent working on IT projects in the manufacturing space, the amount of new fads and IT jargon that has to be adopted has reached the heavens, and ascended into other realms. 
...
Read more...
---
Nick Denbow's European report: Ex-rated site inspection video camera transmits remotely
August 2019 , Editor's Choice
Librestream and ecom, a brand of the Pepperl+Fuchs group, announced a major collaboration at the Offshore Technology Exhibition in Houston in May. This joint development aims to ease and improve safety 
...
Read more...
---