printer friendly version
Fashion and data combine to create iconic African designs
October 2018
News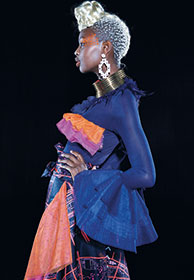 The power of technology and fashion has combined in a thought-provoking project that demonstrates how data can transform African cities. Technology leader Siemens used data from the cities of Lagos, Nairobi and Johannesburg and wove it into unique fabrics which tell a story about each city. Three iconic African fashion designers then used the fabrics to create one-of-a-kind outfits, which are as stylish as they are smart.
Fabric – launched in Johannesburg on 23 August – showcases how digitalisation of the industrial world is fast becoming the biggest transformation of our time, and highlights how data combined with smart technology will ensure that tomorrow's cities are more connected, efficient and powered.
Three African fashion designers created 12 extraordinary outfits from vast amounts of data extracted from the chosen cities. The intricate garments by John Kaveke (Kenyan), Zizi Cardow (Nigerian) and Palesa Mokubung (South African) outline a variety of patterns from power grids, shipping and tonnage to population densities, transport and areas of connectivity. Data from each of these sectors tell a powerful story about each city and how digitalisation can transform them. All of this is told through the universal language of fashion and design.
"This is how we thought to express the aspect of digitalisation," said Keshin Govender, group communications head for Siemens South Africa. "As urbanisation rapidly increases, cities need to start preparing for the effects it will have on infrastructure, energy, water and transportation systems.
"Data gives greater insight on what makes each city tick, helping us make calculated decisions and improve service delivery to the people. Through the Fabric project, it was evident that the challenge is not what to do with the avalanche of data, but rather accessing reliable and recent data. This project has highlighted the need for access to data in order to make sound urban planning decisions."
Siemens is well positioned in automation, electrification and digitalisation to find solutions to the various challenges of today. It is uniquely positioned to unlock the potential of digitalisation through its combination of digital expertise, domain know-how and understanding of hardware in order to leverage digital technologies and optimise operations.
"While there is a growing adoption of intelligent machines within certain sectors like the automotive industry, the real opportunity for Africa lies in sectors where it has not yet been explored like manufacturing, energy and transportation," concluded Govender. "This is a remarkable opportunity for Africa, which will result in the establishment of new industries and new jobs while exponentially increasing skills development and contributing to GDP."
For more information contact Keshin Govender, Siemens South Africa, +27 71 492 3789, keshin.govender@siemens.com, www.siemens.co.za
Credit(s)
Further reading:
Hytec Pretoria exhibits at Mining & Technical Expo
May 2020 , News
Hytec Pretoria exhibited at the Mining and Technical Exhibition (MTE) at the Cullinan Sports Ground in Tshwane, the first MTE for the year held in February. The company showcased a wide range of products 
...
Read more...
---
Skyriders to offer external training at its academy
May 2020 , News
"The Midrand-based training academy established by rope access specialist Skyriders will soon offer external training," reports marketing manager, Mike Zinn. Working at height continues to pose a 
...
Read more...
---
Honeywell takes nine SA students to space camp
May 2020, Honeywell ACS South Africa , News
Honeywell has sent nine South African students to the US Space & Rocket Centre (USSRC) in Huntsville, Alabama, as part of the 10th annual Honeywell Leadership Challenge Academy (HLCA). From 23-27 February, 
...
Read more...
---
Skid-mounted dry-type transformer does duty on a coal mine
May 2020 , News
In a specialised application on a coal mine, Trafo Power Solutions recently supplied a dry-type transformer mounted on a mobile skid. "The harsh environment of a coal mine required us to specially 
...
Read more...
---
Becker Mining South Africa supplies uninterruptible power supply systems
May 2020, Becker Mining South Africa , News
Becker Mining South Africa has supplied 12 uninterruptible power supply (UPS) systems to a local coal mine supplier, to enhance safety and prevent unnecessary downtime. These specially designed systems 
...
Read more...
---
Aguru announces agreement with French industrial services company Ennovia
May 2020 , News
Aguru Business Solutions (Aguru), a company specialising in automation and digital transformation advisory and project management services, has announced that it has entered into a reseller agreement 
...
Read more...
---
From the editor's desk: Loop signatures and digital postage during lockdown
May 2020, Technews Publishing (SA Instrumentation & Control) , News
In this month's issue, we publish the first updated version of Michael Brown's Loop Signature series of articles, the material that forms the basis for his popular control loop training courses.  
...
Read more...
---
Best of breed industrial software: announcement from Element8
May 2020 , News
Element8 is proud to announce its appointments as authorised Ignition distributor for Inductive Automation, distributor of Canary Historian for Canary Labs, and distributor of Flow Information Platform 
...
Read more...
---
New 80 GHz compact radar transmitters
May 2020, Siemens Digital Industries , Level Measurement & Control
Siemens has introduced the Sitrans LR100 series 8 GHz radar level transmitters, a compact instrument with a narrow beam for flexible installations in existing vessel openings or even non-intrusively through 
...
Read more...
---
BMG provides critical engineering support during lockdown
May 2020, Bearing Man Group t/a BMG , News
BMG, a leading South African engineering solutions specialist, has been authorised to provide engineering components and support services to businesses approved as essential service providers, during 
...
Read more...
---