printer friendly version
SIL2 for rotating paddle level switch
September 2018
Level Measurement & Control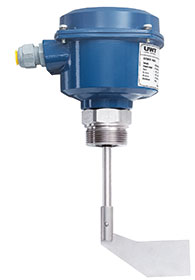 The terms functional safety and safety integrity level (SIL) have occurred more frequently since the publication of the international standard IEC 61508/IEC 61511. Particularly in systems with hazard-causing processes, such as in chemical plants, the consideration of functional safety has become indispensable. On this basis, safety-related practices, design principles and error considerations must be met to minimise the risk of a dangerous failure.
UWT's rotary paddle level switch for overfill and dry run protectionThe UWT engineers focused on this topic and redesigned the rotating paddle switch Rotonivo RN 6000 series according to the normative requirements of functional safety to ensure safety functions and risk mitigation in accordance with SIL2. Typical safety functions are over-fill and dry-run protection.
Depending on the requirements, the Rotonivo rotary paddle switch is used as a full, demand or empty detector in storage silos or process vessels and is suitable for use in almost all solids. With its simple electromechanical measuring principle, it can also be adapted for extreme process conditions. A motor driven shaft causes the vane to rotate. Once the material level reaches the vane, thereby preventing further rotation, this creates a torque, which is converted via a switch to an electric signal. Once the vane is free again of the material, the output signal is reset and the motor driven shaft rotates again.
As part of the functional safety issue, the electronics of the rotating paddle series have been configured so that any failure of electrical components leads to a safe switching state of the output signal thus avoiding potential system hazards. With the innovative SIL2 compliant Rotonivo RN 6000 series, operators of safety-related systems have access to a level sensor in accordance with the specified SIL.
For more information contact John Basson, Morton Controls, 086 100 0393, sales@mortoncontrols.co.za, www.mortoncontrols.co.za
Credit(s)
Further reading:
Inline analytical technology for liquor process control
May 2019, Morton Controls , Analytical Instrumentation & Environmental Monitoring
One of the most important processes in the pulp and paper industry is the alkaline sulphate process, where lignin is separated from the fibrous material. Recycling of the chemicals used is vital for environmental 
...
Read more...
---
Continuous level measurement
Africa Automation Fair 2019 Preview, Morton Controls , Level Measurement & Control
The Nivobob series from Morton Controls is used for continuous level measurement within bulk storage silos and for interface measurement of sludge beds. The system is immune to dust, dielectricity, conductivity, 
...
Read more...
---
A range of level sensors
Africa Automation Fair 2019 Preview, GHM Messtechnik SA , Level Measurement & Control
GHM Messtechnik has available the Val.co range of affordable and effective level sensors that have application across all sectors of industry, especially tank building. The range includes small float 
...
Read more...
---
Pressure and level transmitter
Africa Automation Fair 2019 Preview, Morton Controls , Pressure Measurement & Control
The Anderson-Negele L3 pressure and level transmitter is designed for measuring variable process pressure or hydrostatic applications in the hygienic industry. It can be viewed at Stand C13. Features 
...
Read more...
---
Keller's water level monitoring systems
April 2019, Instrotech , Level Measurement & Control
The Grib Mine, located in Russia's Mezensky District in the Arkhangelsk Oblast, is one of the largest diamond deposits in the world. During winter, temperatures can drop to -25° and sometimes -37°. The 
...
Read more...
---
80 GHz for liquids
April 2019, VEGA Controls SA , Level Measurement & Control
Vegapuls 64 radar level measurement improves efficiency for bitumen supplier.
Read more...
---
Level monitoring and visualisation
March 2019, Morton Controls , Level Measurement & Control
UWT's Nivotec series is designed to make data movement and communication between monitoring and control systems easy and flexible. The Nivotec 2000 and 3500 series are specifically adaptable to customer 
...
Read more...
---
Monitoring the level of molten polyethylene
March 2019, VEGA Controls SA , Level Measurement & Control
More than ever before, the number of car parts made from plastics and plastic composites is on the increase. According to the American Chemistry Council, plastics account for approximately 50% of the 
...
Read more...
---
The next level in dairy applications
February 2019, Endress+Hauser , Level Measurement & Control
Reliable and repeatable tank level measurement proven with 80 GHz technology.
Read more...
---
Hygienic limit switches for processes
February 2019, Morton Controls , Sensors & Transducers
Process and storage vessels incorporate limit switches to prevent overfilling of a tank or vessel (full indicator) or dry running of a pump (empty indicator). Anderson-Negele's NCS series are ideally 
...
Read more...
---