printer friendly version
The revolution in automation
September 2018
Motion Control & Drives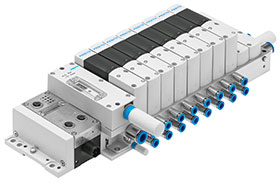 Greater speed in all entrepreneurial processes and a broader range of options for the end consumer are the two key requirements that globalised markets have placed on manufacturing companies. Digitalisation offers the necessary key technologies to meet these two requirements. In addition, information and communication technologies are merging with classical industrial mechanics to generate cyber-physical systems. Festo is adapting to these developments through organisational units that stress the significance of digitalisation.
Digitalisation is an immense task
Successfully providing the growing world population with innovative products can only be ensured by a highly automated manufacturing world. Consumer needs in the global markets differ in accordance with their state of development and expectations. "Digitalisation will accelerate processes within Festo so that we can help our customers efficiently and quickly," said Dr Ansgar Kriwet, member of the management board at Festo. "Digitally extended products from Festo accelerate our customer processes from the machinery design process right down to service."
The increase in the customer's need for customised products places heavy demands on the flexibility of production environments, since consumers want to design and configure products for themselves from wearables such as watches or glasses to cars, personalised dispensing of medicines and self-designed pasta. This can all be made possible by digitalisation.
Evolution of standard products
The core product range for high-quantity series production is of great importance, since success can only be achieved through good relationships with customers. Kriwet elaborates, "Reduced manufacturing costs and the preservation of resources are innovations that generate lasting value. Festo is therefore focusing its innovative power on the development of new products for the rapid and simplified manufacturing of bulk goods. In addition, Festo is advancing digital penetration within the company to benefit from the advantages of Industry 4.0."
For Festo, evolution also means using investments in infrastructure to secure lasting added value in high-wage countries. Festo manufactures its own products in its own factories, therefore, the company knows exactly how its products perform in everyday use. Automation robots are used to relieve the burden on the human operator and to form collaborative teams.
Revolutionary products for the future
The leap into the future is not only achieved through evolution. For products to survive, new concepts must be introduced in the range. Festo has therefore asked pertinent questions of itself about how these should look: "How can large mechanical products be transferred to intelligent cyber-physical systems? How can we boost our productivity and accelerate the supply chain? What additional benefits and what added-value models will these new products offer our customers in future? How can new tasks be assigned to machinery during regular operation? How can the operator communicate with them and make them even more versatile?"
Festo Motion Terminal
Here is the answer. Just as smartphones turned the mobile communication market on its head a decade ago, the Festo Motion Terminal will do the same for automation technology. The new method of function integration combined with software apps will simplify the entire value chain requiring only one piece of hardware for operating purposes. The terminal apps can replace over 50 individual components. Beneath the unassuming exterior and classic Festo product design, there is technical refinement based on state of the art information technology.
Integrated stroke and pressure sensors together with control via motion apps will open new perspectives for machinery and plant manufacturers. The fusion of mechanics, electronics and software in the Festo Motion Terminal will transform a pneumatic product into a true Industry 4.0 component, and enable flexible production. Changes in pneumatic functions and adaptations to new formats are controlled via apps. The integrated intelligent sensors for control, diagnostics and self-learning tasks will eliminate the need for additional components.
Digitalisation of the customer interface
"Digitalisation enables our customers to design, simulate and operate their production systems as a virtual twin, allowing them to determine in advance whether the modules of their systems will work together as desired," concluded Kriwet. The complexity of flexible, adaptive production is made controllable through integrated intelligence and the data acquired during operation provides new insight into processes and machine conditions."
For more information contact Ntando Ndokweni, Festo, +27 11 971 5535, ntando.ndokweni@festo.com, www.festo.com
Credit(s)
Further reading:
Cost-efficient production with 18 synchronous NC axes
June 2019, Beckhoff Automation , Motion Control & Drives
TwinCAT 3 controls highly efficient machine for processing of die-cast automotive parts.
Read more...
---
Festo to go digital at Automation Expo
June 2019, Festo , News
The world is currently undergoing radical digital transformation, which is viewed as an implementation of digital technologies in all sectors, including the automation industry. As a company that continuously 
...
Read more...
---
Rockwell Automation executes AC drive migration at Mozal ­Aluminium
June 2019, Rockwell Automation , Motion Control & Drives
For over 20 years, Rockwell Automation 1336 drives have delivered the drive control required across Mozal, an aluminium smelter near Maputo, Mozambique. Now the industrial automation leader is in the 
...
Read more...
---
Flow sensor for liquid media
June 2019, Festo , Flow Measurement & Control
The new flow sensor SFAW from Festo is ideal for monitoring cooling circuits, for example in welding guns in the automotive industry as well as in front-end applications in the semiconductor and electronics 
...
Read more...
---
Drive solutions for energy efficient power transmission
June 2019 , Motion Control & Drives
Vert Energy is committed to providing energy-saving solutions for its diverse customer base. "Critical challenges facing industry include finding the most efficient ways to minimise energy consumption 
...
Read more...
---
Robotics meets artificial intelligence
June 2019, Festo , Pneumatics & Hydraulics
Whether its grabbing, holding or turning, touching, typing or pressing – in everyday life, we use our hands as a matter of course for the most diverse tasks. In that regard, the human hand, with its unique 
...
Read more...
---
SEW-Eurodrive gives a foretaste of the future of automation
June 2019, SEW-Eurodrive , Motion Control & Drives
SEW-Eurodrive gave visitors to Africa Automation Fair 2019 a foretaste of its Movi-C modular automation system, ready-made for the requirements of Industry 4.0. This represents the next-generation of 
...
Read more...
---
Servo motor equipped with SIL3 encoder
June 2019, Tectra Automation , Motion Control & Drives
The new MS2N synchronous servo motor is Tectra Automations' latest product offering to the electric drives and controls industry. The range combines high dynamics, compact dimensions and excellent energy 
...
Read more...
---
Case History 166: Feel and understanding, or lack thereof
May 2019, Michael Brown Control Engineering , Motion Control & Drives
I was present at a very interesting discussion the other day with people who are leaders in the automation and control industry. The subject was how jobs would disappear over the next decade or two as 
...
Read more...
---
Smart solution for incorporating machine-integrated robots
Africa Automation Fair 2019 Preview, SEW-Eurodrive , Motion Control & Drives
SEW-Eurodrive is showcasing the D5 delta robot, a smart solution for incorporating machine-integrated robots. The high-speed pick-and-place system includes tracking and Movikit robotics software. It 
...
Read more...
---