Latest PlantPAx release empowers convergence
September 2018
PLCs, DCSs & Controllers

printer friendly version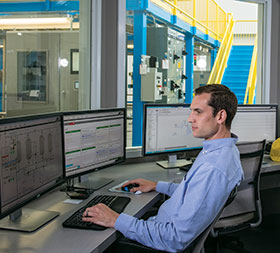 With the latest release of the PlantPAx DCS from Rockwell Automation, industrial producers can create smarter, more productive and protected operations. The new system capabilities include a more intuitive design and the ability to see contextualised information from plant assets. These improvements help digitally transform process control operations to enable a Connected Enterprise with reduced time-to-market and a lower total cost of ownership.
"PlantPAx has long helped to make connectivity possible through its alignment with scalable, plant-wide automation technology and use of open communication standards," said Christo Buys, business manager control systems, Rockwell Automation Sub-Saharan Africa. "Now, Rockwell Automation is releasing capabilities that help process-control operations capture more value across the entire process plant."
Smarter
This system release leverages enabling technologies to eliminate a complexity barrier for small to mid-sized operations seeking to implement a DCS. By consolidating servers into a single machine, applications can implement the full functionality of a modern DCS. This simplification, which can be used on virtual or physical machines, reduces engineering time, licences and system footprint by up to 75%.
The DCS also features an expanded library that supports electrical protection devices, leveraging both Ethernet/IP and IEC-61850 standards. Connecting electrical functions with control extends plant-wide integration, resulting in better plant control. Also, new standard control panel offerings ease implementation for a lower risk startup.
More productive
The system features an expanded library of process objects that improve human interactions with the process, including the handling of alarms and abnormal situations. Simplified faceplate design provides a more intuitive user experience that is easier for training and support. The library also features historian templates to optimise the display of event information with real-time and historical data.
Protected
With the PlantPAx DCS, users can now define access rights, both by role and area, providing a new level of security through authentication and access privileges. The system release also expands network availability for I/O communications and extends the value of converged plant-wide architectures.
"The latest system release of our PlantPAx DCS contains features based on valuable input from process users and aligns with industry standards to deliver a smarter, more intuitive and protected system to a broad range of process industries," explained Jim Winter, director, Global Process Business, Rockwell Automation. "These innovations help companies leverage a modern DCS to more easily increase profits from plant-wide integration in a Connected Enterprise."
For more information contact Christo Buys, Rockwell Automation, +27 11 654 9700, cbuys@ra.rockwell.com, www.rockwellautomation.com
Credit(s)
Further reading:
Rockwell Automation upgrades control at Mozal Aluminium
February 2019, Rockwell Automation , System Integration & Control Systems Design
Rockwell Automation has migrated the control systems at Mozal Aluminium's furnace assembly and ladle cleaning shop to its modern DCS based on the PlantPAx design standard.
Read more...
---
Rockwell Automation expands power range
February 2019, Rockwell Automation , Electrical Power & Protection
Rockwell Automation has expanded the power ranges and capabilities of TotalForce technology for its Allen-Bradley PowerFlex 755T AC drives. The drives now offer an expanded power range, helping engineers 
...
Read more...
---
ABB unveils latest DCS upgrade
February 2019, ABB South Africa , PLCs, DCSs & Controllers
Originally launched in 1994, Freelance is ABB's DCS solution for process industries. It combines the advantages of a DCS with the PLC, and is characterised by ease-of-use, scalability, flexibility and 
...
Read more...
---
Graphic terminals provide enhanced software integration
February 2019, Rockwell Automation , Operator Interfaces, Switches & Relays
End users and OEMs are seeking HMI solutions that simplify and streamline visualisation, especially in larger applications. With the new Allen-Bradley PanelView 5510 family of graphic terminals, companies 
...
Read more...
---
RS Components launches PLCnext controller
February 2019, RS Components SA , PLCs, DCSs & Controllers
RS Components has introduced the first programmable logic controller to be based upon Phoenix Contact's PLCnext Technology open control platform. Aimed at distributed modular control applications in industrial 
...
Read more...
---
Rockwell Automation drives digital transformation
January 2019, Rockwell Automation , IT in Manufacturing
New FactoryTalk InnovationSuite, powered by PTC, accelerates digital transformation strategies.
Read more...
---
Kia Slovakia reduces safety ­downtime
January 2019, Rockwell Automation , IS & Ex
Allen-Bradley GuardLogix maximises efficiency in body shop.
Read more...
---
Diversity, and the currency of ideas
December 2018, Rockwell Automation , News
How can we measure the actual business value created in organisations by diversity amongst our workforces? Rockwell Automation Sub-Saharan Africa managing director Barry Elliott discusses.
Read more...
---
Flexible tower light from Rockwell Automation
November 2018, Rockwell Automation , System Integration & Control Systems Design
Rockwell Automation has introduced the Allen-Bradley ControlTower 856T 70 mm Tower Light system to market. This new system incorporates brighter LED illumination and a broad offering of visual and sound 
...
Read more...
---
Advanced light curtain improves safety
November 2018, Rockwell Automation , IS & Ex
The rise of robots has ushered in an increased demand for light curtains that provide a safe environment between the robotic work cells and the rest of the plant. The Allen-Bradley GuardShield 450L safety 
...
Read more...
---