Mini PLC offers versatile options
September 2018
PLCs, DCSs & Controllers

printer friendly version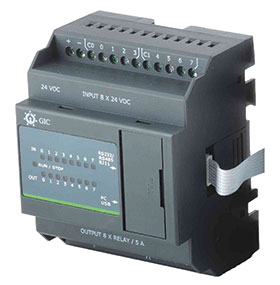 GIC's PL-100 mini programmable logic controller is a real-time system designed for multiple input and output arrangements. The PL-100 can control a wide variety of devices to support the user's evolving automation needs. The PL-100 monitors inputs and changes outputs as controlled by the user program, which can include Boolean logic, counting, timing, complex mathematical operations and communication with other intelligent devices. With its free software, compact design, flexible configuration and powerful instruction set, the PL-100 is a perfect solution for controlling a wide variety of applications in the industrial and commercial sectors.
Prominent features include:
• Programming using ladder diagram.
• Supports up to 112 I/Os including isolated digital inputs (sourcing and sinking), digital transistorised outputs with short circuit protection, high-speed inputs and outputs (PTO/PWM/S-profile) and analog voltage or current inputs and outputs.
• Programming is done through a USB port.
• Standard RS-232/RS-485 port with RJ11 for HMI and scada interface.
• Modbus RTU support.
• Stacking using FRC cable up to a maximum of six expansion modules.
• Rugged and designed to withstand electromagnetic inter-ference, vibrations, temperature and humidity variations.
• Some of the software features include 128 time switches, multiple timers, counters including retentive counters, hour meters and many other function blocks.
• An independent scale converter block with various SFBs to convert the corresponding parameters. It supports up to 16 points conversion for various data types.
• The modified preset parameters of the SFBs configured in ladder, can be retained by selecting the 'Retain SFB Set Value'.
• Complete with LED indication for inputs, outputs, run, stop and error.
• User-friendly software for online and offline simulation that supports regular firmware updates.
Users can now seamlessly and affordably implement automation in almost any electromechanical process.
For more information contact Farrel Sher, AC/DC Dynamics, +27 10 202 3300, farrels@acdc.co.za, www.acdc.co.za
Credit(s)
Further reading:
ABB unveils latest DCS upgrade
February 2019, ABB South Africa , PLCs, DCSs & Controllers
Originally launched in 1994, Freelance is ABB's DCS solution for process industries. It combines the advantages of a DCS with the PLC, and is characterised by ease-of-use, scalability, flexibility and 
...
Read more...
---
RS Components launches PLCnext controller
February 2019, RS Components SA , PLCs, DCSs & Controllers
RS Components has introduced the first programmable logic controller to be based upon Phoenix Contact's PLCnext Technology open control platform. Aimed at distributed modular control applications in industrial 
...
Read more...
---
Flexible controller technology removes project roadblocks
October 2018, Emerson Automation Solutions , PLCs, DCSs & Controllers
Emerson's latest capital project technology enables chemical, life sciences, oil and gas, and other industrial manufacturers to scale automation, simplifying project execution. As capital projects grew 
...
Read more...
---
PC-based control ensures high quality sporting goods
September 2018, Beckhoff Automation , PLCs, DCSs & Controllers
ADC fills market niche with standardised and highly precise testing systems.
Read more...
---
Yokogawa releases Centum VP R6.06
September 2018, Yokogawa South Africa , PLCs, DCSs & Controllers
Yokogawa has announced the addition of new functions to the Centum VP integrated production control system, which will be released as Centum VP R6.06. The enhancements include the addition of support 
...
Read more...
---
Latest PlantPAx release empowers convergence
September 2018, Rockwell Automation , PLCs, DCSs & Controllers
With the latest release of the PlantPAx DCS from Rockwell Automation, industrial producers can create smarter, more productive and protected operations. The new system capabilities include a more intuitive 
...
Read more...
---
Micro PLC reduces complexity of large standalone machines
September 2018, Rockwell Automation , PLCs, DCSs & Controllers
Machine designers can use a new micro PLC to help optimise the control architecture in large standalone machines or systems. The new Allen-Bradley Micro870 PLC can support smart micro applications that 
...
Read more...
---
New controller for DC retrofit applications
September 2018, Rockwell Automation , PLCs, DCSs & Controllers
The new Allen-Bradley PowerFlex DC field controller from Rockwell Automation enables customers to upgrade their DC motor application to a modern system, without the need for complex external devices. 
...
Read more...
---
Smart infrastructure for the water industry
July 2018 , PLCs, DCSs & Controllers
Industrial Internet Control System (IICS) for water and wastewater applications.
Read more...
---
Rockwell Automation powers desalination plant
July 2018, Rockwell Automation , PLCs, DCSs & Controllers
Water specialist, NuWater has developed a two megalitre desalination plant at a smelter plant in KwaZulu-Natal. Rockwell Automation, through its PartnerNetwork program participants, CraigCor Distribution 
...
Read more...
---