printer friendly version
Yokogawa releases Centum VP R6.06
September 2018
PLCs, DCSs & Controllers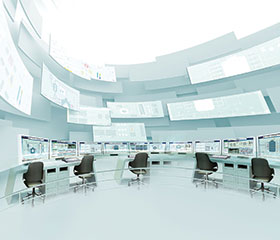 Yokogawa has announced the addition of new functions to the Centum VP integrated production control system, which will be released as Centum VP R6.06. The enhancements include the addition of support for Windows Server 2016, a modification that enables FCS programs to be upgraded with minimal interruption to operations, and the addition of a function to the Automation Design Suite (AD Suite) integrated engineering environment that allows minor modifications to be made to application software during witness inspections. This is in addition to the bulk editing function (already provided with AD Suite) and improves engineering efficiency to help customers improve productivity.
Centum VP provides an optimum operation, monitoring, and engineering environment for the entire plant lifecycle, from initial design, engineering, installation of systems and equipment, through start-up to full operation, maintenance and end of service. Yokogawa has continued to enhance this system to ensure optimal performance. As full backwards compatibility is assured, users always have the option of updating their system to make full use of the latest technologies.
Although FCS software is usually upgraded when plants are periodically shut down for large-scale maintenance, some users have indicated that they would like to be able to choose when to perform these upgrades. Therefore, a function has been added that enables these upgrades to be performed while the FCS is operating. The functionality of the AD Suite engineering tool has also been improved. Combined with the control system virtualisation platform that was released last year, this helps to improve system maintenance and reduces the risk of project delays.
Enhancements
1. Updating of software while FCS is operating
Work that would normally have to wait several years until a shutdown maintenance period, can now be done at a time of the user's own choosing. This is possible because of modifications to the Centum VP software that enable a smoother switchover between the dual-redundant control and standby side CPU modules. This improves both uptime and allows users to choose when to install upgrades. In addition, Yokogawa has enhanced its support organisation to ensure that its customers receive all necessary technical support with their system maintenance activities. With this new version of Centum VP, downtime is eliminated, productivity is enhanced, and users are able to take advantage of the latest control technologies.
2. Ability to perform minor modifications to applications software more easily
Originally developed by Yokogawa for use with Centum VP R6.01, the AD Suite integrated engineering environment greatly improves the efficiency of engineering throughout the plant lifecycle. For this latest version of the control platform, modifications have been made to AD Suite that give users the ability to implement modifications to application control logic and alarm attributes quickly and easily. Such modifications to system software can be immediately executed with the single action of clicking on an icon on the editor screen. This function greatly reduces the amount of time needed to make such modifications, and users are able to choose whether to implement changes singly or in groups.
3. Compatibility with the latest server operating systems
Centum VP R6.06 is compatible with Windows Server 2016, which delivers the latest security functions.
For more information contact Christie Cronje, Yokogawa South Africa, +27 11 831 6300, christie.cronje@za.yokogawa.com, www.yokogawa.com/za
Credit(s)
Further reading:
The powerful Festo modular control system CPX-E
Technews Industry Guide: Industrial Internet of Things & Industry 4.0, Festo , PLCs, DCSs & Controllers
Designed as an EtherCAT master and motion controller with protection to IP20, the powerful automation system CPX-E for factory and process automation with NE21-specific certifications is becoming the 
...
Read more...
---
Rockwell strengthens industrial control system security
July 2019, Rockwell Automation , PLCs, DCSs & Controllers
Communications between industrial control devices have minimal protection today. This leaves them vulnerable to threats like malicious tampering and incidental system changes that can stop production 
...
Read more...
---
Siemens extends the Simine ­portfolio
June 2019, Siemens Digital Industries , PLCs, DCSs & Controllers
Siemens has extended the Simine portfolio for high-pressure grinding mills (HPGR) to include a new controller. Plug-and-play functionality makes the load share controller available for immediate use. 
...
Read more...
---
Schneider Electric announces a new era of control
June 2019, Schneider Electric South Africa , PLCs, DCSs & Controllers
Schneider Electric's new high-end Modicon M580 Ethernet programmable automation controller (ePAC) features redundant processors, native Ethernet, and cybersecurity embedded into its core. It combines 
...
Read more...
---
Selecting the right PLC
June 2019, AC/DC Dynamics , PLCs, DCSs & Controllers
Automation projects, big or small, start with a specification. Here are five factors to consider when choosing a PLC vendor.      
Broad range of devices
The selected brand must have a complete product 
...
Read more...
---
Optimised fuel blending
May 2019, Yokogawa South Africa , Analytical Instrumentation & Environmental Monitoring
This risk has led the refiners to give more than the norms specify, resulting in a giveaway on quality and profit. The use of near infrared (NIR) technology has helped refiners get real-time data to ensure 
...
Read more...
---
Industrial automation equipment
Africa Automation Fair 2019 Preview , PLCs, DCSs & Controllers
Anytech is an industrial automation equipment supplier that has been providing high tech solutions to a wide variety of customers in various industries throughout southern Africa since 1999. High tech 
...
Read more...
---
Multi-function PLC, HMI and I/O in a single 7" unit
Africa Automation Fair 2019 Preview, Vision Automation , PLCs, DCSs & Controllers
This multi-function UniStream PLC with an integrated, high-quality HMI touchscreen is available in a range of built-in I/O configurations. Showcased at Stand C04, the highly compact hardware profile with 
...
Read more...
---
PLCs and HMIs
Africa Automation Fair 2019 Preview, Ana-Digi Systems , PLCs, DCSs & Controllers
Among the new state-of-the-art products on show at Stand E07 are Ana-Digi's PLC range, which offers down to 8,5nS processing speeds and caters for systems up to 132 000 I/O, with full redundancy in processing 
...
Read more...
---
Programmable HMIs with PLC
May 2019, Turck Banner , PLCs, DCSs & Controllers
The new generation of the TX700 HMI/PLC series can control and visualise even more complex processes and applications than before. Thanks to several interfaces and an integrated OPC UA server, this device 
...
Read more...
---