printer friendly version
The benefit of head-guided plugs on slurry valves
August 2018
Valves, Actuators & Pump Control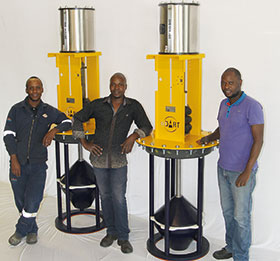 "Good guiding of the plug head with three or more guide bars offers better benefits to valve performance than otherwise offered by the conventional method of fitting guides around the shaft," commented Richard Rule, eDART Slurry Valve director. "Benefits include protection of the actuator, vibration control, prevention of rotation of the plug head, and keeping the seat alignment intact, all of which play an important role in valve longevity and operation.
"The conventional method of fitting guides around the shaft of the plug head has shown that there are constantly reoccurring problems reported from this method. eDART utilises an alternative method throughout its range of valves that embraces three or more guide bars to guide the plug heads, which are polyurethane coated to provide wear resistance."
The problems associated with fitting guides around the shaft
Five main problems have been established with the conventional method of guiding plugged heads:
1. The guiding is a fair distance from the seat, which is where it is best served to prevent the plug rubbing on one side of the seat ring bore, making any clearance between the shaft and guide magnified at the point of seating.
2. In the case of dart valves installed inside a tank the guides are generally attached to the side of the tank. This makes for a more difficult installation and puts accurate alignment in jeopardy, which can prove costly when the site is remote.
3. The small clearance between the guide bush and the shaft makes this arrangement vulnerable to a deposit of solid material between the two components. Scale build up on the shaft can result in the valve sticking and not moving smoothly.
4. There are forces on the plug head from the fluid flow that can cause the shaft to rotate which is extremely difficult to prevent on a shaft with a relatively small diameter.
5. Shaft guides, wear quickly, leaving the shaft poorly guided.
The advantages of fitting the guides to the plug head (or head guiding)
Guide bars are an interference fit directly on the diameter of the plug. Installation and commissioning is a lot easier when the guiding is attached to the seat assembly, thereby eliminating the need for alignment from guide to seat. It also eliminates material build up that can result in seizure due to the fact that guiding takes place between two circles touching on the outside.
Rule elaborated: "The plug head will be pushed against two bars by the line forces and the friction between the components will prevent all but the most severe rotational forces from twisting the shaft. For larger valves, it is standard to fit an anti-rotation plate, or crown guide, on the back of the plug head, which eliminates all rotation.
"The fact that our guide bars are polyurethane coated means that they are capable of handling fluid flow, and the velocity of this flow is much lower around the bars than between the plug and seat, substantially reducing the potential of erosion.
"Answering the industry question of what plug shape is good for the job at hand, we at eDART use computer modelled fluid dynamics to compare plug and seat type valves using different shapes. We have established that the inverted plug shape has a quick opening valve characteristic, while the cone plug provides a more linear response. The cone plug is well suited to control due to the linearity, unlike the quick opening plug which is better for on/off applications. The linear characteristic shape of the eDART cone plug can easily be controlled by standard PID controllers and is therefore a popular choice for eDART's range of slurry control valves."
For more information contact Afrivalve, +27 11 791 1411, sales@afrivalve.co.za, www.afrivalve.co.za
Further reading:
Flow control valves from BMG
February 2020, Bearing Man Group t/a BMG , Valves, Actuators & Pump Control
BMG's Fluid Technology division supplies and supports an extensive range of components for fluid technology systems and general industrial applications. These products include valves, hydraulic hoses 
...
Read more...
---
Large anti-surge control valves from ARCA
February 2020, Valve & Automation , Valves, Actuators & Pump Control
Arca supplies its extensive range of valves to nearly all types of industries, but an important part of the product range are valves for turbines and turbo compressors, especially anti-surge control valves. 
...
Read more...
---
AVK helps water industry meet local content
February 2020 , Valves, Actuators & Pump Control
AVK Valves Southern Africa is helping key players in the water and wastewater treatment sectors comply with the Department of Trade and Industry's requirements for local content. Since 2016, following 
...
Read more...
---
Control valves with positioner suitable for gas and burner installations
January 2020, Macsteel Fluid Control , Valves, Actuators & Pump Control
Sliding gate valves are true all-rounders in the valve technology field and can be used for high-precision control purposes in the fields of natural gas applications, combustion and firing installations, 
...
Read more...
---
ARCA: masters of innovation and variety in control valve solutions
January 2020, Valve & Automation , Valves, Actuators & Pump Control
Dating back to 1918, ARCA Regler has earned global recognition for specialising in control valves, manufactured and marketed around the world primarily for the chemical, food, power, petrochemical, steel, pharmaceutical and oil and natural gas industries.
Read more...
---
Process to instrument valves
November 2019, Parker Hannifin Sales Company South , Valves, Actuators & Pump Control
Parker highlights the leak elimination benefits of close-coupled instrumentation.
Read more...
---
Schubert & Salzer controls paper grammage precisely
October 2019, Macsteel Fluid Control , Valves, Actuators & Pump Control
The Grünewald paper company, headquartered in Austria, recently modernised its process control to improve profitability. Thanks to a new control system and a grammage-weight control valve, the company's 
...
Read more...
---
Valve technology for tyre presses
September 2019, Macsteel Fluid Control , Valves, Actuators & Pump Control
Production plants for tyres place extremely high demands on valves. Tyre curing presses work at high pressures of steam, water, and nitrogen, as well as at high temperatures. In addition, the very short 
...
Read more...
---
Stafsjö valves protect installations
September 2019, Valve & Automation , Valves, Actuators & Pump Control
When it comes to industrial fire protection systems, reliability is essential. The system, which is often on constant standby for long periods, should be able to respond immediately and extinguish possible 
...
Read more...
---
Innovation embedded in Metso's DNA
August 2019, Metso South Africa , Valves, Actuators & Pump Control
Apart from the role in technology development, digitalisation is one of Metso's key enablers to serve its customers better.
Read more...
---