printer friendly version
RFU650 standalone RFID sensor
August 2018
Industrial Wireless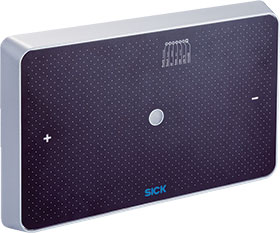 SICK Automation has launched the RFU650, a long-range read/write RFID device that delivers compact, standalone RFID identification and traceability without requiring complex programming or separate external antennas.
The RFU650 is a rugged, affordable device with a typical sensing range of up to five metres. It can accurately distinguish between transponder tags on assembly parts, goods or packages, even when they are moving in opposite directions. For the first time, direction of entry and movement, as well as the position and angle of product assemblies, goods and packages can be reliably detected in a goods handling or logistics environment with standards-compliant communication in real-time.
As Mark Madeley, national product manager identification, vision, distance and ranging for SICK Automation Southern Africa, explains, "Over long distances, the performance of conventional RFID systems is limited by the transmit power, aperture angle, tag properties, and application environment. Until now, directions of movement could only be derived by using additional, external antennas and specialist algorithms."
In applications such as warehousing, distribution and logistics, the SICK RFU650 solves the problem of accurate tracking of individual packages, bins or pallets without the need for complex and costly RFID sensing portals with multiple antennas and shielding to read, record and write data. This new system delivers essential data, even at intersections and multi-unit assembly points, or where several products are being carried on vehicles.
"Position sensing, passage, angles of up to 45 degrees and direction detection are all standard features delivered through the advanced internal algorithms," continues Madeley. "This avoids the need for additional software and hardware to obtain accurate information on product progress through the plant or warehouse. The software even allows static tagged objects to be filtered out."
The built-in technology of the RFU650 also makes it easy for integrators or OEMs to link it to factory and warehouse networks. With SICK's proprietary 4Dpro connectivity, the device communicates with all common industrial fieldbuses and is compatible with other SICK read/write devices, making it highly flexible as part of an upgraded or enhanced installation for improved tracking and control. Additional software functions can be programmed in the software environment and integrated into the device via the SICK APPSpace platform.
The durable IP67 enclosure rating enables the RFU650 to be used in rugged environments and external locations. It conforms to ISO/IEC 18000-63, meeting requirements for data integrity and quality.
Different options for parameter cloning between systems, for example, the integrated microSD memory card feature, reduces maintenance time and the integrated LED can be used for diagnostics or process feedback.
For more information contact Mark Madeley, SICK Automation Southern Africa, +27 10 060 0573, mark.madeley@sickautomation.co.za, www.sickautomation.co.za
Credit(s)
Further reading:
Mobility for Industry 4.0 ­challenges
Africa Automation Fair 2019 Preview, Pepperl+Fuchs , Industrial Wireless
The Tab-Ex 02 series of tablets from Pepperl+Fuchs has innovative features that make Industry 4.0/IIoT applications easy to implement.    The DZ1 version ecom has a range of applications that are unique 
...
Read more...
---
Hazardous area access point
Africa Automation Fair 2019 Preview , Industrial Wireless
Bartec's Wireless X is a small, light wireless access point, eliminating the need for bulky, heavy enclosures and external antennas. On show at Stand G13, it has both IECEx and ATEX Zone 1 certification. 
...
Read more...
---
IIoT gateway for access to remote industrial equipment
Africa Automation Fair 2019 Preview, Throughput Technologies , Industrial Wireless
SiteManager is a security certified IIoT Edge Gateway in the Secomea Industrial Communications Solution program that ensures unified, uninterrupted and secure access to remote industrial equipment. Visit 
...
Read more...
---
Responsive wireless I/O from ­Omniflex
May 2019, Omniflex Remote Monitoring Specialists , Industrial Wireless
Radio networks traditionally follow the Master (main station node) and Slave (out station node) methodology for data acquisition. A single master polls for data from one or more slaves, depending on the 
...
Read more...
---
Change the way you look at asset health
Africa Automation Fair 2019 Preview, Automation & Control Solutions , Industrial Wireless
Automation & Control Solutions is exhibiting the Machinery Manager connection to Plantweb Optics. This allows users to monitor the health of their machines and stay better informed of activities within 
...
Read more...
---
2D barcode reader increases traceability
April 2019, SICK Automation Southern Africa , Sensors & Transducers
SICK Automation South Africa, one of the country's leading sensor solution suppliers for industrial applications, recently installed 120 image-based 2D barcode readers across multiple scanning stations 
...
Read more...
---
Manoeuvring agricultural robots with 2D laser scanners
March 2019, SICK Automation Southern Africa , Sensors & Transducers
The problem: how do you navigate agricultural robots through a field? The challenge of this application can be found not only in the wide variety of crops out there, but also in the fact that crop rows 
...
Read more...
---
Wireless and telemetry by Omniflex
March 2019, Omniflex Remote Monitoring Specialists , Industrial Wireless
Wireless telemetry in plants is a necessity for the data acquisition requirements of modern process efficiency and compliance monitoring. However, cabling costs often push the economic viability of such 
...
Read more...
---
Surface collision avoidance system
March 2019, Becker Mining South Africa , Industrial Wireless
Becker Mining South Africa's advanced safety device, the intelligent collision avoidance system (ICAS), provides situational awareness to ensure optimum safety on construction sites, open-pit mines and 
...
Read more...
---
Large German fertiliser manufacturer reduces costs thanks to SICK Automation
February 2019, SICK Automation Southern Africa , Sensors & Transducers
Available agricultural land in Europe is limited. As a result, large quantities of fertiliser are used in order to increase yields. Producing fertiliser, however, is an energy-intensive process which 
...
Read more...
---