printer friendly version
Flowmeter with integrated level measurement for partially filled pipes
August 2018
Flow Measurement & Control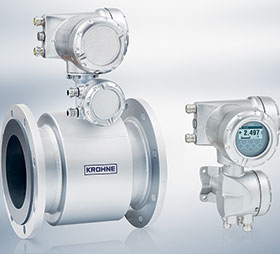 Krohne has introduced the new Tidalflux 2300 F for flow measurement in partially filled pipes. The electromagnetic flowmeter features integrated, noncontact capacitive level measurement and an approval for ATEX zone 1 for use in hazardous environments, especially for the German wastewater market.
Tidalflux 2300 F continues the line of Tidalflux flowmeters which have been in the market for more than 16 years. The new addition to the range is designed to provide reliable flow measurement for flow streams between 10 and 100% of the pipe diameter. The accuracy in partially filled pipes is less than 1% of full scale and the accuracy in full pipes is less than 1% of the measured value. The new flowmeter does not require onsite calibration as it is wet-calibrated at factory in a direct comparison of volumes.
Due to the presence of H2S in many wastewater applications, the new meter features an ATEX zone 1 approval. Here, the inline flowmeter is a closed measurement solution for a safe and clean working environment, replacing open channel measurements. In addition to creating a toxic and explosive atmosphere, H2S presents another problem, especially for partially filled electromagnetic flowmeters: their electrodes may have only a very short life span when in contact with this strongly corrosive substance. The electrodes of the Tidalflux 2300 F are mounted at a height of 10% from the pipe bottom, ensuring that they are always wetted to avoid corrosion. The capacitive level sensors are integrated in the liner and have no contact with the medium, therefore they are unaffected by H2S and any residues that may be floating on the surface (fat, oil, etc.) or particles in the water.
Although municipal or industrial wastewater transport is its main area of application, Tidalflux 2300 F can also be used for measurement of effluent brine from dredging, mining or sea/well water injection applications. Diameters range from DN200-1600, and the measuring tube is fitted with a polyurethane liner which is resistant to abrasion that may be caused by particles such as sand and stones suspended in the brine. It also features a high chemical resistance and minimises the need for regular cleaning as its smooth surface prevents build up of fat deposits.
The meter is available with an IFC 300 F (PF) remote converter in field housing. This means that the extended diagnostic functions of IFC 300, including application and device diagnostic as well as the out-of-spec test, are now available for Tidalflux. For subsoil installation or applications in areas that can be partially flooded, meters can be supplied in a protection rating IP68 version with special coating.
For more information contact Deon Rampathi, Krohne SA, +27 11 314 1391, d.rampathi@krohne.com, www.za.krohne.com
Credit(s)
Further reading:
Plug-and-play solution for flow monitoring
April 2019, Countapulse Controls , Flow Measurement & Control
Ease of flow monitoring with low maintenance benefits is a given with the compact plug and play EGE SNS 450 thermodynamic flow sensor from Countapulse Controls – the sole southern African agent for EGE's 
...
Read more...
---
Low volume rotating vane flowmeter
April 2019, Instrotech , Flow Measurement & Control
Instrotech is offering Kobold's DTK rotating vane flowmeter for small quantities, a versatile, efficient and very economic piece of equipment. This flowmeter was specially developed for use in low viscosity 
...
Read more...
---
Electromagnetic flowmeter for conductive fluids
April 2019, Instrotech , Flow Measurement & Control
Instrotech is offering the Kobold electromagnetic inductive flowmeter for conductive fluids – the model DMH – with a standard accuracy of ± 0,3% of reading stability of zero. It is used specifically for 
...
Read more...
---
Foxboro's vortex flowmeters designed for harsh process environments
April 2019, EOH Process Automation Solutions , Flow Measurement & Control
The 84 series measures volumetric and mass flow of saturated and super-heated steam.
Read more...
---
Visual flow indicators from Valco
March 2019, GHM Messtechnik SA , Flow Measurement & Control
The visual inspection of the passage of liquids, gas and other matter in plant processes is a critical element and can be achieved quickly and efficiently with Val.co's visual flow indicators, which can 
...
Read more...
---
Optical turbidity measuring system
March 2019, KROHNE , Analytical Instrumentation & Environmental Monitoring
Krohne has introduced the new Optisys TUR 1060 optical turbidity measuring system. The main application areas are quality or filter monitoring in drinking or cooling water circuits, or demineralisation 
...
Read more...
---
Hygienic flow measurement
February 2019, SICK Automation Southern Africa , Flow Measurement & Control
Compact stainless steel sensor for conductive and non-conductive liquids.
Read more...
---
Flow control problems in a pulp mill
January 2019, Valve & Automation , Flow Measurement & Control
NAF's advanced process valves solve pulp, paper and cellulose applications.
Read more...
---
Picomag for utility measurement
December 2018, Endress+Hauser , Flow Measurement & Control
In industrial process measurement and automation, demand is steadily rising for simple, reliable and maintenance-free measuring instruments in a pocket-sized format. The new Picomag from Endress+Hauser 
...
Read more...
---
Optisonic biogas flowmeter
December 2018, KROHNE , Flow Measurement & Control
The new Optisonic 7300 Biogas ultrasonic flowmeter from Krohne has been specially designed to measure dry and wet biogas with variable composition. The meter provides additional functions like calculation 
...
Read more...
---