printer friendly version
Oratile's opinion: Business strategy
August 2018
Editor's Choice
Partaking in the Manufacturing indaba – IoT/Industry 4.0 Conference 2018 as a panellist – was revealing, enlightening and thought provoking, at least from the end-user's (technology customer) perspective. Prior to the session on the emerging manufacturing technologies, of which I was one of the panellists, global management consultants AT Kearney presented promising figures for South Africa i.e. the potential of approximately R1,2 trillion worth of new opportunities in South Africa could be created through the forth industrial revolution by the year 2030.
Consequently, a question that arose that was put to the emerging manufacturing technologies panel: "What digital strategies should the end-user adopt and who are the technology suppliers that can assist?" The conference panellists deliberated significantly on this question, now, I would like to expand on it.
By definition, at the core of strategy is what is termed competitive advantage, which stems from two sources of scarcity namely, positional advantage (rooted on structurally attractive markets) and special capabilities (distinctive competencies that others cannot easily replicate or attain). In this context, a competitive advantage cannot be equated, at least for now, to sophisticated technological functionality, but rather to the organisational capability to leverage technology in ways that differentiate the company from its rivals.
Put in a different way, no single digital platform or technology – however refined or state of the art it may be – can deliver a sustained competitive advantage. A prevalent view is that business strategy directs digital strategy. However, the emerging thought is that digital strategies do not only support but shape business strategies, and consequently affect business models.
An anecdotal example
To increase efficiency and further fortify its competitive advantage, Woolworths digitally transformed its business model and deployed digital capabilities that enabled management to place the right item in the right store at the right time. The main driver of the Woolworths platform is to link and integrate the entire business value chain. For instance, an integrated system that enables a supplier to know exactly what is selling, and therefore be in a position to plan future production accordingly. This is a strategic approach that seeks to lock customers to a business by means of aligning them, through the digitised business model, to the suppliers. Integrating customer needs and behaviour into the entire business value chain aligns external factors – reasons why customers gravitate toward a particular organisation rather than to its competitors – with internal processes – embedded organisation specific strategy. Casadesus-Masanell and Ricart (2011) make the case that the latter does not only shape the market for exploitation, but also generates self-reinforcing capability configuration that competitors cannot easily replicate.
The question of which technology suppliers can assist with strategy appears problematic because strategy cannot be packaged in an off-the-shelf form of technology; rather the benefits accrue from a collaborative effort between vendors and end users to solve a specific business problem. Lastly, technology is not in itself a strategy, but can greatly aid in differentiating a firm's operations from competitors, hence creating a sustainable competitive advantage.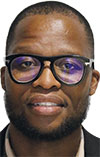 Oratile Sematle
Oratile is the electrical and instrumentation manager at Sasol Group Technology. He holds a bachelor of science degree in electrical and electronic engineering as well as an MBA from the University of Cape Town. As the former president of the Society of Automation, Instrumentation, Measurement and Control (SAIMC), he helps to drive the vision shared by council to address issues specific to the automation industry, and is partly accountable for the development of the automation engineering profession in South Africa. Oratile is a conference speaker and has spoken at engineering events such as Industry 4.0 and African Automation Fair. His ambition is to form cross-industry coalitions to tackle the social and educational problems experienced by disadvantaged communities.
Further reading:
Nick Denbow's European report: Trends in plant monitoring
March 2019 , Editor's Choice
Early last year, the interest from many large automation and sensor suppliers focused on condition monitoring, for example, using wireless communications to monitor the condition of the motors and bearings 
...
Read more...
---
Now might be the time to have a talk with your IT service provider
March 2019, Absolute Perspectives , Editor's Choice, IT in Manufacturing
The Gartner hype cycle provides a simple graphic representation of how emerging technologies are adopted in the market. The principle is quite simple: a new technology (such as augmented reality) will 
...
Read more...
---
Nick Denbow's European report: Will UK industry pull out of the Brexit torpor?
February 2019 , Editor's Choice
Whether the UK – whoever is in charge – decides in March to remain in the EU, drop out, or make a negotiated partial exit, the last year has been disastrous for UK industrial investment in instrumentation 
...
Read more...
---
New toolkits for innovation
January 2019, Absolute Perspectives , Editor's Choice
Why you might want to bypass the DCS and scada systems.
Read more...
---
Emerging technologies pose a pressing governance challenge
December 2018 , Editor's Choice
As the year draws to a close, multiple factors compel the continuation of the Industry 4.0 theme and its challenges, particularly those related to governance. Many readers of this column, as well as social 
...
Read more...
---
Nick Denbow's European report: Condition monitoring resurrected yet again as sensors get smarter
December 2018 , Editor's Choice
Back in the mists of time, that is, in the sixties, the engineers in charge of the gas turbines used to generate electricity in power stations, and others monitoring helicopter gearboxes, used sensors 
...
Read more...
---
First rack-mounted switches that comply with the IEC 61850-3 Edition 2 Class 2 Standard
November 2018, RJ Connect , Editor's Choice
In today's industrial processing environment, industrial Ethernet has become a de-facto standard to connect to the company's PLCs in manufacturing, IEDs in substations and cameras for CCTV, in harsh environments. All of these demand ruggedised networking switches to ensure stable communications to the company's scada, ERP and MES software. Often, industrial networking products are installed in and around the production areas where they are subjected to high temperatures, vibrations and electrical noise from VSDs and motors.
Read more...
---
Nick Denbow's European report: Japan reopens nuclear power plants while progress is slow elsewhere
November 2018 , Editor's Choice
The Fukushima nuclear power plant accident occurred back in March 2011. Following that disaster, Japan ordered the close-down of all the nuclear generating plants in the country – there were 42 of them, 
...
Read more...
---
The Digitalisation Productivity Bonus
October 2018, Siemens Digital Industries , Editor's Choice
Siemens researches the value of digitalisation to manufacturers.
Read more...
---
How adding services to products could start your journey towards an Industry 4.0 solution
October 2018, Absolute Perspectives , Editor's Choice, IT in Manufacturing
For manufacturers, digital transformation involves understanding a range of new technologies and applying these to both create new business and to improve the current operation. Industry 4.0 provides 
...
Read more...
---