printer friendly version
SEW-Eurodrive solutions for the sugar industry
August 2018
Motion Control & Drives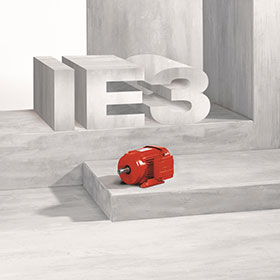 SEW-Eurodrive South Africa will exhibit at the Congress of the South African Sugar Technologists Association (SASTA) from 14 to 16 August at the International Convention Centre in Durban.
The event focuses on the presentation of significant scientific and technological advancements to key stakeholders in the industry, in conjunction with a world-class exhibition. The sugar industry represents a major growth area for SEW, where it aims to supply energy-efficient drives to maximise the load and capacity of mills and refiners.
"We also provide unique drive engineering solutions, as factories require varying options for sugar production. Our geared motors are ideal for horizontal crystallisers, filters, clarifiers, conveyors, batch pans and mixers, and packaging. We also offer back-up support and service," comments national sales manager, Norman Maleka.
He adds that industrial gear solutions are in great demand in the sugar industry due to the extremely challenging production process required to turn the harvested product into finely granulated sugar. During the harvest period, sugar mills can run 24/7 for months on end. It is a harsh environment that requires highly robust and reliable drive solutions. Typical applications for these large gear units are rotary kilns and segmented girth gears, large agitators, extruders and crane technology.
As with industry in general, the sugar sector is moving towards tailored drive packages and total system solutions. "Our clients in the sugar industry require custom solutions that can be implemented quickly and reliably for maximum productivity from the get-go," highlights Maleka. "Our 80-plus years of experience in drive technology means we are the ideal partner for this industry."
Coupled to this is the company's international expertise and experience. For example, it recently supplied three-stage bevel-helical gear units and 200 kW IE3 DRN motors to the Offstein plant of Südzucker, a global market leader in sugar production that processes 16 000 tons of sugar beets per day.
Here, a new conveyor belt was equipped with two almost identical drives. The two gear motors were connected to the drive drum using a pin coupling. For changing from one gear unit to another, the two couplings had to be interchanged mechanically, an efficient process that could be undertaken within two hours thanks to the solution provided by SEW-Eurodrive.
The IE3 motors supplied are operated at a fixed rotational speed, and are also suitable for soft-start. Torque is transmitted from the motors to the conveyor belt by the two large industrial gear units, designed for a nominal gear unit torque of 90 kNm.
In terms of SEW's latest innovations for the sugar industry, Maleka points to the P-X Industrial Gear unit series, which combines a compact planetary stage with a robust versatile industrial gear unit. This provides an efficient solution for medium to high-torque drives, especially in demanding applications such as the sugar industry. In addition, the combination of planetary and helical-bevel gear units translates into an optimum power/weight ratio, in addition to an improved thermal limit rating by means of a shared oil chamber.
SEW-Eurodrive has the advantage of being able to provide a fully comprehensive drive technology portfolio from a single source. "We rely not only on our own universal expertise in mechanical, electrical, and electronic drive technology for your specific solution, but are also able to offer the necessary expertise in control technology, engineering tools and system software, enhanced further by the highest safety and energy efficiency standards," concludes Maleka.
For more information contact Jana Klut, SEW-Eurodrive, +27 11 248 7000, jklut@sew.co.za, www.sew-eurodrive.co.za
Credit(s)
Further reading:
Cost-efficient production with 18 synchronous NC axes
June 2019, Beckhoff Automation , Motion Control & Drives
TwinCAT 3 controls highly efficient machine for processing of die-cast automotive parts.
Read more...
---
Rockwell Automation executes AC drive migration at Mozal ­Aluminium
June 2019, Rockwell Automation , Motion Control & Drives
For over 20 years, Rockwell Automation 1336 drives have delivered the drive control required across Mozal, an aluminium smelter near Maputo, Mozambique. Now the industrial automation leader is in the 
...
Read more...
---
Drive solutions for energy efficient power transmission
June 2019 , Motion Control & Drives
Vert Energy is committed to providing energy-saving solutions for its diverse customer base. "Critical challenges facing industry include finding the most efficient ways to minimise energy consumption 
...
Read more...
---
SEW-Eurodrive gives a foretaste of the future of automation
June 2019, SEW-Eurodrive , Motion Control & Drives
SEW-Eurodrive gave visitors to Africa Automation Fair 2019 a foretaste of its Movi-C modular automation system, ready-made for the requirements of Industry 4.0. This represents the next-generation of 
...
Read more...
---
Servo motor equipped with SIL3 encoder
June 2019, Tectra Automation , Motion Control & Drives
The new MS2N synchronous servo motor is Tectra Automations' latest product offering to the electric drives and controls industry. The range combines high dynamics, compact dimensions and excellent energy 
...
Read more...
---
Case History 166: Feel and understanding, or lack thereof
May 2019, Michael Brown Control Engineering , Motion Control & Drives
I was present at a very interesting discussion the other day with people who are leaders in the automation and control industry. The subject was how jobs would disappear over the next decade or two as 
...
Read more...
---
Smart solution for incorporating machine-integrated robots
Africa Automation Fair 2019 Preview, SEW-Eurodrive , Motion Control & Drives
SEW-Eurodrive is showcasing the D5 delta robot, a smart solution for incorporating machine-integrated robots. The high-speed pick-and-place system includes tracking and Movikit robotics software. It 
...
Read more...
---
Optimising energy requirements
Africa Automation Fair 2019 Preview, SEW-Eurodrive , Motion Control & Drives
A new development from SEW-Eurodrive is the Movigear mechatronic drive system, which combines an energy-efficient gear unit, motor and frequency inverter, and has received the TÜV SÜD Energy-Efficient 
...
Read more...
---
Compact, cost-effective servo solution
Africa Automation Fair 2019 Preview, Elonics , Motion Control & Drives
elonics is introducing the latest addition from the LSIS servo family, the Xmotion L7C servo drives and motors. The L7C Series offers a cost-effective, high precision solution that is both compact in 
...
Read more...
---
SEW-Eurodrive's mechatronic drive system for the bakery industry
May 2019, SEW-Eurodrive , Motion Control & Drives
SEW-Eurodrive is assisting the bakery industry to improve efficiency and reduce energy consumption by means of its Movigear mechatronic drive system. The company has enjoyed a longstanding relationship 
...
Read more...
---