printer friendly version
Nick Denbow's European report: Leaps in technology: implants and liquid lenses
August 2018
Editor's Choice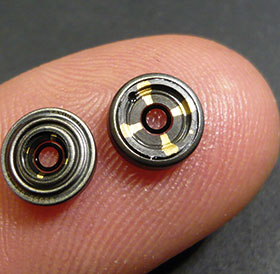 Whilst pacemakers and other implants have become fairly commonplace in medical treatment systems, these still rely on battery technology, and have a limited life. When dealing with electrodes or sensor devices positioned carefully, sometimes deep in the body, a battery capsule is embedded under the skin, to enable future access for replacement. A new development project at MIT, to be more fully described at an August conference, describes a very small medical implant that can be powered and interrogated using radio frequency waves, even though it is deep within the body.
Medical devices that can be ingested or implanted in the body could offer new ways to diagnose, monitor, and treat diseases. In their study, the researchers tested a prototype about the size of a grain of rice, but they anticipate that it could be made smaller. Giovanni Traverso, a research affiliate at MIT's Koch Institute for Integrative Cancer Research, is now working on a variety of ingestible systems that can be used to deliver drugs, monitor vital signs, and detect movement of the GI tract.
In the brain, implantable electrodes that deliver an electrical current are used for deep brain stimulation, which is often used to treat Parkinson's disease or epilepsy. Wireless brain implants could also help deliver light to stimulate or inhibit neuron activity through opto-genetics.
In animal tests the researchers have shown that the radio waves can power devices located 10 cm deep in tissue, from a distance of 1 m. Until now, this has been difficult to achieve because radio waves tend to dissipate as they pass through the body. To overcome that, the researchers devised in vivo networking (IVN), a system that relies on an array of antennas that emit radio waves of slightly different frequencies. As the radio waves travel, they overlap and combine in different ways. At certain points, where the high points of the waves overlap, they can provide enough energy to power an implanted sensor.
Liquid lenses
The liquid lens is a very small lens device, now most commonly used in iPads and mobile phones. To a keen photographer, the picture quality produced from such a small lens is unbelievable. The liquid droplet forming the lens has its shape changed using an electronic control system, which is able to change focal length (to focus) and optical axis (for optical image stabilisation, ie to reduce camera shake effects) all within a few milliseconds.
The idea for this invention came from research on the phenomenon known as 'electro-wetting' by Professor Bruno Berge, in Lyon, France. The professor has been working on liquid interfaces since 1991 at the Ecole Normale Supérieure in Lyon. A drop of water affected by electro-wetting can function as a variable magnifying glass: so two clear, non-miscible liquids of the same density, one being electronically controlled water, can serve as a lens, depending on the curvature of the interface between them. In the finished lens, the two liquids are sealed and held in a metal casing that is typically smaller than 10 mm in diameter.
Berge first approached Canon with the invention, but attracted no funding. So with French state-funding plus some investment fund backing, Berge founded the company VariOptic in 2002. In 2007 they established a production line in China, and in 2009 the first industrial barcode reader with a VariOptic lens appeared on the market. Machine vision manufacturer Cognex was an early adopter of the technology, for barcode ID readers.
A new component now available from IDS (Imaging Development Systems) is a single board USB interface camera module, available for use with and control of liquid lenses, which IDS supply. These low-cost uEye LE industrial cameras with twist-proof USB connection and practical USB power delivery are suitable for logistics systems e.g. for package acceptance and sorting, for microscopy and traffic monitoring, as well as for installation in small medical or industrial devices.

As an avid aero-photographer, using long and heavy telephoto lenses, I am still waiting for a lightweight telephoto 'liquid lens' for my Canon camera. But I also use antique, 200 year old telescopes to spot aircraft – they are as good as modern optical devices, and better made. I did mention to Prof Berge, that one of my favourite telescopes, dating from the 1790s was made by Matthew Berge, his namesake!
Nick Denbow spent 30 years as a UK-based process instrumentation marketing manager, and then changed sides – becoming a freelance editor and starting Processingtalk.com. Avoiding retirement, he published the INSIDER automation newsletter for five years, and then acted as their European correspondent. He is now a freelance Automation and Control reporter and newsletter publisher, with a blog on www.nickdenbow.com
Further reading:
Nick Denbow's European report: Trends in plant monitoring
March 2019 , Editor's Choice
Early last year, the interest from many large automation and sensor suppliers focused on condition monitoring, for example, using wireless communications to monitor the condition of the motors and bearings 
...
Read more...
---
Now might be the time to have a talk with your IT service provider
March 2019, Absolute Perspectives , Editor's Choice, IT in Manufacturing
The Gartner hype cycle provides a simple graphic representation of how emerging technologies are adopted in the market. The principle is quite simple: a new technology (such as augmented reality) will 
...
Read more...
---
Nick Denbow's European report: Will UK industry pull out of the Brexit torpor?
February 2019 , Editor's Choice
Whether the UK – whoever is in charge – decides in March to remain in the EU, drop out, or make a negotiated partial exit, the last year has been disastrous for UK industrial investment in instrumentation 
...
Read more...
---
New toolkits for innovation
January 2019, Absolute Perspectives , Editor's Choice
Why you might want to bypass the DCS and scada systems.
Read more...
---
Emerging technologies pose a pressing governance challenge
December 2018 , Editor's Choice
As the year draws to a close, multiple factors compel the continuation of the Industry 4.0 theme and its challenges, particularly those related to governance. Many readers of this column, as well as social 
...
Read more...
---
Nick Denbow's European report: Condition monitoring resurrected yet again as sensors get smarter
December 2018 , Editor's Choice
Back in the mists of time, that is, in the sixties, the engineers in charge of the gas turbines used to generate electricity in power stations, and others monitoring helicopter gearboxes, used sensors 
...
Read more...
---
First rack-mounted switches that comply with the IEC 61850-3 Edition 2 Class 2 Standard
November 2018, RJ Connect , Editor's Choice
In today's industrial processing environment, industrial Ethernet has become a de-facto standard to connect to the company's PLCs in manufacturing, IEDs in substations and cameras for CCTV, in harsh environments. All of these demand ruggedised networking switches to ensure stable communications to the company's scada, ERP and MES software. Often, industrial networking products are installed in and around the production areas where they are subjected to high temperatures, vibrations and electrical noise from VSDs and motors.
Read more...
---
Nick Denbow's European report: Japan reopens nuclear power plants while progress is slow elsewhere
November 2018 , Editor's Choice
The Fukushima nuclear power plant accident occurred back in March 2011. Following that disaster, Japan ordered the close-down of all the nuclear generating plants in the country – there were 42 of them, 
...
Read more...
---
The Digitalisation Productivity Bonus
October 2018, Siemens Digital Industries , Editor's Choice
Siemens researches the value of digitalisation to manufacturers.
Read more...
---
How adding services to products could start your journey towards an Industry 4.0 solution
October 2018, Absolute Perspectives , Editor's Choice, IT in Manufacturing
For manufacturers, digital transformation involves understanding a range of new technologies and applying these to both create new business and to improve the current operation. Industry 4.0 provides 
...
Read more...
---