printer friendly version
Nick Denbow's European report: Leaps in technology: implants and liquid lenses
August 2018
Editor's Choice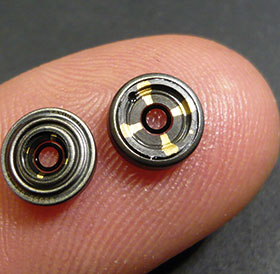 Whilst pacemakers and other implants have become fairly commonplace in medical treatment systems, these still rely on battery technology, and have a limited life. When dealing with electrodes or sensor devices positioned carefully, sometimes deep in the body, a battery capsule is embedded under the skin, to enable future access for replacement. A new development project at MIT, to be more fully described at an August conference, describes a very small medical implant that can be powered and interrogated using radio frequency waves, even though it is deep within the body.
Medical devices that can be ingested or implanted in the body could offer new ways to diagnose, monitor, and treat diseases. In their study, the researchers tested a prototype about the size of a grain of rice, but they anticipate that it could be made smaller. Giovanni Traverso, a research affiliate at MIT's Koch Institute for Integrative Cancer Research, is now working on a variety of ingestible systems that can be used to deliver drugs, monitor vital signs, and detect movement of the GI tract.
In the brain, implantable electrodes that deliver an electrical current are used for deep brain stimulation, which is often used to treat Parkinson's disease or epilepsy. Wireless brain implants could also help deliver light to stimulate or inhibit neuron activity through opto-genetics.
In animal tests the researchers have shown that the radio waves can power devices located 10 cm deep in tissue, from a distance of 1 m. Until now, this has been difficult to achieve because radio waves tend to dissipate as they pass through the body. To overcome that, the researchers devised in vivo networking (IVN), a system that relies on an array of antennas that emit radio waves of slightly different frequencies. As the radio waves travel, they overlap and combine in different ways. At certain points, where the high points of the waves overlap, they can provide enough energy to power an implanted sensor.
Liquid lenses
The liquid lens is a very small lens device, now most commonly used in iPads and mobile phones. To a keen photographer, the picture quality produced from such a small lens is unbelievable. The liquid droplet forming the lens has its shape changed using an electronic control system, which is able to change focal length (to focus) and optical axis (for optical image stabilisation, ie to reduce camera shake effects) all within a few milliseconds.
The idea for this invention came from research on the phenomenon known as 'electro-wetting' by Professor Bruno Berge, in Lyon, France. The professor has been working on liquid interfaces since 1991 at the Ecole Normale Supérieure in Lyon. A drop of water affected by electro-wetting can function as a variable magnifying glass: so two clear, non-miscible liquids of the same density, one being electronically controlled water, can serve as a lens, depending on the curvature of the interface between them. In the finished lens, the two liquids are sealed and held in a metal casing that is typically smaller than 10 mm in diameter.
Berge first approached Canon with the invention, but attracted no funding. So with French state-funding plus some investment fund backing, Berge founded the company VariOptic in 2002. In 2007 they established a production line in China, and in 2009 the first industrial barcode reader with a VariOptic lens appeared on the market. Machine vision manufacturer Cognex was an early adopter of the technology, for barcode ID readers.
A new component now available from IDS (Imaging Development Systems) is a single board USB interface camera module, available for use with and control of liquid lenses, which IDS supply. These low-cost uEye LE industrial cameras with twist-proof USB connection and practical USB power delivery are suitable for logistics systems e.g. for package acceptance and sorting, for microscopy and traffic monitoring, as well as for installation in small medical or industrial devices.

As an avid aero-photographer, using long and heavy telephoto lenses, I am still waiting for a lightweight telephoto 'liquid lens' for my Canon camera. But I also use antique, 200 year old telescopes to spot aircraft – they are as good as modern optical devices, and better made. I did mention to Prof Berge, that one of my favourite telescopes, dating from the 1790s was made by Matthew Berge, his namesake!
Nick Denbow spent 30 years as a UK-based process instrumentation marketing manager, and then changed sides – becoming a freelance editor and starting Processingtalk.com. Avoiding retirement, he published the INSIDER automation newsletter for five years, and then acted as their European correspondent. He is now a freelance Automation and Control reporter and newsletter publisher, with a blog on www.nickdenbow.com
Further reading:
Loop Signatures 1: Introduction to the Loop Problem Signatures series
May 2020, Michael Brown Control Engineering , Editor's Choice
Over the years I have had many requests to write a book giving more detailed explanations of some of the problems I have encountered in my work on practical loop optimisation. I am by nature and inclination 
...
Read more...
---
Loop Signatures 2: The two classes of processes.
July 2020, Michael Brown Control Engineering , Editor's Choice
This article will discuss the two classes of processes called self-regulating and integrating (or ramping) processes. This subject is absolutely vital to regulatory control, but strangely is seldom taught 
...
Read more...
---
From the editor's desk: The virtual business assistant
May 2020, Technews Publishing (SA Instrumentation & Control) , Editor's Choice
Have you ever wished someone would automate the daily grind of routine tasks and set you free to focus on the more engaging aspects of your job?
Read more...
---
From the editor's desk: The virtual business assistant
June 2020, Technews Publishing (SA Instrumentation & Control) , Editor's Choice
Enter robotic process automation (RPA), a disruptive workplace technology that uses software "robots" to mimic many of the repetitive interactions human beings have with their computers. It performs such 
...
Read more...
---
Case History 172: Interesting controls in a copper extraction plant.
June 2020, Michael Brown Control Engineering , Editor's Choice
In my 30 years devoted to optimising controls in industrial process plants in many countries, I thought that I had seen all the possible process dynamics that one would encounter. Imagine my surprise 
...
Read more...
---
The emergence of a new future in the energy sector
April 2020 , Editor's Choice
Adaptively complex and persistent challenges in Africa are driving the need for a new future in the energy sector. Lack of access to energy, (more than 600 million people in Africa with no access to energy) 
...
Read more...
---
Case History 171: Instability in a metallurgical plant
March 2020, Michael Brown Control Engineering , Editor's Choice
I have written several articles about the unique problems I have encountered, specifically in the mining processing industry. This article is about some experiences in a mining operation where recently 
...
Read more...
---
Case History 170
January 2020 , Editor's Choice
As mentioned in earlier articles, the integral (or I term) in the controller is a brilliant thing. It is an extremely elegant and simple solution for eliminating offset in control. However, like everything 
...
Read more...
---
Case History 169: Tuning a very difficult temperature control loop
November 2019 , Editor's Choice
As I have mentioned in previous articles, Greg McMillan, one of the world's top control experts, has said that he finds temperature control loops generally the worst optimised processes as most people 
...
Read more...
---
Beyond Capex and Opex
November 2019 , Editor's Choice
How do we finance IT? We identify a need, we test the waters with a PoC (proof of concept), then we get the green light after we prove the value. We know roughly how much it will cost by looking at the 
...
Read more...
---