Nimbus smart relay with built-in cloud interface
Technews Industry Guide: Industrial Internet of Things & Industry 4.0
PLCs, DCSs & Controllers

printer friendly version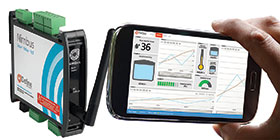 Designed specifically to allow industrial companies using process machinery to control and connect their machines to the cloud, the Nimbus provides the opportunity to improve efficiency and reduce costs by utilising machine data more accurately to plan maintenance, consumables replenishment, parts replacement and other 'upkeep' tasks.
There are literally hundreds of thousands of unconnected industrial machines on shop floors, factories and manufacturing plants. The Nimbus at last gives the owners of this hardware a way to evaluate the overall 'health' of their machines, and so avoid costly downtime or catastrophic failure. A dashboard app keeps users in the loop by displaying live machine measurements and data on a tablet, smartphone or desktop computer.
Described as an all-in-one solution for controlling small machines, the Nimbus is conveniently compact (101 x 23 x 120 mm) and provides three programmable relay outputs capable of switching mains powered equipment. It features industrial grade analog and digital I/O, with 4–20 mA and NTC temperature input options.
It supports a wide range of communication protocols including Modbus and MQTT with physical connections of WiFI, RS-485, RS-232 or external 3G/4G modem. For manufacturers that need machine health and production information at their fingertips, Nimbus offers a way to control small machines and send data to the Cloud to monitor equipment health.
For more information contact Charlene Oroschin, Define Instruments South Africa, +27 (0)83 384 9186, charlene@defineinstruments.co.za, www.defineinstruments.co.za
Further reading:
ABB unveils latest DCS upgrade
February 2019, ABB South Africa , PLCs, DCSs & Controllers
Originally launched in 1994, Freelance is ABB's DCS solution for process industries. It combines the advantages of a DCS with the PLC, and is characterised by ease-of-use, scalability, flexibility and 
...
Read more...
---
RS Components launches PLCnext controller
February 2019, RS Components SA , PLCs, DCSs & Controllers
RS Components has introduced the first programmable logic controller to be based upon Phoenix Contact's PLCnext Technology open control platform. Aimed at distributed modular control applications in industrial 
...
Read more...
---
Flexible controller technology removes project roadblocks
October 2018, Emerson Automation Solutions , PLCs, DCSs & Controllers
Emerson's latest capital project technology enables chemical, life sciences, oil and gas, and other industrial manufacturers to scale automation, simplifying project execution. As capital projects grew 
...
Read more...
---
PC-based control ensures high quality sporting goods
September 2018, Beckhoff Automation , PLCs, DCSs & Controllers
ADC fills market niche with standardised and highly precise testing systems.
Read more...
---
Yokogawa releases Centum VP R6.06
September 2018, Yokogawa South Africa , PLCs, DCSs & Controllers
Yokogawa has announced the addition of new functions to the Centum VP integrated production control system, which will be released as Centum VP R6.06. The enhancements include the addition of support 
...
Read more...
---
Mini PLC offers versatile options
September 2018, AC/DC Dynamics , PLCs, DCSs & Controllers
GIC's PL-100 mini programmable logic controller is a real-time system designed for multiple input and output arrangements. The PL-100 can control a wide variety of devices to support the user's evolving 
...
Read more...
---
Latest PlantPAx release empowers convergence
September 2018, Rockwell Automation , PLCs, DCSs & Controllers
With the latest release of the PlantPAx DCS from Rockwell Automation, industrial producers can create smarter, more productive and protected operations. The new system capabilities include a more intuitive 
...
Read more...
---
Micro PLC reduces complexity of large standalone machines
September 2018, Rockwell Automation , PLCs, DCSs & Controllers
Machine designers can use a new micro PLC to help optimise the control architecture in large standalone machines or systems. The new Allen-Bradley Micro870 PLC can support smart micro applications that 
...
Read more...
---
New controller for DC retrofit applications
September 2018, Rockwell Automation , PLCs, DCSs & Controllers
The new Allen-Bradley PowerFlex DC field controller from Rockwell Automation enables customers to upgrade their DC motor application to a modern system, without the need for complex external devices. 
...
Read more...
---
Smart infrastructure for the water industry
July 2018 , PLCs, DCSs & Controllers
Industrial Internet Control System (IICS) for water and wastewater applications.
Read more...
---