printer friendly version
Phase Change Material (PCM) compressed air dryer launch
July 2018
Motion Control & Drives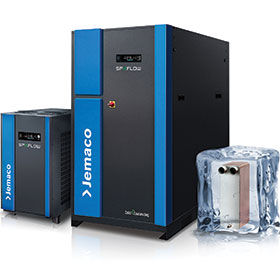 The incessant need to reduce energy consumption is an ever present fact for all plant engineers. It is estimated that compressed air production and compressed air treatment amount to approximately 30% of an average production plants power consumption. SPX Flow, through Artic Driers International has introduced a radically new approach to compressed air drying.
The PCM compressed air dryer, (Phase Change Material) provides low dew point air via a unique and patented 4 in 1 heat exchanger.
The PCM material housed within a plate to plate heat exchanger possesses a high latent heat property that enables the material to melt or freeze at constant temperature. The phase change material will absorb heat from warm moisture laden compressed air without a significant change in temperature. The PCM material stays colder for longer periods of time. This system allows the Freon compressor within the dryer to cycle the Freon compressor with long off-time periods, resulting in great cost savings.
Energy Savings – The PCM dryer lowers the air system power costs and improves productivity by matching power consumption to compressed air demand. C/air loads fluctuate in any production facility. The PCM dryer cycles the power load to match c/air demand with great effectiveness.
As the load fluctuates the power requirement to dry the c/air is matched in proportion to the demand. As a comparison a non cycling dryer uses a constant 96% under any operating load. A PCM dryer when operating at 60% load only consumes 60% of its full load energy.
When compared with current non-cycling, variable speed drives, and older thermal mass type compressed air dryers, the PCM offers superior power savings, without the need to use complex VSD drives, coolant pumps or glycol tanks.
Along with all other quality air treatment packages and filtration systems manufactured by SPX Flow Busan, South Korea, Artic Driers provides the expertise and aftercare support to southern Africa as it has for the last 17 years. Whilst the markets and importers may have changed radically over the last three decades, Artic Driers core competency has grown and matured.
Artic Driers International, a family owned and operated c/air treatment supplier has provided support and compressed air treatment products since 1991.
For more information please contact Allen Cockfield, Artic Driers International, +27 (0)11 420 0274, allen@articdriers.co.za, www.articdriers.co.za
Credit(s)
Further reading:
Drive configuration made easy
November 2020, Nidec Control Techniques , Motion Control & Drives
Nidec Control Techniques prides itself on offering free software for commissioning, optimising and monitoring drive/system performance.
Read more...
---
Sinumerik One Dynamics for motion control
November 2020, Siemens Digital Industries , Motion Control & Drives
Siemens has launched three powerful technology packages exclusively for the CNC Sinumerik One.
Read more...
---
Heavy-duty wedge belts
November 2020, Bearing Man Group t/a BMG , Motion Control & Drives
Fenner Quattro Plus Twin Wrap wedge belts transmit 30% more power than conventional belts.
Read more...
---
30 years of linear motion technology
November 2020 , Motion Control & Drives
This year, factory automation specialist Bosch Rexroth celebrates 30 years of linear motion technology and innovation.
Read more...
---
Cooling VSDs with inertial spin filters
November 2020, RTS Africa Technologies , Motion Control & Drives
RTS inertial spin filter units are compact and easy to install and RTS Africa offers full service from conceptual design to ongoing support as required.
Read more...
---
Omron launches HD-1500 mobile robot
November 2020, Omron Electronics , Motion Control & Drives
Industry-leading HD-1500 expands the possibilities for autonomous material transport.
Read more...
---
BMG installs Danfoss VSDs to improve energy efficiency on farms
November 2020, Danfoss , Motion Control & Drives
BMG's Boer Slim/Smart Farming agricultural team works closely with farmers, assisting them with the selection and operation of new electromechanical systems.
Read more...
---
What is adaptive acceleration control?
November 2020 , Motion Control & Drives
Adaptive acceleration control (AAC) is a new soft start control type that allows the selection of different acceleration and deceleration profiles according to application needs.
Read more...
---
Danfoss efficiencies help South African farmers to free up energy and achieve production goals
October 2020, Danfoss , Motion Control & Drives
Danfoss, together with engineering components provider BMG, supplied a commercial maize farmer with the technology to combat challenges around irrigation sufficiency.
Read more...
---
Energy efficient drive technology for the mining industry
October 2020, Danfoss , Motion Control & Drives
The mining industry must forgo its traditional energy consumption patterns in a bid to ensure that the sector de-carbonises towards a greener and more sustainable method of extraction.
Read more...
---