printer friendly version
Smart sensors for smart factories
Technews Industry Guide: Industrial Internet of Things & Industry 4.0
Sensors & Transducers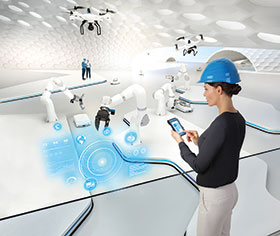 Parts of the so-called 'smart factory' are already reality, and many processes and functions between information and operations spheres are becoming increasingly coordinated.
At the centre of implementing Industry 4.0 is the requirement for intelligent and communication-enabled sensors to provide the smart factory with the data it needs. A communicating, intelligent sensor network, where sensor data is exchanged with a machine controller, or a cloud-based application, allows automatic adaptation of process parameters to new production orders within seconds. That means increased agility and better process efficiency across the enterprise.
Best-in-class sensors
'Sensor Intelligence' has been at the core of the SICK brand since 2004, manufacturing sensors that are best in their detection class. They also support the communication standard IO-Link, in whose development SICK played a major role. They become smart through wide-ranging potential for self and process diagnosis, and through integrated logic functions for processing signals directly at the sensor itself.
However, what, in concrete terms, does intelligence through diagnostic capabilities and integrated functions mean in the context of the smart factory? Smart photoelectric sensors, for example, can detect patterns in an object structure and any changes in them. This takes place directly and autonomously in the sensor – not in the PLC. Machine processes are therefore accelerated and the control program streamlined. This means greater plant efficiency and lower costs for customers. The wide-ranging diagnostic functions of smart sensors can detect critical situations, and correct them, promptly, before the machine experiences an unplanned stoppage. This increases operating reliability, and thus the productivity of the entire plant.
An example of the ­benefit of upgrading to smart sensors can be seen in the case of inductive devices. The SICK portfolio includes a range of inductive smart sensors that, for example, detect the distance between the object and the sensor. They can detect when machine processes deviate from the target state and provide a warning in good time, or even make autonomous statements regarding product quality.
Smart sensors for the smart factory
Ultimately consumers also profit from intelligent sensors and dynamic interactive production processes. The key term is batch size 1. Many people are searching for ways to express their individuality. They want to have products that are perfectly adapted to their individual needs. Such true one-offs are either impossible or very expensive using classic production structures. This is where smart sensors can open up new innovation potential.
Furniture, for example, can nowadays be configured on the Internet. Dimensions, design elements, the type of wood and colours can be freely selected, combined, and ordered. The customer order reaches the production system and the machines via the network. The machines are equipped with intelligent sensors that the controller can parameterise appropriately for the particular product, so that the desired piece of furniture can be produced automatically. Production, inspection, packaging and dispatch all take place according to that individual order – and without any manual interventions. The customer receives their personal one-off piece at the price of a mass-produced item.
This, however, is by no means the limit of the potential of smart sensors. Structures that are more autonomous; plants and factories with greater networking; production (and products) that involve more software and IT – all this can already be seen, and makes smart sensors a critical technology of future production processes. Flexibility will therefore be in greater demand in future. Highly individualised requirements will mean manufacturers have to be able to react rapidly and precisely to each specific requirement. This will lead to a continuing demand for new functionality in sensors that will keep getting smarter.
For more information contact Mark Madeley, SICK Automation Southern Africa, +27 (0)11 472 3733, mark.madeley@sickautomation.co.za, www.sickautomation.co.za
Credit(s)
Further reading:
Get your sensor data faster
May 2019, VEGA Controls SA , Sensors & Transducers
VEGA's Tools App enables sensor parameters and configuration settings to be read and adjusted via Bluetooth on any smartphone or tablet. They are easy to operate and all data is permanently available 
...
Read more...
---
Indoor air quality management
May 2019, Atlas Industrial Systems , Sensors & Transducers
Atlas Industrial Systems (AIS) is the sole supplier of the Honeywell, a first in mobile-supported, indoor air quality management. Regulated by ICASA, this system is user-friendly and has proven valuable 
...
Read more...
---
Ultrasonic sensors for level measurement and object ­detection
May 2019, ifm - South Africa , Sensors & Transducers
ifm – South Africa's new M30 ultrasonic sensors for continuous level measurement and object detection are distinguished by their long range of up to eight metres. This makes them particularly suited for 
...
Read more...
---
Machine vision solutions
May 2019, Westplex , Sensors & Transducers
Westplex specialises in machine vision products and systems for visual inspection, and is a country-wide, one-stop source for a wide range of industrial machine vision products. Westplex represents world 
...
Read more...
---
Load sensing by light
May 2019, SKF South Africa , Sensors & Transducers
SKF's new optical sensing technology takes monitoring to the next level, providing engineers with new insights into machine performance. SKF Fibre Optic Sensing uses optical fibres to measure forces, 
...
Read more...
---
Contact-free optical communication
May 2019, Countapulse Controls , Sensors & Transducers
Optical data transceivers are the appropriate choice for any application where data needs to be transmitted without cables and without interference. The Leuze DDLS 500 data transceiver makes contact-free 
...
Read more...
---
Shock-proof linear position sensors
April 2019, Turck Banner , Sensors & Transducers
Turck's enhanced Li linear position sensors measure position values at a frequency of 5 kHz at measuring lengths of up to 2 metres. Turck has updated its contactless Li Q25 positioning systems and has 
...
Read more...
---
Inductive sensors with Teflon coating
April 2019, ASSTech Process Electronics + Instrumentation , Sensors & Transducers
With switching distances of up to 50 mm and magnetic field resistance of 200 mT, Wenglor's inductive sensors with correction factor 1 come in a total of eight new welding-field resistant models, with 
...
Read more...
---
2D barcode reader increases traceability
April 2019, SICK Automation Southern Africa , Sensors & Transducers
SICK Automation South Africa, one of the country's leading sensor solution suppliers for industrial applications, recently installed 120 image-based 2D barcode readers across multiple scanning stations 
...
Read more...
---
Setting standards for monitoring and safety in the radiation detection industry
Technews Industry Guide: Maintenance, Reliability & Asset Optimisation 2019, OEN Enterprises , Sensors & Transducers
Exposure to harmful levels of radiation can easily be prevented with a new generation of ultra-small, wearable dosimeters. Less expensive, simpler to use, and portable, Thermo Scientific's EPDs (electronic 
...
Read more...
---