printer friendly version
NASA relies on maxon technology
July 2018
Motion Control & Drives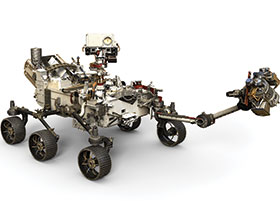 NASA's fifth Mars rover will collect soil samples, seal them and deposit them on the Martian surface for future collection and transport back to earth. Swiss drive specialist, maxon motor, will supply several drives specifically developed for the task to the Jet Propulsion Laboratory, which is building the Mars 2020 rover for NASA.
The maxon drives are being used for mission critical tasks. The plan is for the rover to take dozens of soil samples, seal them in containers and deposit these in caches on the surface of Mars, where a future mission may retrieve and return them to earth. Nine BLDC motors from Switzerland are responsible for the rover's sample handling. The drives can be found in the sample caching system, including the end-effector sample tube holder. The sample handling arm moves the sample containers from station to station within the sampling system. Additional motors are used to assist with obtaining the samples and sealing the containers.
For this project, maxon motor uses brushless flat motors from the standard range (EC 32 flat and EC 20 flat combined with a GP 22 HD planetary gearhead). However, the drives have been modified specifically for the mission. They need to survive a dynamic entry, descent and landing sequence, as well as the harsh daily conditions on Mars with sandstorms and temperatures ranging from -130 to +70°C.
From the outside, the Mars 2020 rover looks similar to its predecessor, Curiosity, which is still operating on Mars. However, the upcoming mission will have several new instruments on board that will deliver unique new data for scientists. A key mission goal will be to search the environment for bio-signatures. Another instrument on board will test whether it is possible to generate oxygen from the atmosphere as a precursor for future human visits. However, the most significant innovation is the capability to take rock samples in several locations and prepare them for return to earth.
Currently, maxon motor is involved in several projects destined for Mars. NASA's InSight Lander launched on 5 May to measure its seismic activities and temperature. A maxon DC motor will power the mole that hammers the measuring sensor into the ground.
Two years later, both NASA and the European Space Agency (ESA) will send rovers to Mars. More than 50 maxon drives are installed in ESA's ExoMars vehicle, including some complex actuator systems that were assembled in maxon's high tech manufacturing facilities. These actuators provide the main drive and steering systems for the vehicle. Additional precision motors are used in the drill head, the onboard laboratory and the camera mast.
For more information contact Hans Burri, DNH Tradeserve, +27 (0)11 468 2722,  hans.burri@dnhtrade.co.za,  www.dnhtrade.co.za
Credit(s)
Further reading:
Drive configuration made easy
November 2020, Nidec Control Techniques , Motion Control & Drives
Nidec Control Techniques prides itself on offering free software for commissioning, optimising and monitoring drive/system performance.
Read more...
---
Sinumerik One Dynamics for motion control
November 2020, Siemens Digital Industries , Motion Control & Drives
Siemens has launched three powerful technology packages exclusively for the CNC Sinumerik One.
Read more...
---
Heavy-duty wedge belts
November 2020, Bearing Man Group t/a BMG , Motion Control & Drives
Fenner Quattro Plus Twin Wrap wedge belts transmit 30% more power than conventional belts.
Read more...
---
30 years of linear motion technology
November 2020 , Motion Control & Drives
This year, factory automation specialist Bosch Rexroth celebrates 30 years of linear motion technology and innovation.
Read more...
---
Cooling VSDs with inertial spin filters
November 2020, RTS Africa Technologies , Motion Control & Drives
RTS inertial spin filter units are compact and easy to install and RTS Africa offers full service from conceptual design to ongoing support as required.
Read more...
---
Omron launches HD-1500 mobile robot
November 2020, Omron Electronics , Motion Control & Drives
Industry-leading HD-1500 expands the possibilities for autonomous material transport.
Read more...
---
BMG installs Danfoss VSDs to improve energy efficiency on farms
November 2020, Danfoss , Motion Control & Drives
BMG's Boer Slim/Smart Farming agricultural team works closely with farmers, assisting them with the selection and operation of new electromechanical systems.
Read more...
---
What is adaptive acceleration control?
November 2020 , Motion Control & Drives
Adaptive acceleration control (AAC) is a new soft start control type that allows the selection of different acceleration and deceleration profiles according to application needs.
Read more...
---
Danfoss efficiencies help South African farmers to free up energy and achieve production goals
October 2020, Danfoss , Motion Control & Drives
Danfoss, together with engineering components provider BMG, supplied a commercial maize farmer with the technology to combat challenges around irrigation sufficiency.
Read more...
---
Energy efficient drive technology for the mining industry
October 2020, Danfoss , Motion Control & Drives
The mining industry must forgo its traditional energy consumption patterns in a bid to ensure that the sector de-carbonises towards a greener and more sustainable method of extraction.
Read more...
---