printer friendly version
New drive range for energy-intensive applications
July 2018
Motion Control & Drives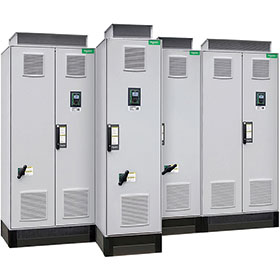 In difficult economic times, rising energy prices have an increasingly negative impact on production costs. This is seeing energy-intensive industries under increasing pressure to improve energy efficiency by adopting the best available technologies. With this in mind, Schneider Electric has extended its range of Altivar Process drives to include a solution for energy intensive applications in the oil and gas, mining, minerals and metals sectors – the Altivar 960 variable speed drive.
"Energy efficient drive systems can assist energy intensive sectors in several ways," says Marc Ramsay, vice president for Schneider Electric Southern Africa, Industry Business. "They help to boost business performance by reducing commissioning time and considerably improving production uptime. Moreover, they are specifically tailored to optimise energy usage during production, which lowers costs, and reduces CO2 emissions." According to Ramsay, Schneider Electric customers are now able to use Altivar Process drives for applications and projects across the board, from single drive projects to the most complex multidrive applications that have advanced load sharing functions.
The Altivar range of drives connects to industrial networks, bringing process information right to the user for optimisation of individual industrial processes such as conveyor belts in mines, pumps for oil wells or process cranes used in steelworks. In addition, the drives have the ability to communicate real-time data as they feature built-in Internet connectivity. This allows users to adjust their operations, lowering energy usage and improving production outputs. The system also communicates performance data, enabling operators to anticipate and identify any possible maintenance issues.
Specific applications
Ramsay says the range is ideal for oil production as it boosts efficiency due to its enhanced application control and data connectivity. Users now have the ability to control production from a central location. Moreover, downtime for pumping operations is limited, even during power outages, and users have direct access to troubleshooting information. The product's drive enclosures were specifically designed to withstand even the most extreme weather conditions.
For the mining, minerals and metals sectors, the drives offer better control for conveyors, stackers, reclaimers and process cranes, boosting energy efficiency and uptime. Other benefits include drive-to-drive load sharing to lower strain on individual drives, as well as high resistance to load and higher available current for improved motor reactivity and stability. Finally, in a world where new cyber threats are targeting these industries daily, the Altivar range boasts enhanced safety and cybersecurity due to its compliance with the latest standards.
Innovative features
The Altivar 960 also features other innovations, including new technology for lower harmonics. In addition it addresses a variety of user concerns, including extended equipment life cycles and tight space requirements. The new low-harmonics 3-level technology is a first on the market. This low harmonics concept is based on a 3-level technology that lowers the total current distortion factor THD(i) to a value less than 5% in accordance with IEEE 519.
Extended motor life is another benefit. The solution features a common-mode structure that lowers voltage stress and peaks in voltage for a smoother waveform, in turn reducing stress on the motor and extending its life considerably. With space at a premium these days, its space-saving design is another benefit. "Schneider Electric's harmonics engineering has resulted in internal filter components being significantly smaller than the conventional 2-level low-harmonic technology. In this way, the drive takes up far less space on the floor.
Installation and operation have also been simplified. The company's engineers went to great lengths to ensure that installation and operation were as smooth and simple as possible. The enclosure arrives ready to connect and meets the need for total current distortion factors.
In terms of adaptability, the system meets power needs of 110 – 800 kW. Schneider Electric has plans to extend this to 1500 kW. Engineering begins with a base model that employs standard enclosures and is ready to connect. However, its modular construction allows the enclosure unit to be tailored to individual needs, making planning easier, and installation and commissioning faster than ever before.
"There's no doubt that energy is becoming a strategic factor in competition around the world, with energy-intensive industries increasingly considering the efficiency of the products they use. There simply isn't another solution on the market that can match the performance and energy savings of the Altivar 960. As the demand for innovative, greener technologies grows, businesses wishing to succeed and remain competitive need to seriously consider solutions that are innovative and sustainable," concludes Ramsay.
For more information contact Jason Ullbricht, Schneider Electric SA, +27 (0)11 254 6400, jason.ullbricht@schneider-electric.com, www.schneider-electric.co.za
Credit(s)
Further reading:
Drive configuration made easy
November 2020, Nidec Control Techniques , Motion Control & Drives
Nidec Control Techniques prides itself on offering free software for commissioning, optimising and monitoring drive/system performance.
Read more...
---
Sinumerik One Dynamics for motion control
November 2020, Siemens Digital Industries , Motion Control & Drives
Siemens has launched three powerful technology packages exclusively for the CNC Sinumerik One.
Read more...
---
Heavy-duty wedge belts
November 2020, Bearing Man Group t/a BMG , Motion Control & Drives
Fenner Quattro Plus Twin Wrap wedge belts transmit 30% more power than conventional belts.
Read more...
---
Schneider Electric provides digital technologies to the mining industry
November 2020, Schneider Electric South Africa , IT in Manufacturing
"The organisation has invested significantly to develop a specialised competence in mining applications," explains Marc Ramsay, vice president industry business unit at Schneider Electric South Africa. 
...
Read more...
---
30 years of linear motion technology
November 2020 , Motion Control & Drives
This year, factory automation specialist Bosch Rexroth celebrates 30 years of linear motion technology and innovation.
Read more...
---
Digital transformation is key to energy efficiency across sub-Saharan Africa
November 2020, Schneider Electric South Africa , News
The findings of the Global Digital Transformation Benefits Report, which was initially released in 2019, were validated by Schneider Electric's customers in the Middle East and Africa throughout 2020.
Read more...
---
Cooling VSDs with inertial spin filters
November 2020, RTS Africa Technologies , Motion Control & Drives
RTS inertial spin filter units are compact and easy to install and RTS Africa offers full service from conceptual design to ongoing support as required.
Read more...
---
Omron launches HD-1500 mobile robot
November 2020, Omron Electronics , Motion Control & Drives
Industry-leading HD-1500 expands the possibilities for autonomous material transport.
Read more...
---
BMG installs Danfoss VSDs to improve energy efficiency on farms
November 2020, Danfoss , Motion Control & Drives
BMG's Boer Slim/Smart Farming agricultural team works closely with farmers, assisting them with the selection and operation of new electromechanical systems.
Read more...
---
What is adaptive acceleration control?
November 2020 , Motion Control & Drives
Adaptive acceleration control (AAC) is a new soft start control type that allows the selection of different acceleration and deceleration profiles according to application needs.
Read more...
---