printer friendly version
IR windows improve safety and ­reduce cost
July 2018
IS & Ex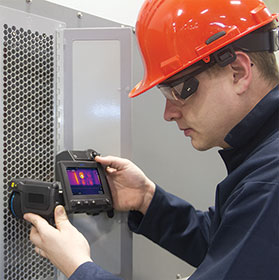 Thermal imaging is a well-established and proven method of preventative maintenance for electrical equipment. But the process does not come without risk. Removing panels to gain access to switchgear for thermal inspection is a very risky business. The danger of arc flash – a short circuit through the air that creates a fireball explosion – is huge. Simply dropping a hand-tool or a cover-panel can make accidental contact with energised parts. Changing the state of equipment is another common trigger. The results can be fatal.
The use of an IR window effectively allows the switchgear to remain in an enclosed and guarded condition, so that the IR scan becomes a non-invasive task. Infrared passes through the window's transmissive polymer lens without compromising the IP65/NEMA 4X seal on the enclosure panel.
This not only keeps personnel safe, but it also allows the system to be thermally inspected under normal load conditions. As a result, both quantitative and qualitative data can be acquired on the status of the electrical system. Furthermore, applications previously considered to be too hazardous for thermal imaging can be brought into the regular inspection schedule.
Stansted Airport has to be open for business 24/7. Stansted's engineers previously only had four hours a night in which to conduct predictive maintenance on electrical equipment. The entire inspection cycle was protracted and no system could be checked under load. Also the airport is classified as a strategic airport, thus having to take redirected traffic at any time of the day or night. Any deviation from this ability is detrimental to air traffic safety around London and comes with large fines. Engineers had to find a way to reduce inspection turnaround time without compromising safety.
Chelmsford-based IRISS, clinched a deal with the airport to construct and install 72 custom-made infrared windows which allow the engineers to complete more efficient safe inspections of the fuses that feed terminal systems, such as computers and baggage belts.
Stansted Airport's engineering compliance manager, David Potter, who spearheaded the project, said: "Previously, the entire inspection cycle was a very long process and took engineers two nights to shut down the system and inspect just one electrical panel by hand. With the installation of IRISS infrared inspection windows and the help of a thermal imaging camera, we can carry out checks of all the panels in just five hours, making huge savings in survey times and equipment costs. The windows are really well constructed and the overall service from IRISS was second to none. Nothing was too much trouble and their engineers were extremely professional."
By facilitating closed-panel inspections, the use of IRISS infrared windows eliminates 99,9% of arc flash triggers during IR electrical surveys and helps companies to comply with NFPA and OSHA mandates. IRISS infrared windows are unique in the market, being made of polymer instead of crystal. They are shatterproof and can be manufactured in any shape or size.
For more information contact R&C Instrumentation, 086 111 4217, info@randci.co.za, www.randci.co.za
Credit(s)
Further reading:
Tube connector for Ex areas
May 2020, Parker Hannifin - Sales Company South Africa , IS & Ex
Parker Hannifin has extended its Phastite permanent instrumentation connection range, which is now available in a number of corrosion-resistant alloys (CRAs), including Alloy 825, 625 and Super Duplex, 
...
Read more...
---
SMC's static removal solutions
November 2020, SMC Corporation South Africa , IS & Ex
Around the world, SMC Corporation has a long history in assisting customers in several industries with pneumatic solutions and components. Perhaps less well known in South Africa is the SMC ioniser range, 
...
Read more...
---
Retrofit your vehicles with collision protection
November 2020, ifm - South Africa , IS & Ex
The camera-based anti-collision system from ifm automatically detects persons and obstacles in the rear area of the vehicle, warns the driver, and stops the vehicle if necessary.
Read more...
---
Temperature measurement in the steel industry
November 2020, R&C Instrumentation , Temperature Measurement
Having recently joined forces, Raytek and Ircon are able to offer non-contact infrared thermometers and scanners to cover every aspect of temperature monitoring in steel manufacturing processes.
Read more...
---
Safe use of Ethernet in Ex areas
November 2020, Turck Banner , IS & Ex
Turck is paving the way for the evaluation of plant data using its excom high-availability I/O system.
Read more...
---
Safety controllers with diagnostics
October 2020, Turck Banner , IS & Ex
The combination of an intuitive user interface and diagnostics makes it easy to design and troubleshoot complex safety systems in just a few clicks.
Read more...
---
Preventive maintenance in pulp and paper mills
October 2020, R&C Instrumentation , Maintenance, Test & Measurement, Calibration
The thinking around machine condition monitoring has changed over the years and it is now stated that vibration is the better measurement over temperature, since it gives earlier warning.
Read more...
---
Real-time location system
September 2020, Extech Safety Systems , IS & Ex
With worker safety becoming an ever-increasing focus for many businesses operating within process industries, iTAG X30 delivers a solution that allows high levels of location accuracy across their entire site.
Read more...
---
Sensor technology now in use in explosion-protected areas
September 2020, Pepperl+Fuchs , IS & Ex
Increased customer demand for hazardous areas requirements that can be met using sensor technology require sensors to be fitted in potentially hazardous locations, posing ever greater challenges.
Read more...
---
Temperature profiling in automobile manufacture
September 2020, R&C Instrumentation , Temperature Measurement
The automotive industry uses many materials to build cars. These have evolved over time, becoming more sophisticated and often requiring heat treatment at some stage of component manufacture.
Read more...
---