printer friendly version
IR windows improve safety and ­reduce cost
July 2018
IS & Ex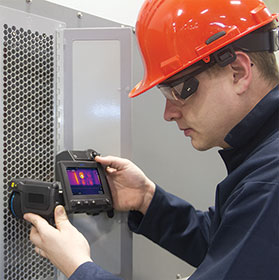 Thermal imaging is a well-established and proven method of preventative maintenance for electrical equipment. But the process does not come without risk. Removing panels to gain access to switchgear for thermal inspection is a very risky business. The danger of arc flash – a short circuit through the air that creates a fireball explosion – is huge. Simply dropping a hand-tool or a cover-panel can make accidental contact with energised parts. Changing the state of equipment is another common trigger. The results can be fatal.
The use of an IR window effectively allows the switchgear to remain in an enclosed and guarded condition, so that the IR scan becomes a non-invasive task. Infrared passes through the window's transmissive polymer lens without compromising the IP65/NEMA 4X seal on the enclosure panel.
This not only keeps personnel safe, but it also allows the system to be thermally inspected under normal load conditions. As a result, both quantitative and qualitative data can be acquired on the status of the electrical system. Furthermore, applications previously considered to be too hazardous for thermal imaging can be brought into the regular inspection schedule.
Stansted Airport has to be open for business 24/7. Stansted's engineers previously only had four hours a night in which to conduct predictive maintenance on electrical equipment. The entire inspection cycle was protracted and no system could be checked under load. Also the airport is classified as a strategic airport, thus having to take redirected traffic at any time of the day or night. Any deviation from this ability is detrimental to air traffic safety around London and comes with large fines. Engineers had to find a way to reduce inspection turnaround time without compromising safety.
Chelmsford-based IRISS, clinched a deal with the airport to construct and install 72 custom-made infrared windows which allow the engineers to complete more efficient safe inspections of the fuses that feed terminal systems, such as computers and baggage belts.
Stansted Airport's engineering compliance manager, David Potter, who spearheaded the project, said: "Previously, the entire inspection cycle was a very long process and took engineers two nights to shut down the system and inspect just one electrical panel by hand. With the installation of IRISS infrared inspection windows and the help of a thermal imaging camera, we can carry out checks of all the panels in just five hours, making huge savings in survey times and equipment costs. The windows are really well constructed and the overall service from IRISS was second to none. Nothing was too much trouble and their engineers were extremely professional."
By facilitating closed-panel inspections, the use of IRISS infrared windows eliminates 99,9% of arc flash triggers during IR electrical surveys and helps companies to comply with NFPA and OSHA mandates. IRISS infrared windows are unique in the market, being made of polymer instead of crystal. They are shatterproof and can be manufactured in any shape or size.
For more information contact R&C Instrumentation, 086 111 4217, info@randci.co.za, www.randci.co.za
Credit(s)
Further reading:
Non-contact temperature measurement in the cement industry
R&C Instrumentation Temperature Measurement
Industrial IR sensors and systems for non-contact temperature measurement are vital to the cement industry and can be employed throughout the plant for process monitoring and predictive maintenance.
Read more...
---
Process safety transformed by TDL technology
Elemental Analytics IS & Ex
Servomex has introduced a new advantage to safety systems with its unique line lock technology incorporated into the latest tunable diode laser (TDL) analysers.
Read more...
---
Reduce the risk of shock and arc flash
Comtest IS & Ex
Comtest now offers a new Fluke tester to the market, which sources both AC and DC steady-state voltage for Hi-Z and Lo-Z instruments, thus simplifying safety compliance testing.
Read more...
---
Three key principles to build a strong safety culture
Comtest IS & Ex
To build a strong culture of safety, one first needs to create a climate that allows for adaptation and change.
Read more...
---
Preconfigured fail-safe circuit from Festo
Festo South Africa IS & Ex
The preconfigured Festo fail-safe circuit is ready to install in the control cabinet as a safe and low-cost alternative when it comes to fail-safe technology.
Read more...
---
Flameproof cable glands
Pratley IS & Ex
A new flameproof cable gland range from Pratley allows for soft-bedding cables like PVC to be fitted to flameproof equipment without any concern regarding cable damage.
Read more...
---
Gigabit intrinsically safe Ethernet
Extech Safety Systems IS & Ex
Eaton's 9470 product range provides cost-effective intrinsically safe (IS) Gigabit Ethernet equipment that can be installed and maintained easily in hazardous areas.
Read more...
---
Safety over IO-Link
ifm - South Africa IS & Ex
With the new AL200S PROFIsafe IO-Link module from ifm electronic, it is now possible to operate standard safety sensors and actuators via IO-Link.
Read more...
---
IS interface for signal processing
Endress+Hauser South Africa IS & Ex
Endress+Hauser's RN series interface modules power the foundation of measurement instrument loops and safety instrumented systems.
Read more...
---
Tracking systems for furnace applications
R&C Instrumentation Temperature Measurement
Fluke Process Instruments has released the latest Datapaq Furnace Tracker System complete with the TP6 data logger, thermal barriers and intuitive software.
Read more...
---