printer friendly version
AST's Pyroshield fire protection
July 2018
IS & Ex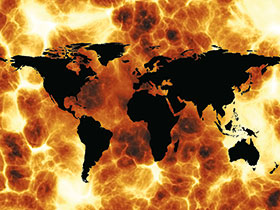 Next year will be the twentieth year since Alien Systems & Technologies (AST) was incorporated in South Africa. During that time the company has developed an array of products that have successfully saved its customers from the ravages of fire, whilst expanding its business into Europe, Australia, Far East, Africa and the Americas.
A case in point has been two recent incidents at large corporates where fire broke out. In April, a large multinational insurance company in Sandton's CBD experienced a fire in its server room. A UPS flashed and quickly escalated into a full fire. The smoke detection system operated and then AST's Pyroshield gaseous fire extinguishing system kicked in. The fire was quickly extinguished and the event was reduced to a minor incident.
Without Pyroshield protection for the server room, the IT backbone of the business could have been wiped out.
A few weeks later, another fire broke out in a computer room in Isando at an international logistics and shipping company. Once again AST's Pyroshield system was activated and extinguished the fire, reducing the consequences of the outbreak to minimal.
These are just two recent incidents where AST's award winning Pyroshield system has saved customers many millions of rands in recapitalising infrastructure and minimising operational losses.
AST's Pyrogen Aerosol fire extinguishing system has operated countless times on mines over the last 17 years. Most recently, a substation would have burnt down at a Portland Cement facility. The cost in production losses would have amounted to many millions. Such is the efficacy of the Pyrogen solution in extinguishing fires that there is virtually no mine in South Africa that does not have Pyrogen installed somewhere to protect its electrical reticulation systems.
AST also designs and supplies the Cirrus Hybrid aspirating fire and smoke detector. Such devices are installed where normal point type smoke detectors are impractical, such as in high bay warehouses or in areas where high airflows from cooling systems are present. This device actively samples the air for the earliest signs of an impending fire threat and is able to discount false alarms that plague optical only detectors, for example from dust.
During the construction of a large blue chip data centre in Johannesburg, a fire broke out during the night when a heater bank was left on after load testing the air cooling system. The Cirrus Hybrid detection system, although not properly commissioned, still detected the fire and sounded the fire alarms. A security guard was able to extinguish the fire. This system ultimately saved the project and ensured that the client could deliver the data centre for cloud hosting purposes on time.
There was a fire on a very large, several hundred million rand printing press in Jet Park. The client's insurance company recommended AST for an effective solution since the existing system did not work adequately. The fire was extinguished, but only after severe damage. AST responded with an automatic fire detection and CO2 extinguishing solution in an extremely volatile environment with ink bath stations that have flammable solvents with low flash points. There were two further fires on the machine since the AST system was installed three years ago and each time the system was activated and extinguished the fire without any significant damage to the machine. Downtime was limited to a day or two in each case. This is in comparison to the six months loss in production after the first fire due to the poorly designed and ineffective competitor solution. The client is required to deliver on multimillion rand contracts by using this particular press and cannot afford not to have this machine running.
With a vast range of products and solutions, ECSA registered engineers on its design team, and a history built on success, AST is able to deliver virtually a wide range of turnkey and integrated systems for all kinds of client needs. Applications include conveyor belt systems, data centres, building fire detection and alarm systems, hospital fire detection and alarm systems, mining machines such as stacker/reclaimers, printing press machines, hydraulic lubricating oil packs, intrinsically safe systems, sensitive document stores, prestigious buildings, museums and warehouses.
Built on knowledge, research, development and engineering principles, AST is looking forward to celebrating its forthcoming twentieth year with its ongoing commitment to deliver high quality products and integrated turnkey systems and to save its clients from the destructive effects and life-threatening power of fire.
For more information contact Grant Wilkinson, Alien Systems & Technologies, +27 (0)11 949 1157, sales@astafrica.com, www.astafrica.com
Credit(s)
Further reading:
Tube connector for Ex areas
May 2020, Parker Hannifin - Sales Company South Africa , IS & Ex
Parker Hannifin has extended its Phastite permanent instrumentation connection range, which is now available in a number of corrosion-resistant alloys (CRAs), including Alloy 825, 625 and Super Duplex, 
...
Read more...
---
Driver assistance for collision avoidance
January 2021, SICK Automation Southern Africa , IS & Ex
SICK Automation's Visionary-B CV 3D driver assistance system delivers real-time imagery with optical and acoustic warning signals.
Read more...
---
SMC's static removal solutions
November 2020, SMC Corporation South Africa , IS & Ex
Around the world, SMC Corporation has a long history in assisting customers in several industries with pneumatic solutions and components. Perhaps less well known in South Africa is the SMC ioniser range, 
...
Read more...
---
Retrofit your vehicles with collision protection
November 2020, ifm - South Africa , IS & Ex
The camera-based anti-collision system from ifm automatically detects persons and obstacles in the rear area of the vehicle, warns the driver, and stops the vehicle if necessary.
Read more...
---
Safe use of Ethernet in Ex areas
November 2020, Turck Banner , IS & Ex
Turck is paving the way for the evaluation of plant data using its excom high-availability I/O system.
Read more...
---
Delivering modern SIS for wellhead applications
January 2021, Emerson Automation Solutions , IS & Ex
Keeping the safety and non-safety functions separate while achieving seamless integration.
Read more...
---
Safety technology with ifm
January 2021, ifm - South Africa , IS & Ex
The ifm safety product range includes electro-sensitive protective equipment (ESPE), door switches, actuators and control systems.
Read more...
---
Safety controllers with diagnostics
October 2020, Turck Banner , IS & Ex
The combination of an intuitive user interface and diagnostics makes it easy to design and troubleshoot complex safety systems in just a few clicks.
Read more...
---
Real-time location system
September 2020, Extech Safety Systems , IS & Ex
With worker safety becoming an ever-increasing focus for many businesses operating within process industries, iTAG X30 delivers a solution that allows high levels of location accuracy across their entire site.
Read more...
---
Sensor technology now in use in explosion-protected areas
September 2020, Pepperl+Fuchs , IS & Ex
Increased customer demand for hazardous areas requirements that can be met using sensor technology require sensors to be fitted in potentially hazardous locations, posing ever greater challenges.
Read more...
---