printer friendly version
Preparing for digitalisation and an era of collaborative robotics
Technews Industry Guide: Industrial Internet of Things & Industry 4.0
News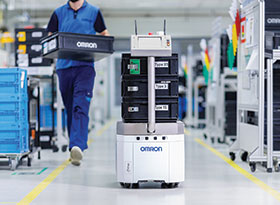 Digital transformation and its associated technologies – collaborative robots in particular – are generating enormous interest in manufacturing. Industry 4.0 will have a strong impact in the coming years in Africa, especially in the South African manufacturing industry. Scratch the surface and behind the enthusiasm generated by the technological developments lie issues for society concerning the impact and effects of this digital transformation.
Education 4.0
"For Industry 4.0 to be fully realised in the future, education systems will have to place an urgent focus on mathematics and science," says Victor Marques, country manager of Omron South Africa. "Secondly, tertiary institutions and industry need to be closely aligned regarding the curricula of the degrees and diplomas to meet industry demands of the future. Technology is evolving at an ever-increasing pace. We as a nation cannot afford to be left behind."
Changes in the workplace
South African industry needs to find ways of adapting and using the technologies driving the fourth industrial revolution to remain globally competitive, yet maintain and create jobs in a high unemployment environment. Industry 4.0 will influence the conditions of and requirements for employees in many areas. Driven by the application of machine-to-machine communication and an increase in the realisation of autonomous systems, the demand for qualified production controllers and managers has increased, but the demands placed on workers themselves can be reduced. The impact on the general situation of workers and unskilled labour can be positive. On the other hand, their skilled counterparts will have to come to terms with growing pressure on performance and skills.
"The world is a far more connected place with a tremendous need for data," continues Marques. "The age of Big Data is here, and the costs for transmitting, receiving and storing it will drop as competition and market demand increase. Therefore, education remains key, as does a rapidly accelerated installation of infrastructure such as fibre coupled with cost effective and ubiquitous access. We in Africa are faced with unique challenges and opportunities. Our creative think tanks will have to come up with innovative solutions to fully utilise these to leverage benefit for all of the continent's people."
Discourse on Industry 4.0
Industry 4.0 and the digitisation of our day-to-day lives are bringing many improvements in their wake. The increased efficiency, improvements in productivity and new services will change our society, behaviour and the corporate landscape. The transformation will mean that countries that promote digitisation will be able to defend and build on their competitive position. The change to a digital society will take place over the next 20 to 35 years. The availability of digital infrastructure, an increase in the availability of data sources and a requirement for the efficiency of services and algorithms, in line with Moore's Law, are the prerequisites for the change to a digital society.
The effects of Industry 4.0 and the further use of robotics in the world of work are many and various, and are influenced by the availability of infrastructure in a company, as well as by digital investment strategies and cooperation between social partners. Digital transformation will change the demand for skills. More highly skilled workers with an understanding of complex relationships will be required. The knowledge surrounding these relationships will become obsolete more quickly as technology continues to develop, and will constantly have to be kept up-to-date. Society will experience a new and greater dependency on up-to-date knowledge, while at the same time processes considered monotonous and irksome will be eliminated as machines become capable of making decisions autonomously. In some cases even specialist workers will no longer be required in a production environment, and it is also possible that Industry 4.0 could bring about 'technological unemployment' among both specialist personnel and their lower-skilled counterparts.
Marques concludes that as South Africans, we need to start at grassroots and foster an interest in the sciences at primary and secondary level. As for industry, all the relevant stakeholders need to familiarise themselves with the concepts of Industry 4.0 and the benefits and value that this technological revolution can bring. Integration and service providers need to ensure that they are always ready to implement the latest innovations – those who do not, simply will not survive.
For more information contact Omron Electronics, +27 (0)11 579 2600, info.sa@eu.omron.com, www.industrial.omron.co.za
Credit(s)
Further reading:
From the Editor's desk: Digital transformation is more than just technology
May 2019, Technews Publishing (SA Instrumentation & Control) , News
While digitalisation offers new ways to increase operational efficiency, we see many companies battling to overcome the challenges. Particularly, they struggle to get past the 'pilot' stage, and are therefore 
...
Read more...
---
A technology evolution unfolds at X-Change 2019
May 2019, IS³ - Industry Software, Solutions & Support , News
IS
3
and AVEVA reimagine asset optimisation and new ways of work in tomorrow's digitally enhanced manufacturing plants.
Read more...
---
Emerson appoints new president for Middle East and Africa
May 2019, Emerson Automation Solutions , News
Emerson has appointed Vidya Ramnath as the new president for its Automation Solutions business in Middle East and Africa.    A 24-year veteran of Emerson, she was most recently vice president for Emerson's 
...
Read more...
---
Emerson and Repsol form strategic alliance
May 2019 , News
Emerson and Repsol have announced a strategic alliance to deliver advanced subsurface geophysical technologies to significantly reduce the time to prospect and produce first oil. To achieve this critical 
...
Read more...
---
Yokogawa establishes Yokogawa Norge
May 2019 , News
Yokogawa Electric Corporation has announced that it has established a subsidiary in Norway to engage in the sale of control products and provision of related services. The subsidiary, Yokogawa Norge, 
...
Read more...
---
Local manufacturing key to economic growth
May 2019 , News
The manufacturing sector in southern Africa is primed to take a more active role in supplying goods to the continent and internationally. Characterised by a pioneering diehard attitude, this sector has 
...
Read more...
---
Iritron welcomes Oculus into the I3Group
May 2019, Iritron , News
Pretoria-based Iritron, a black economic empowered technology company and subsidiary of the I
³
Group, providing quality solutions in the fields of electrical, instrumentation and control systems engineering, 
...
Read more...
---
SKF expands engineering services to address changing customer needs
May 2019, SKF South Africa , News
The last few months have seen SKF South Africa substantially expand its engineering team and services to keep in step with the company's new technology and service developments, as well as to address 
...
Read more...
---
HAW to showcase niche product lines at Nampo 2019
May 2019, Hydraulic & Automation Warehouse , News
Hydraulic and Automation Warehouse (HAW), a Bosch Rexroth South Africa Group Company, will showcase eight of its niche product lines at Nampo 2019. Formally known as Grain SA's Nampo Harvest Day, the 
...
Read more...
---
Hytec appointed service partner to Zollern
May 2019, Hytec South Africa , News
Hytec South Africa has been appointed the southern African service partner to the Drive Technology Unit of Zollern. The partnership allows Hytec South Africa to sell, execute inspections, and conduct 
...
Read more...
---