printer friendly version
Blowdown applications using multi-stage trim
July 2018
Valves, Actuators & Pump Control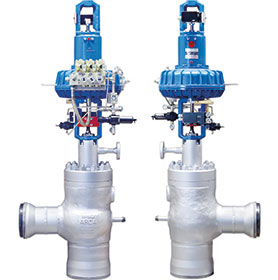 The Arca angle style control valves series 350 and 380 are proven under critical process conditions. If used in steam or other process gas applications at high pressure and temperature, in cavitation-free relaxation of liquids at high pressure differential or in handling of fluids with high solid content, the modular system of valve housings, bonnet and trim styles, in combination with a large range of materials, always offer an ideal solution.
The combination of high pressure ratio and solid-containing fluids is one of the most critical challenges for sizing, selection and design of a control valve. Due to the high pressure ratio, multi-stage valves are indispensable to avoid severe cavitation damages. However, as soon as the fluid contains solid particles, besides the normal fluid-dynamic sizing (determination of the number of throttling stages and their individual flow coefficient), the grain size of the particles has to be taken into account. The cross-section area of each flow channel in the valve must be the size and shape to allow all particles in the fluid (assumed to be of spherical shape) to pass.
Flow channel optimisation
Since the cross sectional area of each throttling stage is explicitly defined by the flow coefficient calculated from the fluid-dynamic valve sizing, only the shape of the flow channel remains to be optimised.
It is obvious that a circular shape is the optimum with regard to the permeability of spherical particles. The newly developed multistage trim MS4, which has only one flow channel at each stage, milled as a spherical calotte into a rigid, multiple guided control rod, approximates this ideal shape and is superior to any multistage parabolic plug in this regard.
Another special feature of this trim style is the protection of the seating surface (which is the most sensitive area in terms of erosion) against over-stroke of the valve. This ensures that the control stage of the valve only opens under conditions of low pressure differential and with a small flow velocity at the seating surface.
The rigid multiple guidance of the control rod is an effective prevention of the valve against mechanical vibrations and the resulting wear, even at extremely high pressure differentials.
Series 350 and 380 are available in sizes up to DN 250 and ratings up to Class 2500 (PN 400). Depending on the process conditions, MS4 trims can be delivered in valve sizes up to DN 100.
For more information contact Desmond Delport, Valve & Automation, +27 (0)11 397 2833, desmond.delport@valve.co.za, www.valve.co.za
Credit(s)
Further reading:
Schubert & Salzer in control at PVS
May 2019, Macsteel Fluid Control , Valves, Actuators & Pump Control
Belgium-based PVS Chemicals produces extremely pure chemicals for use in the semiconductor industry. One of the company's outstanding innovations is the production of ultra-pure sulphuric acid. As the 
...
Read more...
---
Ball sector valves and sliding gate valves
Africa Automation Fair 2019 Preview, Macsteel Fluid Control , Valves, Actuators & Pump Control
Macsteel Fluid Control is exhibiting ball sector valves and sliding gate valves from Schubert & Salzer Control Systems at Stand D17.    The robust, efficient ball sector valves are capable of very precise 
...
Read more...
---
Actuators for precise positioning
Africa Automation Fair 2019 Preview , Valves, Actuators & Pump Control
Beck actuators provide precise positioning of valves, dampers, fluid couplings and other final control elements.    Unlike pneumatic and conventional electric actuators, they can withstand continuous 
...
Read more...
---
Valve island with CoilVision technology
Africa Automation Fair 2019 Preview, Hydramatics Control Equipment , Valves, Actuators & Pump Control
Camozzi Automation's Series D valve island has the ability to combine two different valve sizes in the same island with the help of only one initial electric part, bringing important benefits in terms 
...
Read more...
---
Speedy, reliable mA loop valve testing
Africa Automation Fair 2019 Preview, Comtest , Valves, Actuators & Pump Control
Fluke's new 710 mA loop valve tester allows technicians to source the 4-20 mA signal while it interrogates HART data to collect critical information about a valve's position and status, providing quick 
...
Read more...
---
Extended valve offering
Africa Automation Fair 2019 Preview, Metso South Africa , Valves, Actuators & Pump Control
Flow control specialist, Metso is showcasing the latest additions to its offering for the process industries, as well as the most comprehensive line of control valves available on the market today. Pay 
...
Read more...
---
New Rotork master station for valve actuator control
May 2019 , Valves, Actuators & Pump Control
Rotork has launched the latest generation of its monitoring and control system for valve actuators and plant equipment. Suitable for use in all industries, the Rotork Master Station is capable of operating 
...
Read more...
---
RS Components introduces Fluke valve tester
May 2019, RS Components SA , Valves, Actuators & Pump Control
RS Components has announced availability of the Fluke 710 mA Loop Valve Tester, which is an easy-to-use tool that greatly simplifies the testing of control valves, enabling the quick measurement of critical 
...
Read more...
---
The evolution of partial stroke testing
April 2019, Valve & Automation , Valves, Actuators & Pump Control
The failure of these valves in crucial moments can be catastrophic, potentially rendering useless a Safety Instrumented System (SIS), put in place to reduce the possibility of an accident. Though static 
...
Read more...
---
Stafsjö introduces Linak electric actuator
April 2019, Valve & Automation , Valves, Actuators & Pump Control
Linak's electric actuator is a compact maintenance-free unit for on/off operations with a speed of 7-11 mm/sec. It is available as standard in a 24 V DC version but it can also work on 230 V AC or 120 
...
Read more...
---