printer friendly version
Blowdown applications using multi-stage trim
July 2018
Valves, Actuators & Pump Control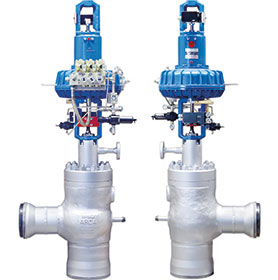 The Arca angle style control valves series 350 and 380 are proven under critical process conditions. If used in steam or other process gas applications at high pressure and temperature, in cavitation-free relaxation of liquids at high pressure differential or in handling of fluids with high solid content, the modular system of valve housings, bonnet and trim styles, in combination with a large range of materials, always offer an ideal solution.
The combination of high pressure ratio and solid-containing fluids is one of the most critical challenges for sizing, selection and design of a control valve. Due to the high pressure ratio, multi-stage valves are indispensable to avoid severe cavitation damages. However, as soon as the fluid contains solid particles, besides the normal fluid-dynamic sizing (determination of the number of throttling stages and their individual flow coefficient), the grain size of the particles has to be taken into account. The cross-section area of each flow channel in the valve must be the size and shape to allow all particles in the fluid (assumed to be of spherical shape) to pass.
Flow channel optimisation
Since the cross sectional area of each throttling stage is explicitly defined by the flow coefficient calculated from the fluid-dynamic valve sizing, only the shape of the flow channel remains to be optimised.
It is obvious that a circular shape is the optimum with regard to the permeability of spherical particles. The newly developed multistage trim MS4, which has only one flow channel at each stage, milled as a spherical calotte into a rigid, multiple guided control rod, approximates this ideal shape and is superior to any multistage parabolic plug in this regard.
Another special feature of this trim style is the protection of the seating surface (which is the most sensitive area in terms of erosion) against over-stroke of the valve. This ensures that the control stage of the valve only opens under conditions of low pressure differential and with a small flow velocity at the seating surface.
The rigid multiple guidance of the control rod is an effective prevention of the valve against mechanical vibrations and the resulting wear, even at extremely high pressure differentials.
Series 350 and 380 are available in sizes up to DN 250 and ratings up to Class 2500 (PN 400). Depending on the process conditions, MS4 trims can be delivered in valve sizes up to DN 100.
For more information contact Desmond Delport, Valve & Automation, +27 (0)11 397 2833, desmond.delport@valve.co.za, www.valve.co.za
Credit(s)
Further reading:
Valve & Automation's new Secunda Valve Repair Centre
Valve & Automation News
On 1 November 2021, Valve & Automation's Secunda Valve Repair Centre opened at 18 Kingfisher Street, Ext 57, Secunda, Mpumalanga.
Read more...
---
The ultimate control valve
Valve & Automation Valves, Actuators & Pump Control Editor's Choice
Zwick has designed its TRI-SHARK range of Triple Eccentric Valves to be used in control or throttling applications as well as for pure on/off functionality.
Read more...
---
Smart pumping – a new era in water management and supply
Schneider Electric South Africa Valves, Actuators & Pump Control
Smart pumping can address the high cost and energy usage challenges faced by private and municipality-managed facilities.
Read more...
---
Schubert & Salzer and Macsteel
Macsteel Service Centres Valves, Actuators & Pump Control
The demand on valves, particularly in tyre production plants, is extreme with tyre curing presses working constantly at high temperatures and pressures.
Read more...
---
Chinese LNG tanker fitted with ARCA anti-surge valves
Valve & Automation Valves, Actuators & Pump Control
ARCA anti-surge valves avoid surging by accurately adjusting the gas circulation or blow-off flow, effectively protecting the safety of the compressor unit.
Read more...
---
Electrified subsea actuator for offshore production
Valves, Actuators & Pump Control
Bosch Rexroth has engineered the SVA R2 Subsea Valve Actuator as a disruptive innovation for electrically actuating valves in the subsea process industry. It can replace conventional hydraulic cylinders 
...
Read more...
---
Eliminate bearing failures in TOVs
Valve & Automation Valves, Actuators & Pump Control
Bearing failures are among the highest root causes of failure in triple offset valves (TOV) for tight shutoff applications. This issue is directly attributed to the need to have metal bearings with very 
...
Read more...
---
Locally manufactured knife gate valves
Bearing Man Group t/a BMG Valves, Actuators & Pump Control
BMG and Abrasive Flow Solutions (AFS) play a major role in the local valves sector, through the design, distribution, supply and support of a broad range of slurry related valves.
Read more...
---
Protect your pump and keep it longer
Elemental Analytics Valves, Actuators & Pump Control
Unexpectedly losing a pump is often an expensive or even a dangerous problem in a chemical plant.
Read more...
---
Locally valves manufactured for tailings pipeline
Valves, Actuators & Pump Control
The AFS manufacturing plant in Benoni is equipped with advanced equipment and is supported by specialists who offer dependable technical support to ensure the optimum safety, efficiency and extended service life of every system.
Read more...
---