printer friendly version
Yokogawa adds network functionality
July 2018
PLCs, DCSs & Controllers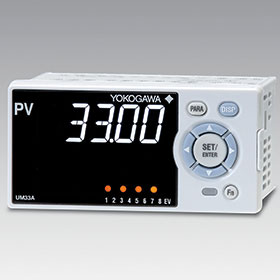 Yokogawa has added a network function to the UM33A digital indicator with alarms, a product in the UTAdvanced controller series. With this function, a single UM33A digital indicator can receive, process and sequentially display data from up to eight sensors. The enhanced UM33A is an easy to install and cost effective solution that enables the monitoring of data from multiple field sensors. By improving the functions of its UTAdvanced product line, Yokogawa aims to satisfy the latest customer needs and expand its controller business.
In recent years, there has been a growing need to strengthen the monitoring of data from field sensors. For safety and other reasons, operators need the ability to remotely monitor data from sensors that are installed high up, in confined spaces, and other locations where it is difficult to visually check the readings on the sensor displays. The UM33A digital indicator that Yokogawa has been offering until now accepts analog data from sensors that measure parameters such as temperature, pressure, and flow rate, converts this data into digital signals, and displays the readings. It can also issue an alarm if an input signal falls outside a preset range. However, it is only able to accept data from a single sensor. To check data from multiple sensors, it is necessary to install and configure other equipment such as a touch panel with an embedded controller or some other type of user interface used in combination with a programmable controller (PLC). This equipment is both expensive and requires a lot of engineering.
Yokogawa has strengthened the functions of the UM33A to satisfy the needs of customers who want to check measurement data from multiple sensors in the field. The enhanced UM33A can be installed easily and at a lower cost.
Features
Easy to introduce improved monitoring of data: the enhanced UM33A supports the master function and the data monitoring function of the Modbus/RTU communication protocol, and is able to connect with up to eight sensors and sequentially display data from those devices. The UM33A is thus able to monitor data from multiple field sensors without requiring the installation and engineering of a separate device with user interface and controller functionality. It can also function alongside already installed systems that employ such specially configured hardware. With its ability to remotely connect with multiple sensors throughout a site, the enhanced UM33A makes it easier for plant personnel to check measurement data from these devices.
Thanks to its functional enhancements, the enhanced UM33A can handle both digital and analog communications with sensors, and is thus well positioned to facilitate the introduction of field digital solutions at plants.
Applications and benefits
The UTAdvanced series controllers are mounted on furnaces and other types of heat related industrial facilities for the measurement, display and control of operating variables such as temperature, pressure, and flow rate. The controller comes standard with a sequence control function based on the ladder logic programming language widely used by engineers. Improved design efficiency and elimination of the need for relays and other peripherals has resulted in a lower price. The line-up includes:
• Digital indicating/DIN rail mounting type controllers: UT55A, UT52A, UT35A, UT32A, UT75A.
• Program controllers that control based on patterns that are preset along the time axis (program-pattern control): UP55A, UP35A, UP32A.
For more information contact Christie Cronje, Yokogawa South Africa, +27 (0)11 831 6300, christie.cronje@za.yokogawa.com, www.yokogawa.com/za
Credit(s)
Further reading:
The powerful Festo modular control system CPX-E
Technews Industry Guide: Industrial Internet of Things & Industry 4.0, Festo , PLCs, DCSs & Controllers
Designed as an EtherCAT master and motion controller with protection to IP20, the powerful automation system CPX-E for factory and process automation with NE21-specific certifications is becoming the 
...
Read more...
---
Rockwell strengthens industrial control system security
July 2019, Rockwell Automation , PLCs, DCSs & Controllers
Communications between industrial control devices have minimal protection today. This leaves them vulnerable to threats like malicious tampering and incidental system changes that can stop production 
...
Read more...
---
Siemens extends the Simine ­portfolio
June 2019, Siemens Digital Industries , PLCs, DCSs & Controllers
Siemens has extended the Simine portfolio for high-pressure grinding mills (HPGR) to include a new controller. Plug-and-play functionality makes the load share controller available for immediate use. 
...
Read more...
---
Schneider Electric announces a new era of control
June 2019, Schneider Electric South Africa , PLCs, DCSs & Controllers
Schneider Electric's new high-end Modicon M580 Ethernet programmable automation controller (ePAC) features redundant processors, native Ethernet, and cybersecurity embedded into its core. It combines 
...
Read more...
---
Selecting the right PLC
June 2019, AC/DC Dynamics , PLCs, DCSs & Controllers
Automation projects, big or small, start with a specification. Here are five factors to consider when choosing a PLC vendor.      
Broad range of devices
The selected brand must have a complete product 
...
Read more...
---
Optimised fuel blending
May 2019, Yokogawa South Africa , Analytical Instrumentation & Environmental Monitoring
This risk has led the refiners to give more than the norms specify, resulting in a giveaway on quality and profit. The use of near infrared (NIR) technology has helped refiners get real-time data to ensure 
...
Read more...
---
Industrial automation equipment
Africa Automation Fair 2019 Preview , PLCs, DCSs & Controllers
Anytech is an industrial automation equipment supplier that has been providing high tech solutions to a wide variety of customers in various industries throughout southern Africa since 1999. High tech 
...
Read more...
---
Multi-function PLC, HMI and I/O in a single 7" unit
Africa Automation Fair 2019 Preview, Vision Automation , PLCs, DCSs & Controllers
This multi-function UniStream PLC with an integrated, high-quality HMI touchscreen is available in a range of built-in I/O configurations. Showcased at Stand C04, the highly compact hardware profile with 
...
Read more...
---
PLCs and HMIs
Africa Automation Fair 2019 Preview, Ana-Digi Systems , PLCs, DCSs & Controllers
Among the new state-of-the-art products on show at Stand E07 are Ana-Digi's PLC range, which offers down to 8,5nS processing speeds and caters for systems up to 132 000 I/O, with full redundancy in processing 
...
Read more...
---
Programmable HMIs with PLC
May 2019, Turck Banner , PLCs, DCSs & Controllers
The new generation of the TX700 HMI/PLC series can control and visualise even more complex processes and applications than before. Thanks to several interfaces and an integrated OPC UA server, this device 
...
Read more...
---