printer friendly version
CANwireless connection to the machine
July 2018
Industrial Wireless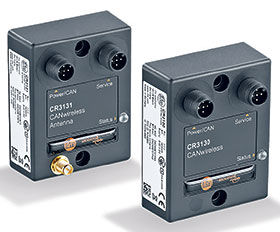 Using the latest technologies, such as Wi-Fi supporting the 2,4 and 5 GHz frequency bands as well as Bluetooth, multiple ways of connecting to the machine via radio are possible. CANwireless allows wireless connection directly from the existing ifm tools for mobile control systems such as Codesys or the Maintenance Tool.
In addition to the connection between PC or mobile end device and the mobile machine, machines can also be connected to each other and exchange information. The device thus supports the technologies of Industrie 4.0 and the IIoT to make machines even more intelligent.
Functions and features
CANwireless enables a wireless connection to the CAN bus in a vehicle or machine. With the two basic operating modes 'Infrastructure' and 'Mini Access Point', the module is able to create a connection in different ways.
In the operating mode Infrastructure, a CANwireless is configured to connect to an existing Wi-Fi infrastructure. When connected to the network, the device can connect automatically to another network participant (client) or listen to incoming connection requests (server). CAN bus data can be exchanged with other connected network participants.
Configured as Mini Access Point, the device will create its own Wi-Fi network to which multiple other devices CANwireless devices, PCs, smartphones or tablets can connect.
As in the Infrastructure mode, the device can act as both client or server in its own network. Data on the CAN bus of the Mini Access Point device will be shared with the other connected network participants.
Tools like Codesys and the Maintenance Tool allow the use of CANwireless as interface to the machine. If required, CANwireless devices can filter data to be transferred by radio, which reduces the data load and increases the operational reliability.
For more information contact ifm electronic SA, +27 (0)12 450 0400, info.za@ifm.com, www.ifm.com
Credit(s)
Further reading:
Change the way you look at asset health
May 2019, Automation & Control Solutions , Industrial Wireless
Automation & Control Solutions is exhibiting the Machinery Manager connection to Plantweb Optics. This allows users to monitor the health of their machines and stay better informed of activities within 
...
Read more...
---
Ultrasonic sensors for level measurement and object ­detection
May 2019, ifm - South Africa , Sensors & Transducers
ifm – South Africa's new M30 ultrasonic sensors for continuous level measurement and object detection are distinguished by their long range of up to eight metres. This makes them particularly suited for 
...
Read more...
---
Responsive wireless I/O from ­Omniflex
May 2019, Omniflex Remote Monitoring Specialists , Industrial Wireless
Radio networks traditionally follow the Master (main station node) and Slave (out station node) methodology for data acquisition. A single master polls for data from one or more slaves, depending on the 
...
Read more...
---
New pressure sensor with IO-Link
April 2019, ifm - South Africa , Pressure Measurement & Control
Besides continuous process value monitoring via IO-Link, the new PV type pressure sensor from ifm electronic offers two switching outputs. It also features a compact design with G ¼ process connection 
...
Read more...
---
Online condition monitoring with fieldbus interface
Technews Industry Guide: Maintenance, Reliability & Asset Optimisation 2019, ifm - South Africa , Maintenance, Test & Measurement, Calibration
The VSE150 from ifm electronic is a 6-channel diagnostic system designed to evaluate four dynamic signals (e.g. rotational acceleration) and two analog inputs. The new VSE15x family provides different 
...
Read more...
---
Sensors for motion control
March 2019, ifm - South Africa , Sensors & Transducers
The range of stainless steel housed incremental encoders from ifm electronic is ideal for applications such as conveyor belt synchronisation because of the long maintenance intervals, even when deployed 
...
Read more...
---
Process values from IO-Link sensors
March 2019, ifm - South Africa , Fieldbus & Industrial Networking
The E30443 IO-Link master display is easily connected to one port of an ifm IO-Link master with four or eight ports. The display detects sensors that are connected to the same master and automatically 
...
Read more...
---
Wireless and telemetry by Omniflex
March 2019, Omniflex Remote Monitoring Specialists , Industrial Wireless
Wireless telemetry in plants is a necessity for the data acquisition requirements of modern process efficiency and compliance monitoring. However, cabling costs often push the economic viability of such 
...
Read more...
---
Surface collision avoidance system
March 2019, Becker Mining South Africa , Industrial Wireless
Becker Mining South Africa's advanced safety device, the intelligent collision avoidance system (ICAS), provides situational awareness to ensure optimum safety on construction sites, open-pit mines and 
...
Read more...
---
Intelligent valve sensor
February 2019, ifm - South Africa , Sensors & Transducers
The intelligent valve sensor for pneumatic quarter-turn actuators from ifm electronic features 360° position monitoring to allow precise and continuous scrutiny of the valve condition. Problems such as 
...
Read more...
---